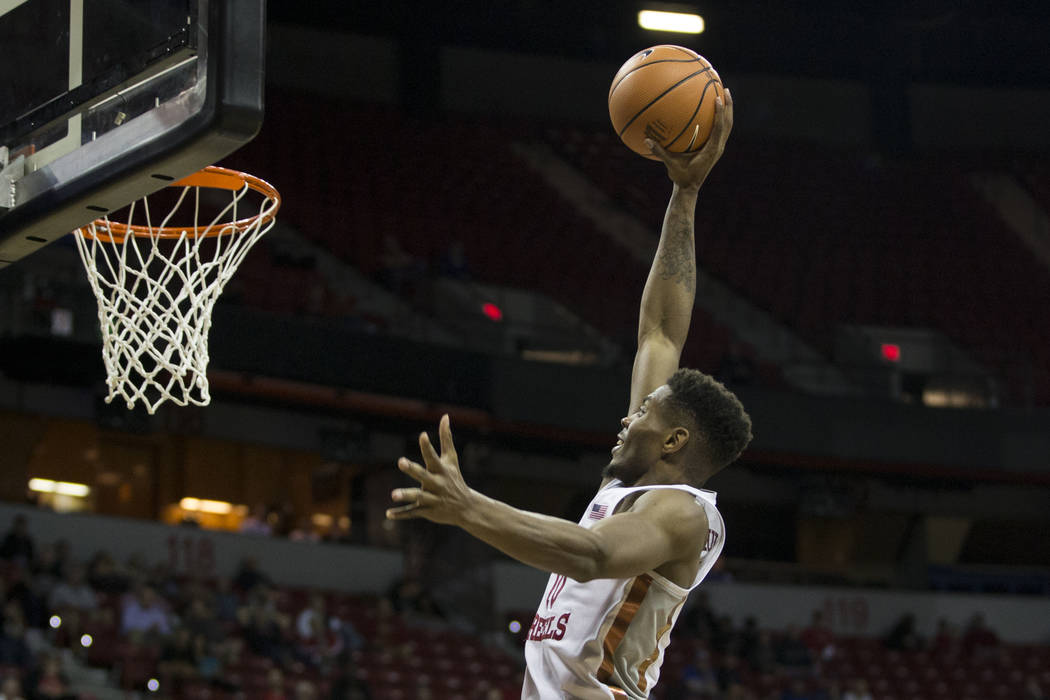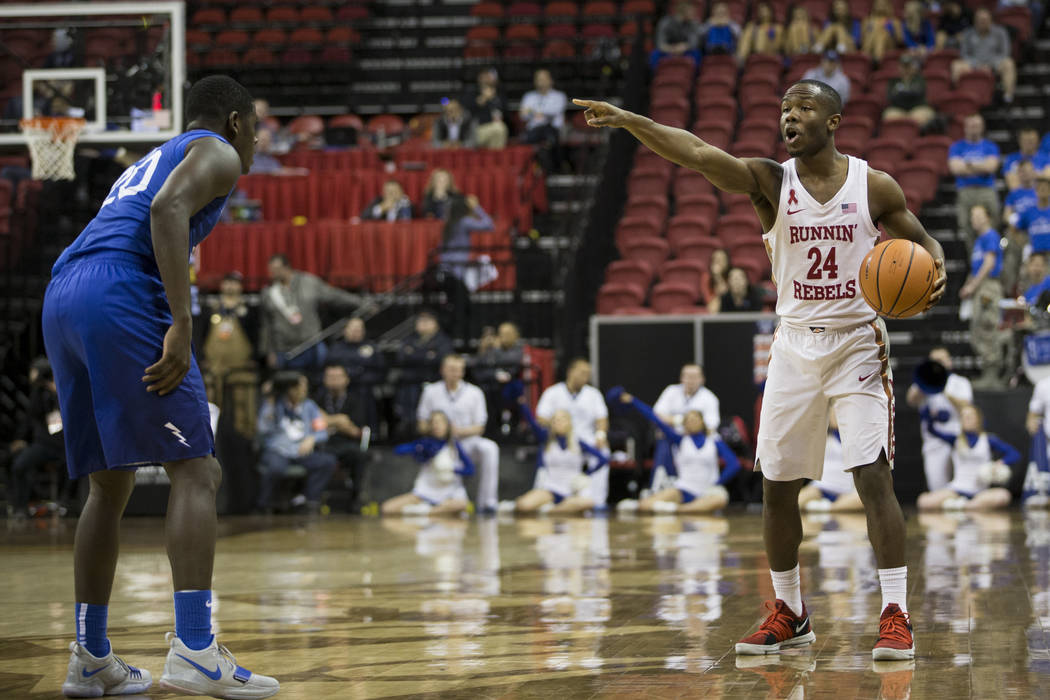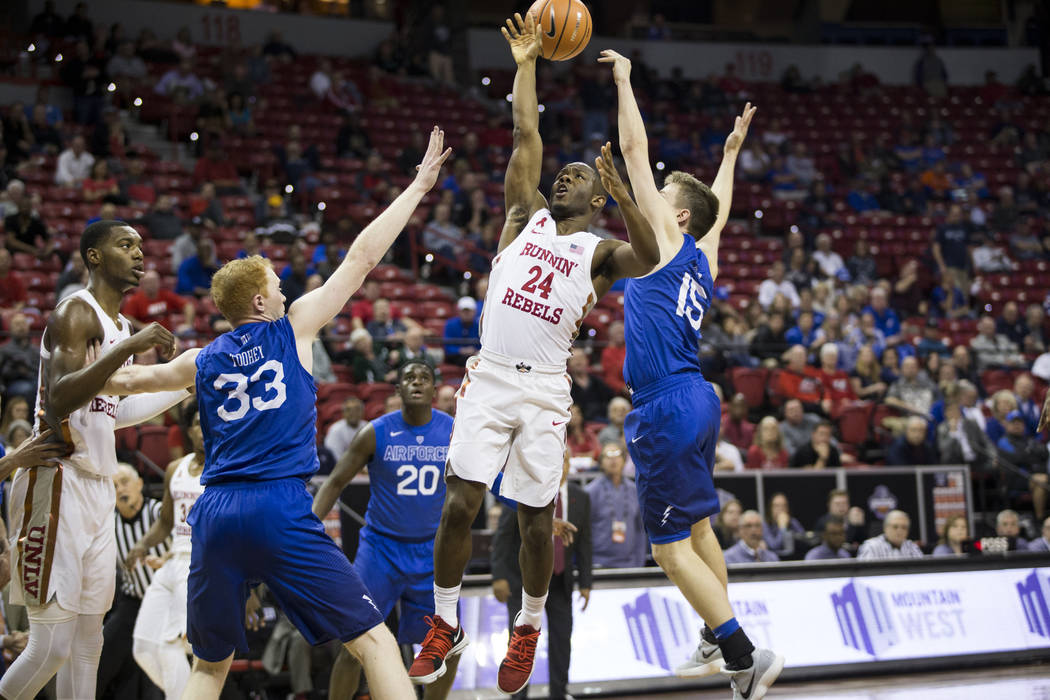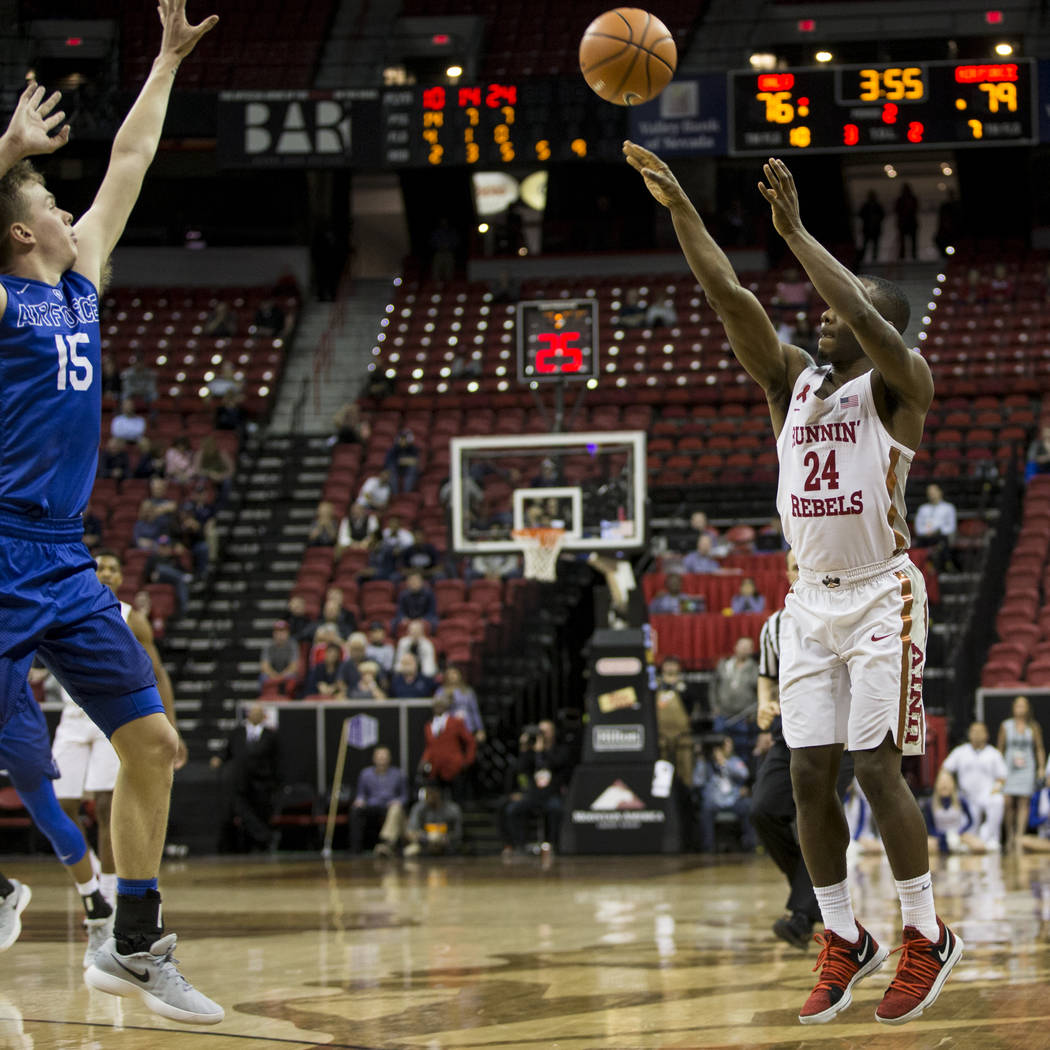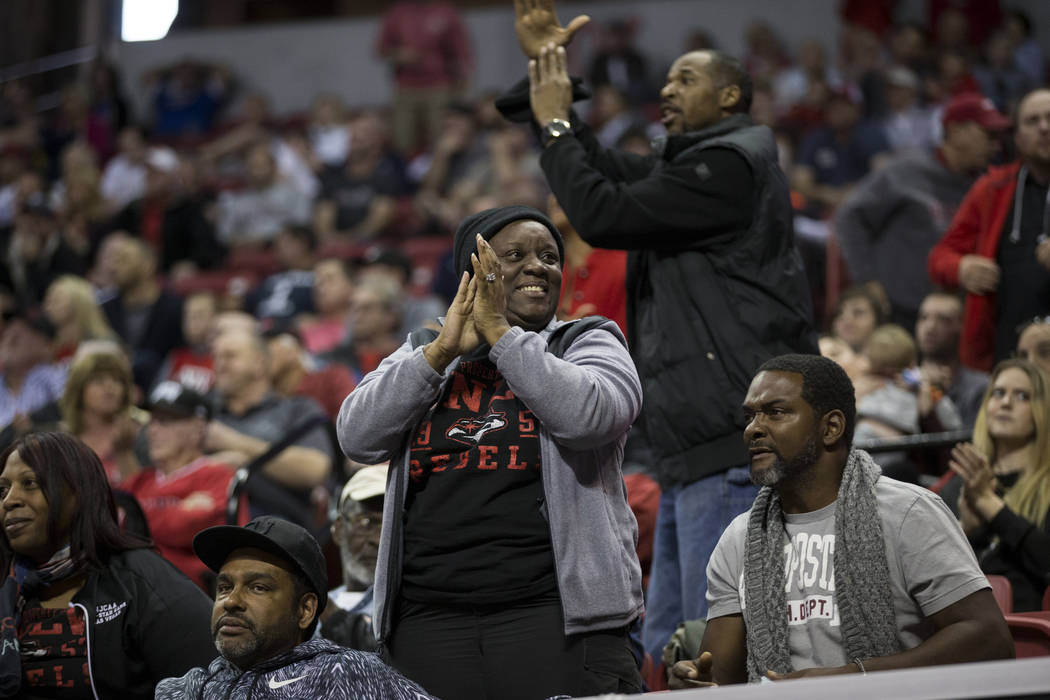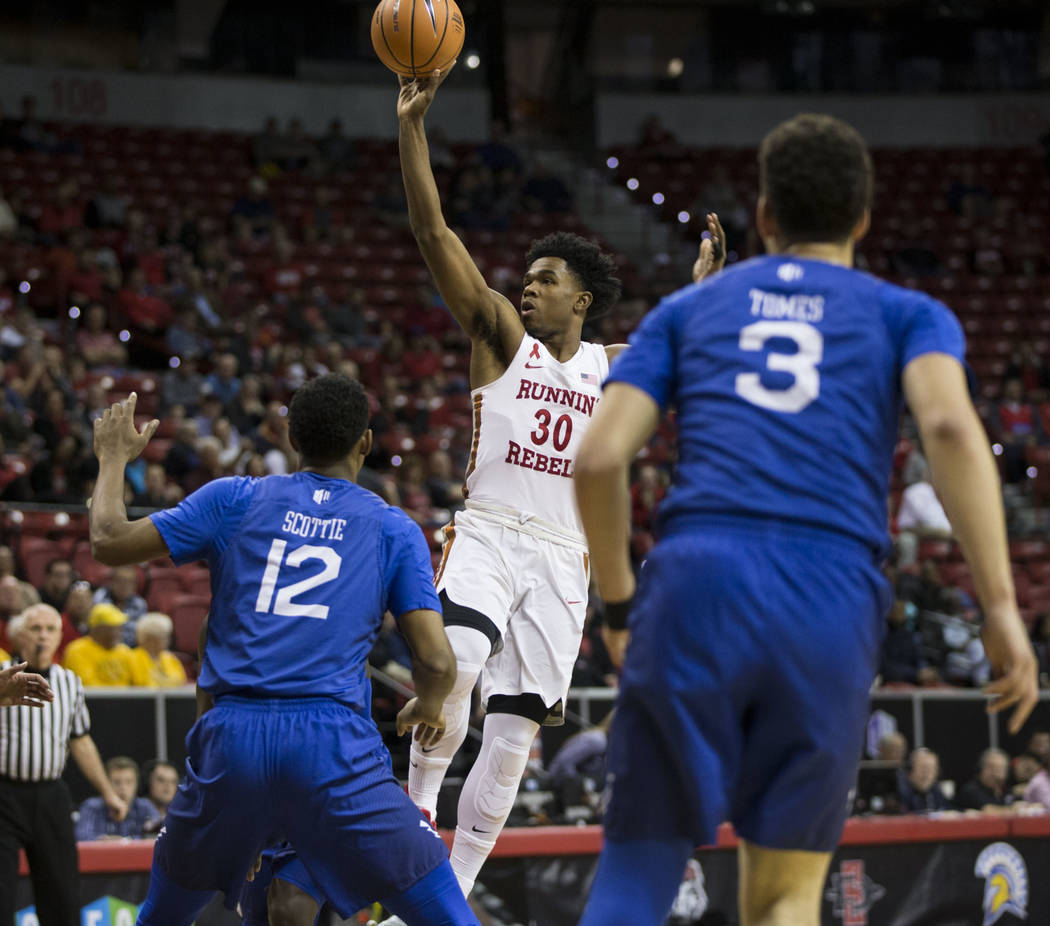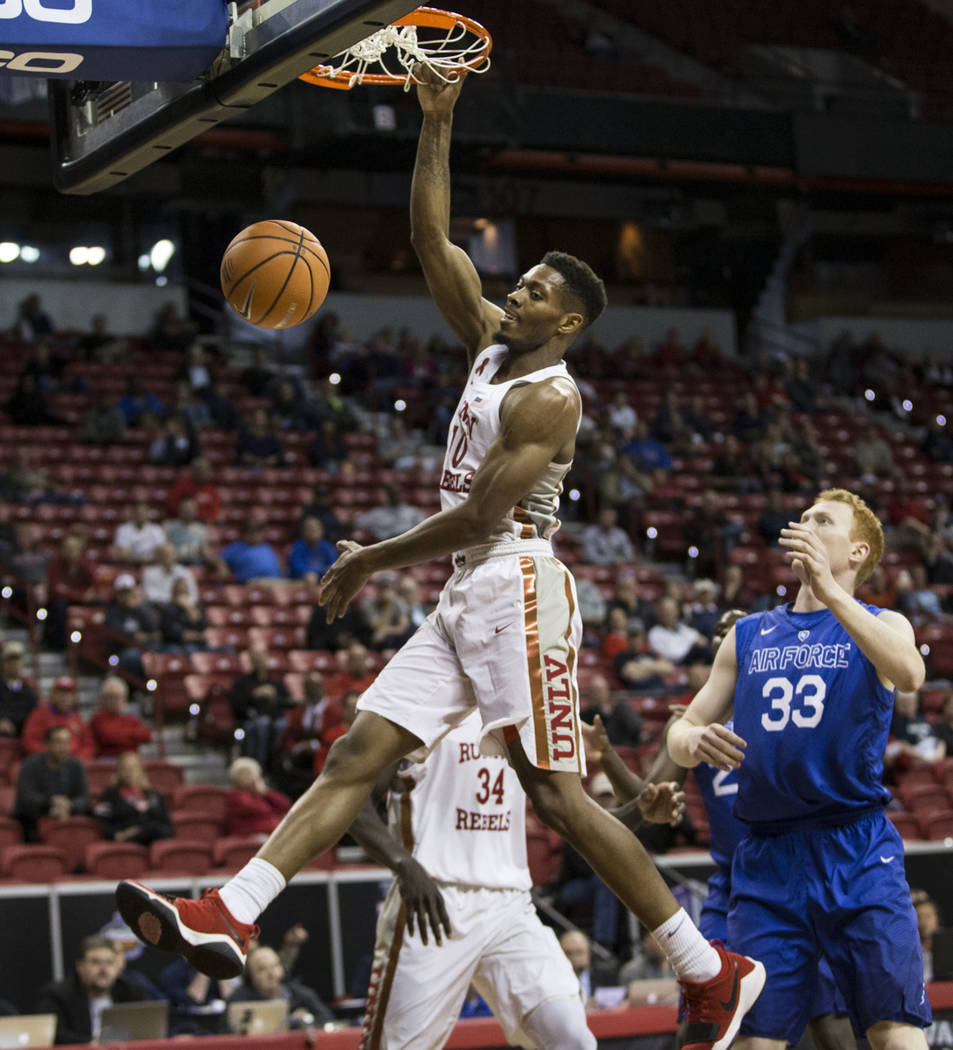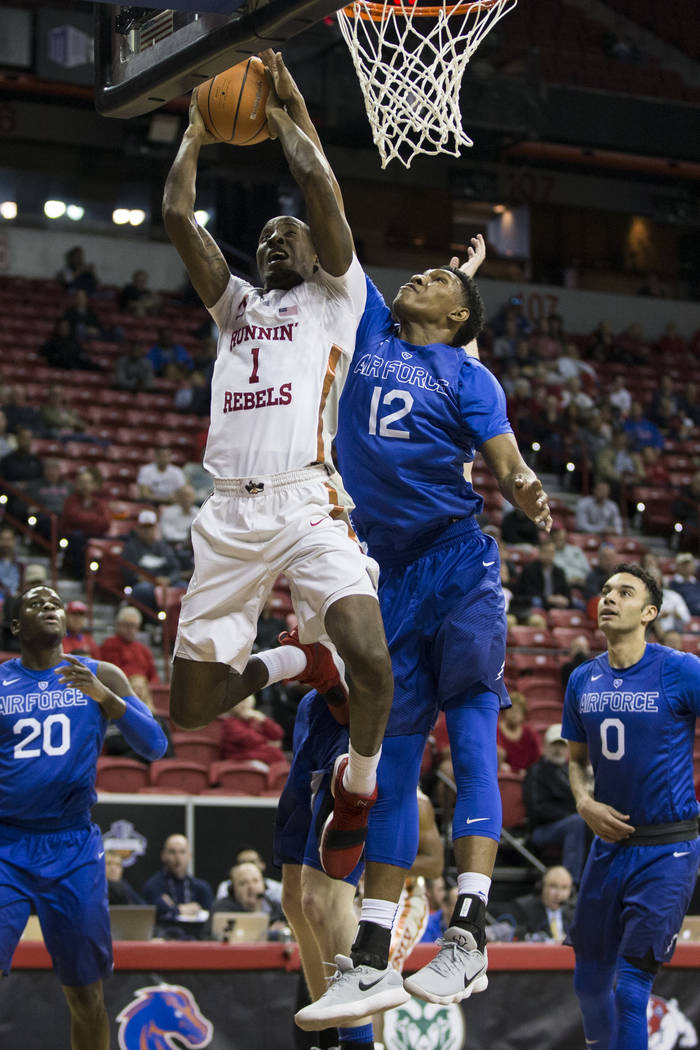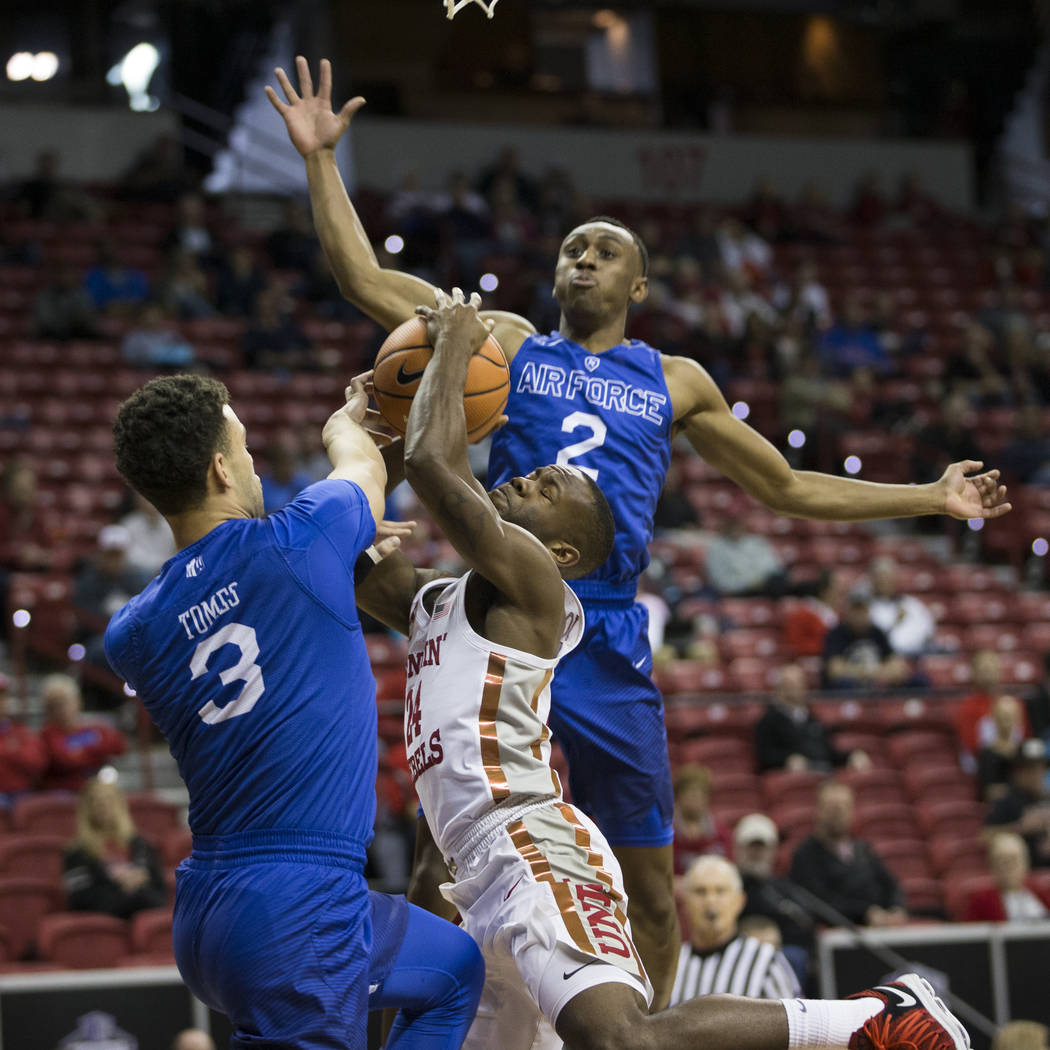 With a five-game losing streak and a lost lead, UNLV could have fallen apart.
The Rebels instead went on a 12-point run in overtime to seize control and defeat Air Force 97-90 in Wednesday's first round of the Mountain West men's basketball tournament at the Thomas & Mack Center.
No. 8 seed UNLV (20-12) plays No. 1 seed and 22nd-ranked UNR (26-6) at noon Thursday in a quarterfinal game. No. 9 seed Air Force's season ended at 12-19.
The Rebels swept the season series 3-0 from the Falcons, but the largest margin of victory was eight points.
"We knew it was going to be a fight," UNLV coach Marvin Menzies said. "We were very prepared to play this type of game, especially after the two previous games where they were both close games."
UNLV led by as many as 13 points in the second half before Air Force rallied to force overtime 76-76. The Falcons took their first lead, 79-76, with 4:35 left and had the chance to increase it to five points before back-to-back blocked shots by UNLV's Shakur Juiston and Brandon McCoy, leading to a tying 3-pointer by Jordan Johnson (10 points, 12 assists).
Air Force then went ahead 81-79 before Juiston's three-point play triggered the winning run.
"We kept reminding each other, 'We've got to get a stop,' " said UNLV guard Jovan Mooring, who scored 17 points. "And we got the stops when we needed them. They're tough to guard. They got a lot of easy buckets just because they play hard offensively. But we got the stops that we needed down the stretch."
McCoy led UNLV with 23 points, 12 rebounds and three blocked shots, and Juiston scored 21. Air Force had limited McCoy (18 points) and Juiston (7 points) to a total of 25 points in the two regular-season games.
"I think the guards did a really good job of penetrating and finding the open man, and I feel like me and Shakur were a good receiver on that," McCoy said. "Also, most of the time people stop me and Shakur because we stand in one place the whole game. I try to make sure that I just look for open spots to be at for my team to kick it out to me, as well as Shakur, and go to the glass. We have just really been focused on rebounding the ball more and playing harder."
Air Force coach Dave Pilipovich said he had seen enough of McCoy, a freshman expected to leave early for the NBA draft.
"Brandon was very, very good for them," Pilipovich said. "I thought our guys were very good. I thought their guys were very good. And as of tomorrow morning, I'm going to start campaigning for Brandon to go to the NBA."
Lavelle Scottie finished with 23 points and nine rebounds for Air Force, and Jacob Van scored 20.
Now, the Rebels advance to a third meeting against intrastate rival UNR. UNLV won 86-78 in Reno, and the Wolf Pack rolled 101-75 at the T&M.
"I was concerned, obviously, we lost five in a row," Menzies said. "And how do you get your boys back? What do we do to get them ready to play in this environment? So I leaned on staff and experience and put together a schedule that was conducive to them staying together a lot so that they could talk and dream and kind of engage with each other instead of being distracted."
Other Mountain West results:
Utah State 76, Colorado State 65 — Koby McEwen scored 25 points to lead No. 7 Utah State (16-16) over the No. 10 Rams (11-21). Anthony Bonner (15 points) and Prentiss Nixon (14) led Colorado State.
Wyoming 74, San Jose State 61 — Justin James went 9-for-9 from the field, including three 3-pointers, and scored 24 points to lead the No. 6 Cowboys. He was one of four players in double figures for Wyoming (20-12), which made 50.9 percent of its shots. Ryan Welage scored 25 points and Jaycee Hillsman 24 for the No. 11 Spartans (4-26).
Thursday's games
No. 1 UNR (26-6) vs. No. 8 UNLV (20-12), noon
No. 4 Fresno State (21-10) vs. No. 5 San Diego State (19-10), 2:30 p.m.
No. 2 Boise State (23-7) vs. No 7 Utah State (16-16), 6 p.m.
No. 3 New Mexico (17-14) vs. No. 6 Wyoming (20-12), 8:30 p.m.
Contact Mark Anderson at manderson@reviewjournal.com. Follow @markanderson65 on Twitter.