UNLV point guard grows under coach's tough tutelage
December 30, 2010 - 12:00 am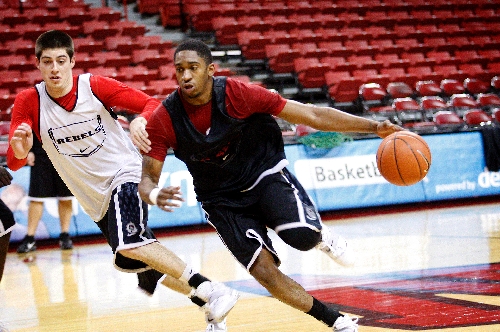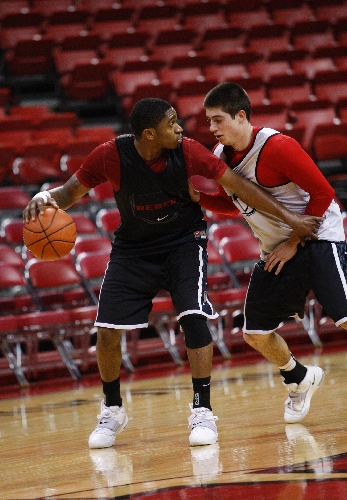 Two teachers are in Oscar Bellfield's face almost daily, and one can get especially tough. But the UNLV junior understands why.
Bellfield is a veteran point guard, so where the Rebels go from here this season will depend a lot on where he leads them.
"It's such a critical position," coach Lon Kruger said. "Point guard play is so important. That's pretty much the rule of thumb in college basketball."
Bellfield has helped steer the Rebels to an 11-2 record as they conclude the nonconference schedule against Central Michigan (3-9) at 7 p.m. today at the Thomas & Mack Center.
Junior forward Chace Stanback is UNLV's leading scorer, and senior guard Tre'Von Willis is the team's toughest player. Kruger wants Bellfield to strive to be a tougher leader.
Kruger's best teams were guided by senior point guards — Kevin Kruger in 2006-07 and Curtis Terry in 2007-08. Bellfield, who will play in his 80th game and make his 69th start today, has more big-game experience than the two floor leaders who came before him.
"I feel each year I took another step in becoming a better point guard," said Bellfield, posting career highs in scoring (11.7 points per game) and 3-point percentage (49.1). "My confidence is really building."
The criticism he receives from Kruger and assistant coach Steve Henson is constructive. Kruger is a positive-reinforcement teacher, but he might be harder on Bellfield than any other player.
"Coach Kruger really gets on me," Bellfield said, smiling. "It's pretty tough, but it's worth it. He knows what he's talking about.
"He critiques me real well. I think he sees that I have a lot of ability to do different things, and he has high expectations. He's really on my case a lot, so that's a good thing. Coach Henson told me that's how (Kruger) was with him."
Henson, a former NBA point guard, was a four-year starter from 1986 to 1990 for Kruger at Kansas State. Henson led the Wildcats to four NCAA Tournament appearances.
With Kruger and Henson tutoring him, the 6-foot-2-inch Bellfield has UNLV on track for a second straight NCAA berth.
"Oscar has made so much growth," Kruger said, "and yet the exciting part is I really think he has a lot of room to grow."
In some ways, Kruger is pushing Bellfield, who's a quiet type, to be more like Henson, who played with a mean streak.
"Steve was really tough on himself. He was the other extreme in terms of he was very vocal and very into every play. He would go kick your butt if you didn't do what you were supposed to do," Kruger said.
"Oscar is a nice guy and very conscientious. Not to say that Steve wasn't a nice guy. But when it came to executing a play, nothing else was more important than executing the play. Steve had those natural qualities. Oscar needs to do it all the time.
"There's a fine line there because Oscar's such a good guy. But being a little meaner and a little tougher is an area that all of our players, not just Oscar, can grow."
Throughout his career, Bellfield has shown the ability to take over games with his scoring. But he also occasionally fades into the background, which is why Kruger leans on him to be "more into the whole picture" and more responsible for the team's success.
"I'm trying to get more people involved and still have that same aggressiveness," said Bellfield, averaging a team-high 32.5 minutes per game.
"You've got to be totally involved in every play. That's probably the area we talk to him about more than anything else," Kruger said. "If Anthony (Marshall) doesn't go where he should, I talk to Oscar. As a point guard, the leadership direction is always paramount."
■ NOTES — Junior center Brice Massamba will start in place of sophomore Quintrell Thomas, who started the Rebels' first 13 games. Kruger said the move is to keep Thomas out of early foul trouble. "Brice is doing some things well, and it may free Q up a little bit to not play in fear of that first foul." … Central Michigan's top player is freshman guard Trey Zeigler, son of Chippewas coach Ernie Zeigler.
Contact reporter Matt Youmans at myoumans@reviewjournal.com or 702-387-2907.
GAME DAY
CENTRAL MICHIGAN VS. UNLV
WHEN: 7 p.m. today
WHERE: Thomas & Mack Center
RADIO: KWWN (1100 AM, 98.9 FM)
LINE: UNLV -23