UNLV Rebels picked 8th in Mountain West basketball
October 12, 2016 - 11:36 pm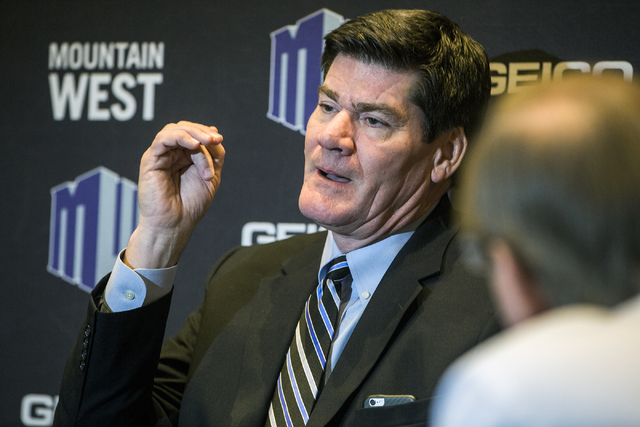 UNLV was picked to finish eighth in the Mountain West, the conference announced Wednesday at its basketball media day at the Renaissance Las Vegas Hotel.
No Rebels were selected to the preseason all-conference team.
San Diego State, which won the regular-season championship last season, received 23 first-place votes and was picked to win the league title. UNR was chosen second, New Mexico with three first-place votes was picked third, and Fresno State was slotted at fourth with the other first-place vote. Fresno State won the conference tournament title last season.
New Mexico junior guard Elijah Brown was chosen the preseason Player of the Year. San Diego State forward Jalen McDaniels and Utah State guard Koby McEwen were tabbed to be the top freshmen, and Aztecs sophomore guard Montaque Gill-Caesar was named the top newcomer.
Two Lobos made the preseason all-conference team — Brown and senior forward Tim Williams. Rounding out the team were San Diego State junior guard Trey Kell, Utah State senior wing Jalen Moore and UNR sophomore forward Cameron Oliver.
UPDATE FROM COMMISH
Mountain West commissioner Craig Thompson hit on a variety of topics in a sit-down interview with the media.
On what the conference needs to do to get back to receiving multiple NCAA Tournament bids: "I think we're doing what we need to do. We're working on the scheduling. It's a lot about scheduling. You're not going to have success when you're playing 12, 15 road games in college basketball in general.
"I think we have to be creative, and we have to invest and spend some money on the guarantees. There's not a hard and fast policy. There are several steps to increase scheduling, but if you go back to that five-bid year a couple of years ago, I think we won 70 or 80 percent of the nonconference games or close to it, and a lot of those were at home. So there is a solution. We just have to be better schedulers."
On the possibility of graduate transfers being forced to sit out a season: "If that would come to fruition and be the case, you're not going to see those kids for very long, because if you after four years of undergraduate have to sit out a year or two, all of the sudden you're 23, 24 years old. That would be a big challenge. Maybe that's the solution. I don't know that it is."
On whether he expects to lose schools if the Big 12 Conference expands: "I really don't. This is very reminiscent of from '99 to '04-05. We said, 'We've got to build this slowly.' We started the Mountain West in '99, and it took us to the '04 Fiesta Bowl with (quarterback) Alex Smith and (Utah). It took us four or five years to get to that point, and then we were cooking."
AIR FORCE AND ANTHEM
Air Force coach Dave Pilipovich said he didn't anticipate any of his players kneeling during the national anthem, considering the school they represent. But that didn't mean opposing players wouldn't kneel as a way to bring more attention to complaints by many African-Americans concerning police treatment.
If any player took a knee on the Falcons' floor, Pilipovich said it probably wouldn't go over well with the local crowd.
"Our community is so military-based," he said. "I think that would hurt, that really would hurt."
Contact Mark Anderson at manderson@reviewjournal.com or 702-387-2914. Follow on Twitter: @markanderson65
MW predicted order of finish
1. San Diego State (23) 293
2. UNR 253
3. New Mexico (3) 249
4. Fresno State (1) 200
5. Boise State 164
6. Utah State 153
7. Colorado State 146
8. UNLV 120
9. Air Force 90
10. Wyoming 73
11. San Jose State 41
Preseason All-Mountain West Team
G Elijah Brown, Jr., New Mexico
G Trey Kell, Jr., San Diego State
W Jalen Moore, Sr., Utah State
F Cameron Oliver, So., UNR
F Tim Williams, Sr., New Mexico
Preseason Player of the Year
Elijah Brown, Jr., G, New Mexico
Preseason Co-Freshmen of the Year
Jalen McDaniels, F, San Diego State
Koby McEwen, G, Utah Sate
Preseason Newcomer of the Year
Montaque Gill-Caesar, So., G, San Diego State