UNLV sophomore takes big step ahead of UNR rivalry game
Updated January 27, 2023 - 10:38 pm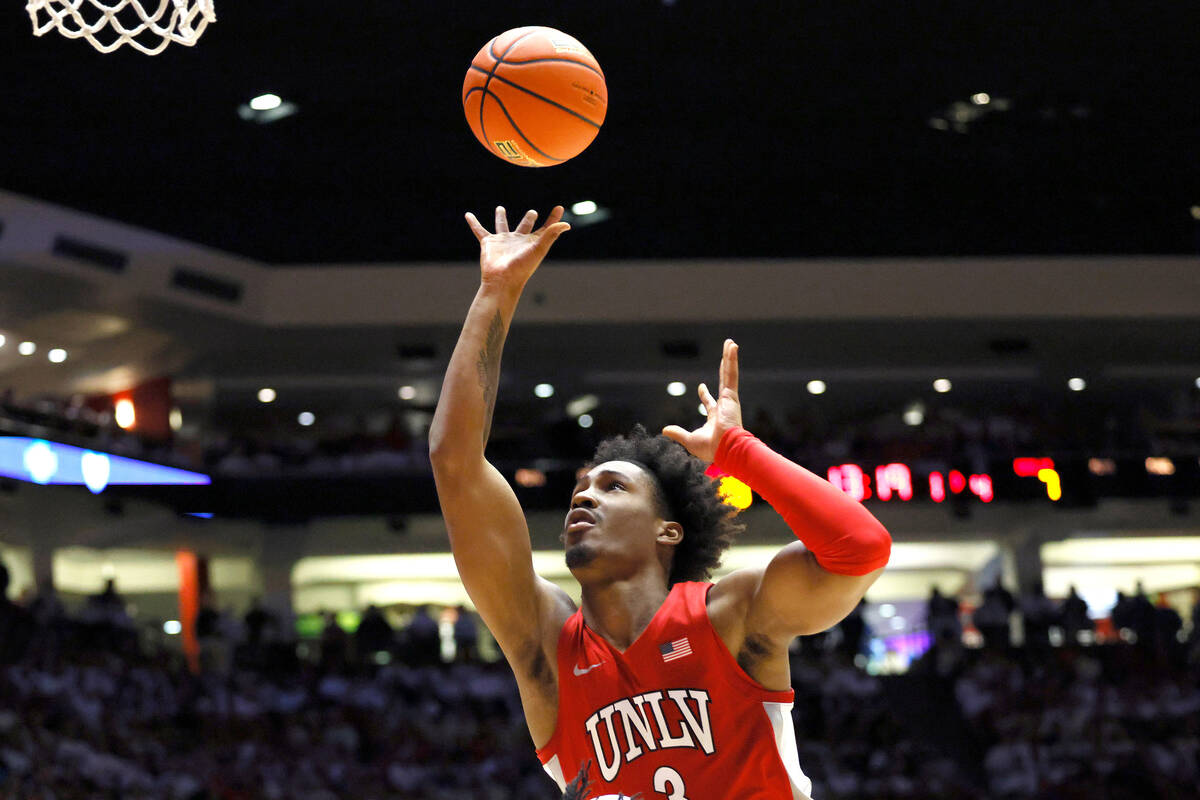 UNLV coach Kevin Kruger knew there was a chance sophomore Shane Nowell was going to take time to adjust.
The former Arizona wing, who transferred to UNLV before this season, has been stuck behind a logjam at his position with EJ Harkless, Luis Rodriguez and Elijah Parquet.
Nowell played only eight minutes of Mountain West basketball before Tuesday's game against Wyoming, so it made sense when his first two shots — both from 3 — missed. The misfires didn't stop Nowell from lining up another shot, and with 3:50 remaining in the first half, he hit a 3 from the left corner, his first of the season.
"We know he can shoot it, so for him to shoot even the first two and not even hesitate to let the third one fly, it was great to see," Kruger said during his postgame news conference. "The last thing you want as a coach, as a staff, as a team, is for somebody who hasn't been asked to do a lot to be timid."
Nowell made the most of his opportunity against Wyoming, scoring six points in 18 minutes. He also added four rebounds and a block to finish plus-18, tied with senior forward Victor Iwuakor for the best plus-minus in the Rebels' 86-72 victory.
It was just the second time Nowell has passed the 10-minute mark in a game this season, with the only other occasion coming against Life Pacific in November.
UNLV (13-7, 2-6 Mountain West) welcomes rival UNR (16-5, 6-2) to the Thomas & Mack Center at 7 p.m. Saturday.
"I'm somebody who likes to get people involved," Nowell said, "plays hard on defense, runs the floor hard and, once again, just likes incorporating my teammates."
Nowell is the second player to emerge from the depths of UNLV's bench after freshman Keyshawn Hall broke into the Rebels' rotation a few weeks earlier.
The Seattle native transferred to UNLV partially in search of minutes. Nowell made 19 appearances as a freshman at Arizona but never played more than eight minutes. He said he chose the Rebels because he liked the group of transfers they brought in and the team's chemistry, but soon found himself buried on the depth chart.
Nowell had to find other ways to contribute.
"It was just about holding myself accountable and making sure I'm cheering on my teammates," he said. "It's about staying engaged."
To earn minutes, Nowell said he had to sharpen up on defense. The athletic 6-foot-6-inch wing had the frame to be a good defender, but said he had to commit to guarding opposing teams' best players and running the floor hard both ways. He also had to step up as a defensive rebounder.
Kruger praised Nowell's defense against Wyoming, saying he did a good job sticking with assignments, fighting through screens and being a presence around the paint.
Nowell credited Rodriguez, Harkless and sophomore guard Keshon Gilbert for keeping him locked in during the season. He also consulted his brother Jaylen Nowell, a former Washington guard who was the 2018-19 Pac-12 Player of the Year and now plays for the Minnesota Timberwolves.
"We talk pretty often," Shane Nowell said. "He just told me it's all part of the process. You've just got to enjoy the journey. There's a lot of ups and downs, but it's about how you respond when things don't go your way."
Nowell's opportunity came about partially because of UNLV's injuries. Rodriguez is still questionable after suffering a groin injury Jan. 21 He participated in practice, but Kruger did not update his status for Saturday.
Whether or not Rodriguez plays, Kruger has already guaranteed that Nowell has earned another opportunity.
"Just got to keep building," Nowell said. "The trust level with the coaches has been growing, so I've just got to continue to do that."
Contact reporter Andy Yamashita at ayamashita@reviewjournal.com. Follow @ANYamashita on Twitter.
Up next
Who: UNLV (13-7, 2-6 Mountain West) vs. UNR (16-5, 6-2)
When: 7 p.m. Saturday
Where: Thomas & Mack Center
TV: CBS Sports Network
Radio: KWWN (1100 AM/100.9 FM), KXST-AM (1140)
Line: Pick'em; total 139½