UNLV star basketball player applies for NBA draft
Updated April 2, 2021 - 7:36 am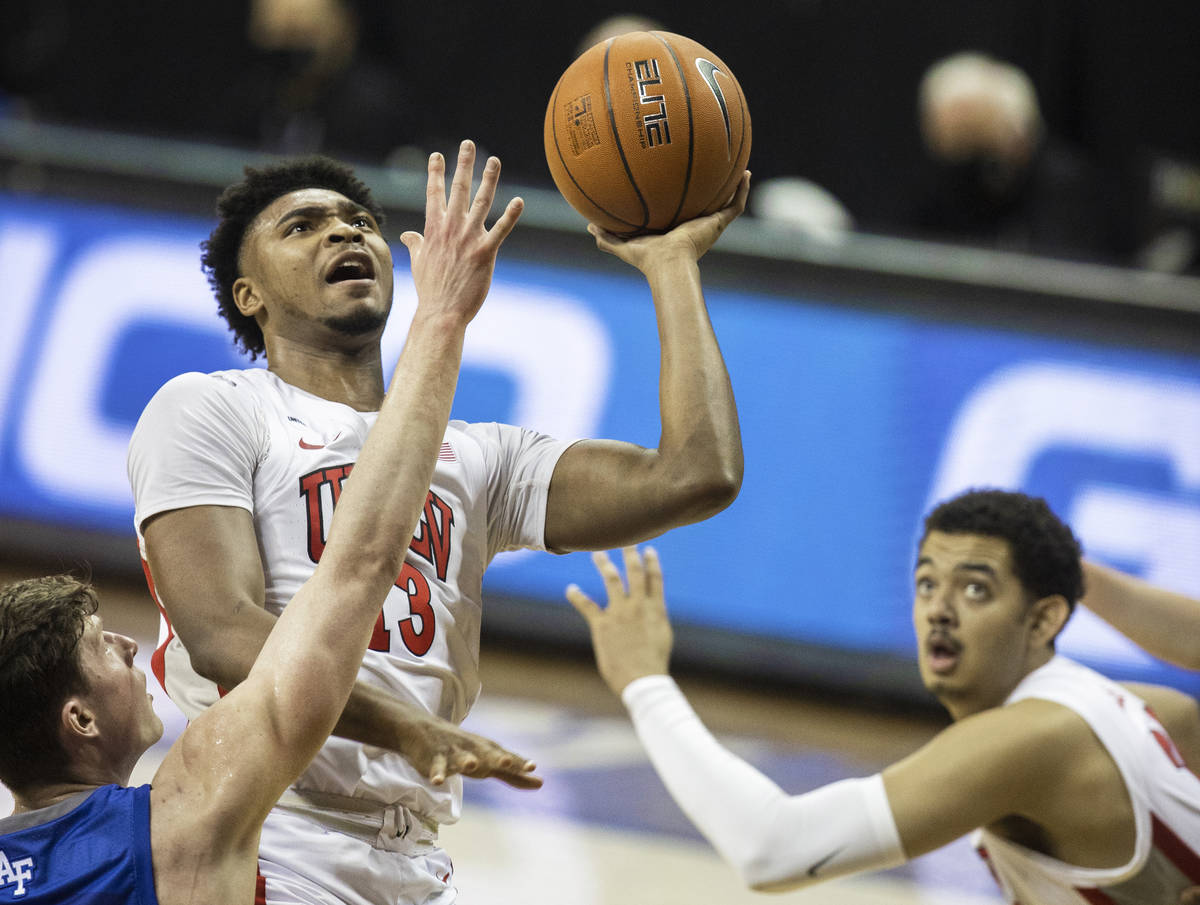 UNLV junior wing Bryce Hamilton is entering the 2021 NBA draft.
Well, sort of.
Hamilton on Tuesday announced via Twitter that he is going to partake of the draft process to "test the waters." But he won't be hiring an agent, allowing him to maintain his college eligibility and make possible a return to the Rebels in 2021-22.
"I am looking forward to this process and the valuable feedback that I will receive that will help me make my decision to turn professional or to return back to college," Hamilton said in a statement.
The Marathon Continues ❤️🏁 pic.twitter.com/Evf6ianB4Y

— Bryce Hamilton (@bham_10) March 31, 2021
UNLV coach Kevin Kruger said in a statement that the program is supportive of Hamilton's dream to become an NBA player.
"We have encouraged him to go through the process and obtain feedback from the league so that he can make the best decision for himself and his family," Kruger said. "We will assist him in every step of the way. If he decides to return to UNLV, he will be welcomed back with open arms."
Hamilton arrived at UNLV in 2018 from Pasadena, California, where he emerged as one of the best high school prospects on the West Coast. He played sparingly as a freshman in 2018-19, logging just 13 minutes per game. But he blossomed during his sophomore year into one of the best players in the Mountain West, prompting speculation about his professional potential.
In 2019-20, Hamilton was named to the All-Mountain West first team after averaging 16 points and 5.5 rebounds while shooting 45.3 percent from the field. He was more productive as a junior last season, averaging 17.9 points and 6.0 rebounds.
But he was a less efficient player as opposing defenses learned his tendencies, and his shooting percentages dropped as he attracted more defensive attention. He shot 43 percent last season, including 31.3 percent from 3-point range on 4.7 attempts per game.
He also attempted 2.7 free throws per game as a junior compared to 4.2 as a sophomore. He was still named to the All-Mountain West second team.
Hamilton is 6 feet, 4 inches and 205 pounds, and a throwback type of offensive player who is more proficient from the mid-range area than the 3-point line. He's left-hand dominant and can beat defenders when going to his left. But he struggles going to his right and often settled for long, contested jumpers — making many, but stagnating the offense in the process.
He managed to improve as a passer, logging 3.0 assists in 2020-21 compared with 1.4 in 2019-20. He also averaged 1.3 steals in 2020-21, compared to 0.7 in 2019-20.
Hamilton is the eighth UNLV player to consider leaving the program, though the first by way of the draft. Seven other Rebels players have entered the transfer portal, including David Jenkins Jr., the team's second-leading scorer last season.
Contact reporter Sam Gordon at sgordon@reviewjournal.com. Follow @BySamGordon on Twitter.