UNLV starting guard will enter transfer portal
Updated March 20, 2023 - 6:21 pm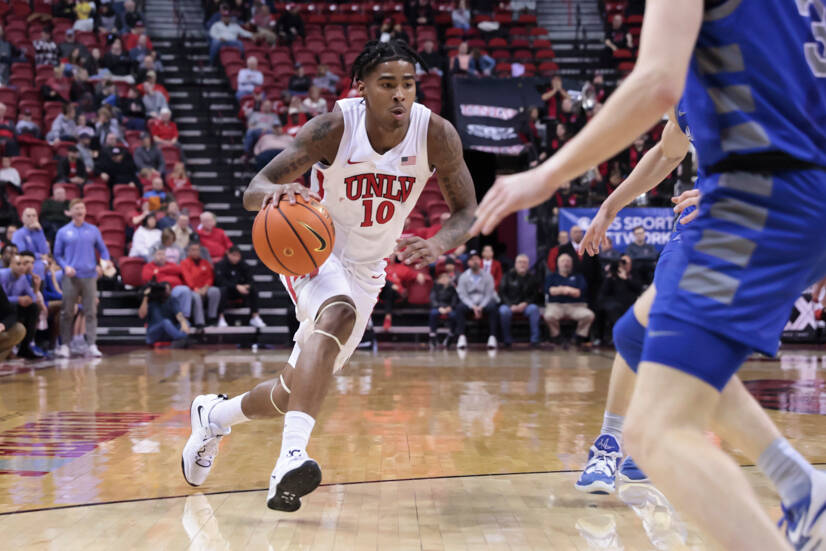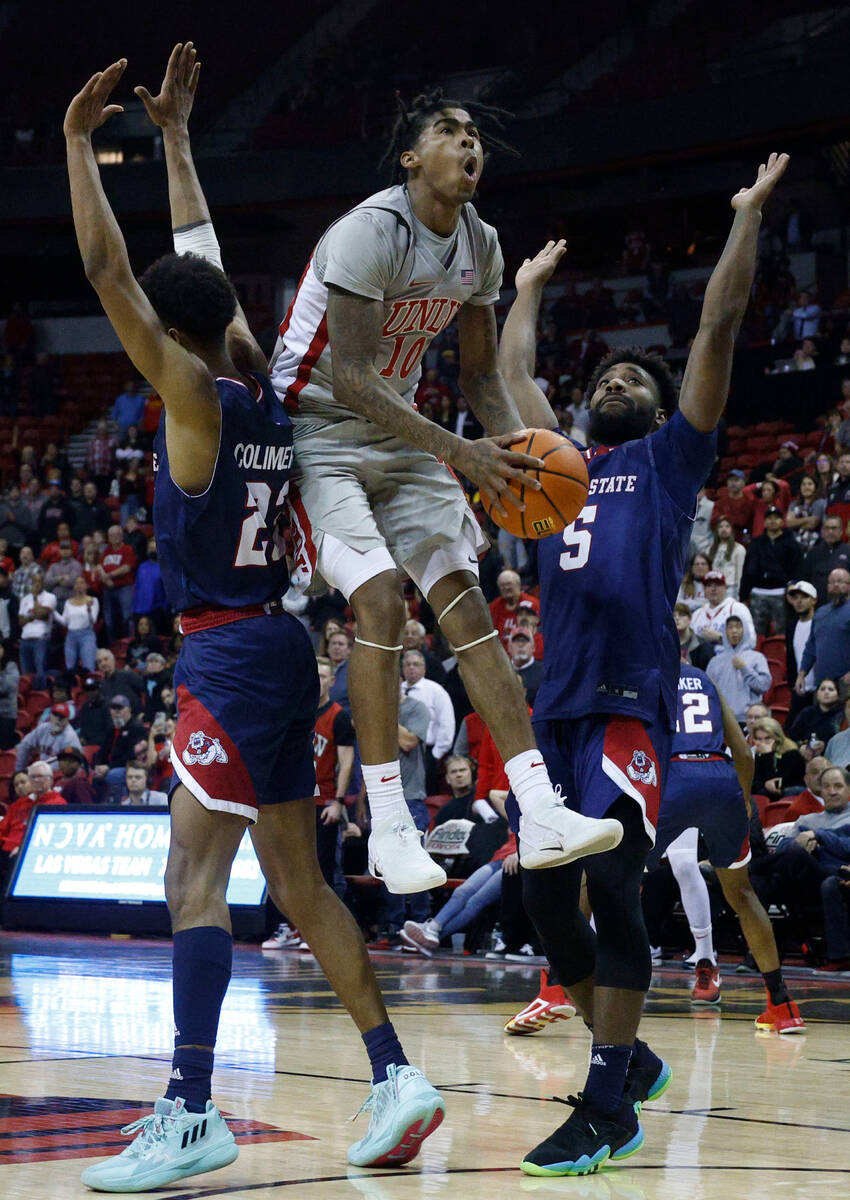 UNLV sophomore guard Keshon Gilbert is leaving the program and entering the transfer portal, a decision that leaves a sizable void in the starting lineup.
The former Durango High standout started 29 of the 31 games in which he played this season, averaging 11.4 points, 3.8 rebounds, 3.2 assists and 1.7 steals in 27.5 minutes per game.
Gilbert announced his decision on Twitter, but didn't respond to requests for comment.
Gilbert also was one of UNLV's best perimeter defenders and a tone setter with his energy on both sides of the floor.
"Being a sophomore around a lot of older guys isn't always the easiest thing in the world," Rebels coach Kevin Kruger said of Gilbert during the season. "But when you play as hard as (Gilbert) does, there's a respect level there automatically. It just comes with it.
"No matter what (year) you are or what you do, playing hard gives you credibility. And then, of course, he's producing. Shooting it well, getting in the paint, making plays. He gets better every day."
Gilbert did indeed improve during his two years at UNLV, morphing in 18 months from a defensive specialist into a steady starter who figures to garner plenty of interest in the portal — including that of high-major programs.
— KG 🖤… (@kg2times) March 20, 2023
He cracked the rotation as a freshman, averaging 14.3 minutes and 2.6 points in 32 games before cracking the starting lineup. At 6 feet, 4 inches, Gilbert handled the ball more this season and shot 46.4 percent from the field and 38.4 percent from 3-point range, finishing second on the team in scoring while maintaining his defensive intensity.
Gilbert was supplanted in the starting lineup by Jordan McCabe during the Mountain West tournament quarterfinal loss to Boise State at the Thomas & Mack Center after missing the first-round matchup against Air Force because of a one-game suspension issued in response to a supposed headbutt in the season finale at UNR.
As a result, Gilbert played 10 minutes against the Broncos — registering seven points and two rebounds.
Gilbert will join in the portal former UNLV freshman Keyshawn Hall, a crafty 6-7 scorer nicknamed "Big Guard" who announced Sunday his intention to transfer.
Reserve forward Victor Iwuakor is also in the portal as a graduate transfer, per Verbal Commits. He averaged 3.0 points and 3.6 rebounds in 17.1 minutes per game.
The Rebels, people familiar with the situation said, were braced for the likelihood of multiple transfers and have been recruiting the transfer portal for experienced players who could immediately contribute.
UNLV finished 19-13 and 7-11 in the Mountain West this season, its second under Kruger.
Contact Sam Gordon at sgordon@reviewjournal.com. Follow @BySamGordon on Twitter.