UNLV stops slide with win over Southern Utah
December 19, 2010 - 12:00 am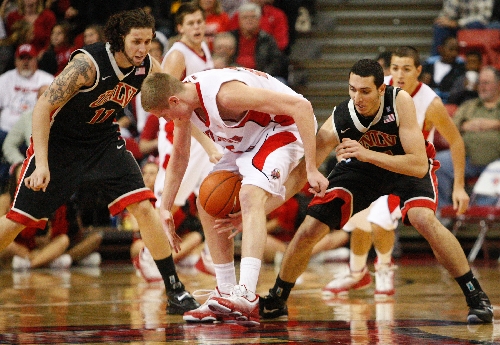 Three days after his worst game of the season, UNLV sophomore Anthony Marshall was the best player on the floor.
The former Mojave High School star returned to the starting lineup Saturday and scored a career-high 17 points to help the Rebels roll to a 72-50 victory over Southern Utah at the Thomas & Mack Center.
"I wanted to be more active and try to put pressure on the defense," Marshall said. "We needed this."
Coach Lon Kruger said his team needed to "bounce back," and there was no doubt that would happen against a far inferior opponent short on height and talent.
Marshall made certain it happened, and Kruger saw it coming, saying the 6-foot-3-inch guard "had a little hop in his step" the previous two days in practice.
In an upset loss to UC Santa Barbara on Wednesday — the Rebels' second straight setback — Marshall shot 0-for-5 from the field and had one point. That was his first game of the season as a reserve.
Marshall returned as a starter in place of senior Derrick Jasper, who was held out with a hyperextended right knee.
"I thought he looked really sharp," Kruger said. "Anthony drove the ball to the bucket and gave himself an opportunity to finish plays."
Marshall shot 6-for-9 from the field, 5-for-8 on free throws and had three assists, two steals and no turnovers in 31 minutes. He missed his only shot from 3-point range, which has remained the weakness in his game.
"I just tried to be aggressive and get into the seams to create plays for my teammates," he said. "I was able to get easy layups. I didn't want to settle for jump shots."
Next up for No. 22 UNLV (10-2) is a showdown with sixth-ranked Kansas State (9-2) on Tuesday at Kansas City, Mo. The Rebels are expected to fall out of the polls Monday. The Wildcats will drop a few spots after losing 57-44 to Florida on Saturday.
Kruger said Jasper will be ready to play against Kansas State.
"He could have played tonight perhaps, but we had no interest at all in rushing that," Kruger said.
Marshall was not the only Rebels player to have a memorable night.
Carlos Lopez, a 6-11 forward, had 12 points and 11 rebounds to post career highs in both categories. He was able to get to the rim easily against the Thunderbirds' slower big men.
"It feels really good. It's my first double-double," said Lopez, a redshirt freshman from Findlay Prep. "When you lose, that's an ugly feeling. We needed to bounce back this way."
Southern Utah (3-8) shot 6-for-24 from the field in the first half, when Marshall scored eight points to lead UNLV to a 37-18 lead.
Matt Hodgson had 12 points and 10 rebounds for the Thunderbirds, who were harassed into 22 turnovers.
The Rebels never trailed and went ahead 24-10 on Justin Hawkins' three-point play.
Chace Stanback finished with nine points while Hawkins and Tre'Von Willis had eight apiece. Willis made two 3-pointers but UNLV shot 3-for-16 from long range.
Sophomore forward Quintrell Thomas had six points and seven rebounds as the Rebels' inside game, led by Lopez, showed some production.
Thomas' dunk gave UNLV its largest lead, 60-33 with 8:39 remaining.
"We got a terrific performance out of Carlos," Marshall said. "Everybody got into the flow."
Contact reporter Matt Youmans at myoumans@reviewjournal.com or 702-387-2907.
Basketball: UNLV 72, Southern Utah 50
UNLV 72
SOUTHERN UTAH 50
KEY: Anthony Marshall scored 17 points to lead the Rebels, and Carlos Lopez had 12 points and 11 rebounds.
NEXT: UNLV vs. Kansas State, 6 p.m. Tuesday, Kansas City, Mo., ESPN2 (31), KWWN (1100 AM, 98.9 FM)