UNLV struggles in 2nd half, falls to San Francisco
Updated December 4, 2021 - 10:12 pm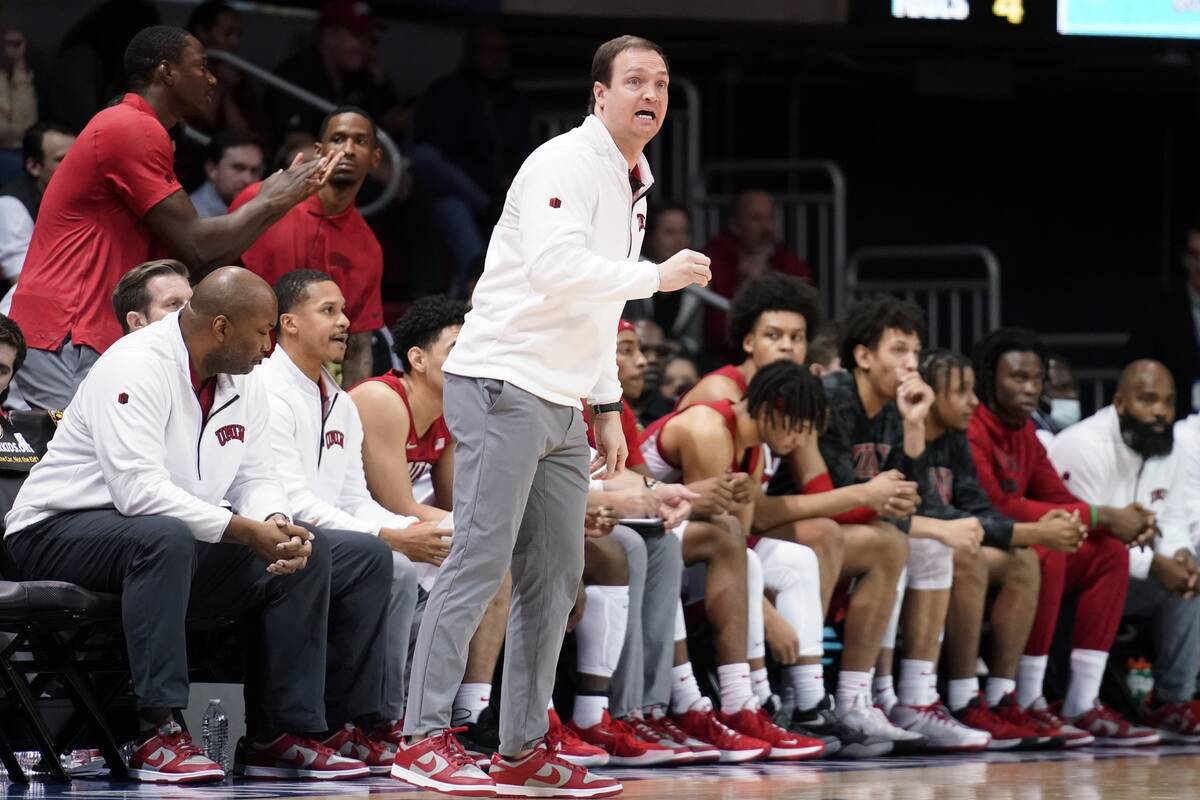 Alas, some improvement.
At least for a half, anyway.
For about 12 minutes Saturday night, UNLV played the style of offense that coach Kevin Kruger has campaigned for. One predicated on ball and player movement, dribble penetration and patience.
And it still didn't matter. The Rebels lost 83-62 to host San Francisco at War Memorial Gym.
"We threw some punches. They made some shots early. We could have folded pretty quick," Kruger said. "But again, not just quite enough. It kind of got away there toward the end."
Kruger had been critical of UNLV's ball movement amid a two-game losing skid. He removed senior wing Bryce Hamilton, junior wing Donovan Williams and senior guard Mike Nuga from the starting lineup with the hope of sparking better ball movement.
Junior guards Josh Baker and Justin Webster started in their place along with sophomore forward Reece Brown.
But that combination also struggled to generate offense, and Hamilton, Williams and Nuga checked in four minutes into the game to revive the offense.
Hamilton proceeded to score 15 of his season-high 25 by attacking and finishing at the basket, and the Rebels (4-5) managed a 40-35 halftime deficit. His tempered aggression opened teammates on the perimeter. A small lineup generated driving and passing lanes.
But that quickly mushroomed into a double-figure deficit in the second half amid the bad habits UNLV has displayed this season: stagnant ball and player movement and poor shot selection. Dons senior guards Jamaree Bouyea (30 points) and Kahlil Shabazz (15 points) controlled the tempo with their dribble drive and movement.
For the second straight game, UNLV's perimeter defenders struggled to contain dribble penetration, forcing extra defensive rotations and creating open looks for the Dons (9-0).
San Francisco senior forward Yauhen Massalski imposed his will with 18 points and 16 rebounds.
The Rebels have lost five straight games against Division I competition. They return to Las Vegas to play Seattle on Wednesday at Michelob Ultra Arena.
"They play hard, but just weren't quite able to get over the hump tonight," Kruger said. "We've just got to figure out how to finish that out."
Contact reporter Sam Gordon at sgordon@reviewjournal.com. Follow @BySamGordon on Twitter.