UNLV struggles to score in blowout loss to UCLA
Updated November 27, 2021 - 5:42 pm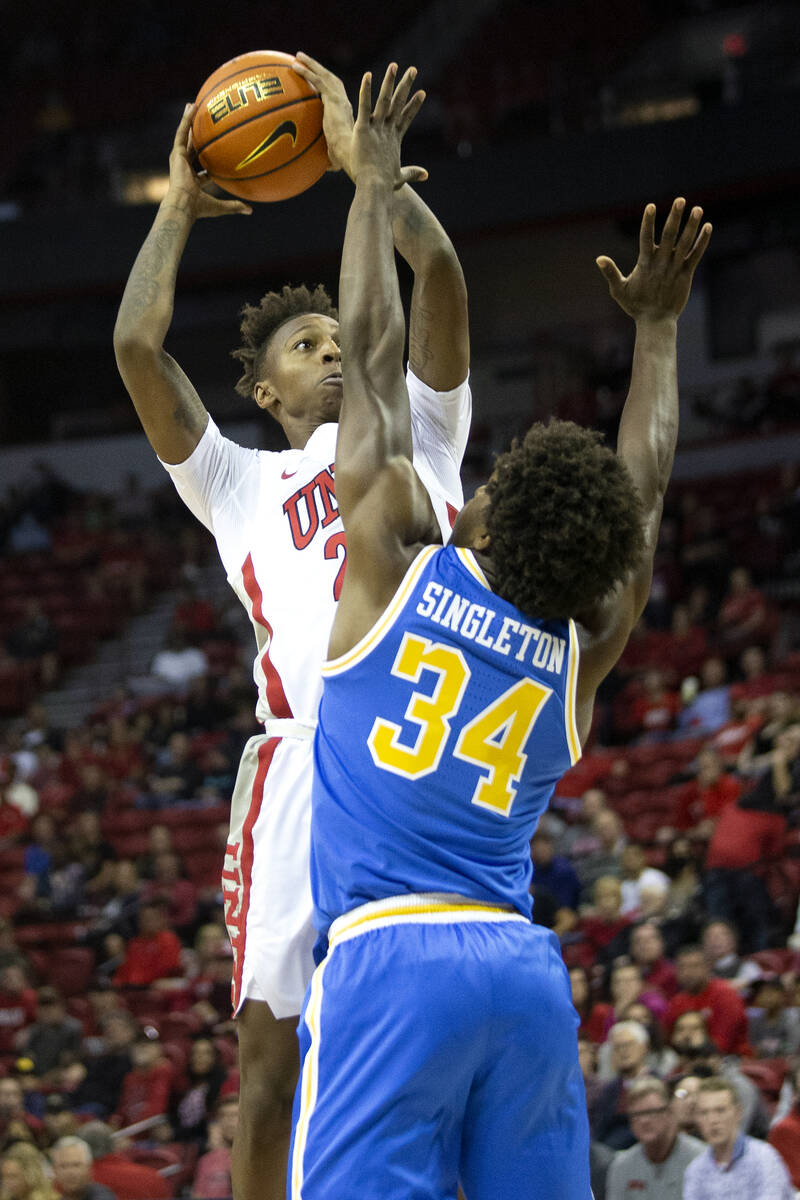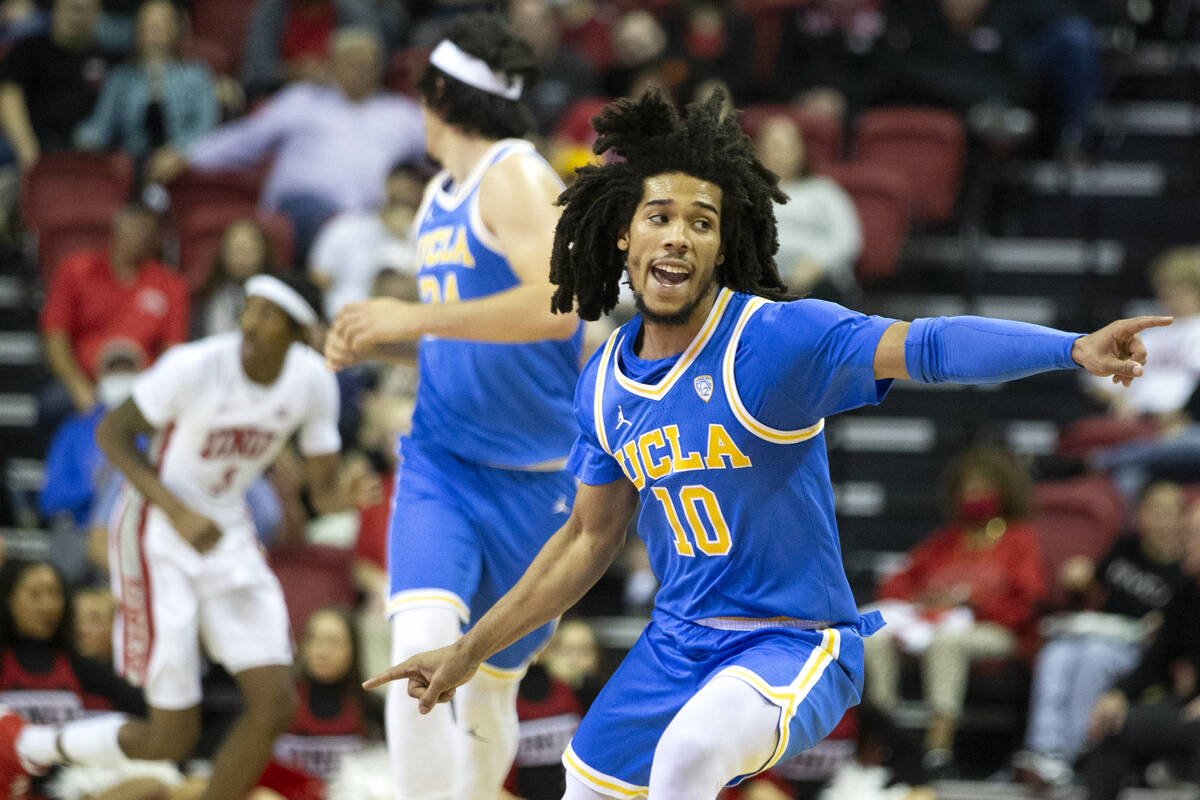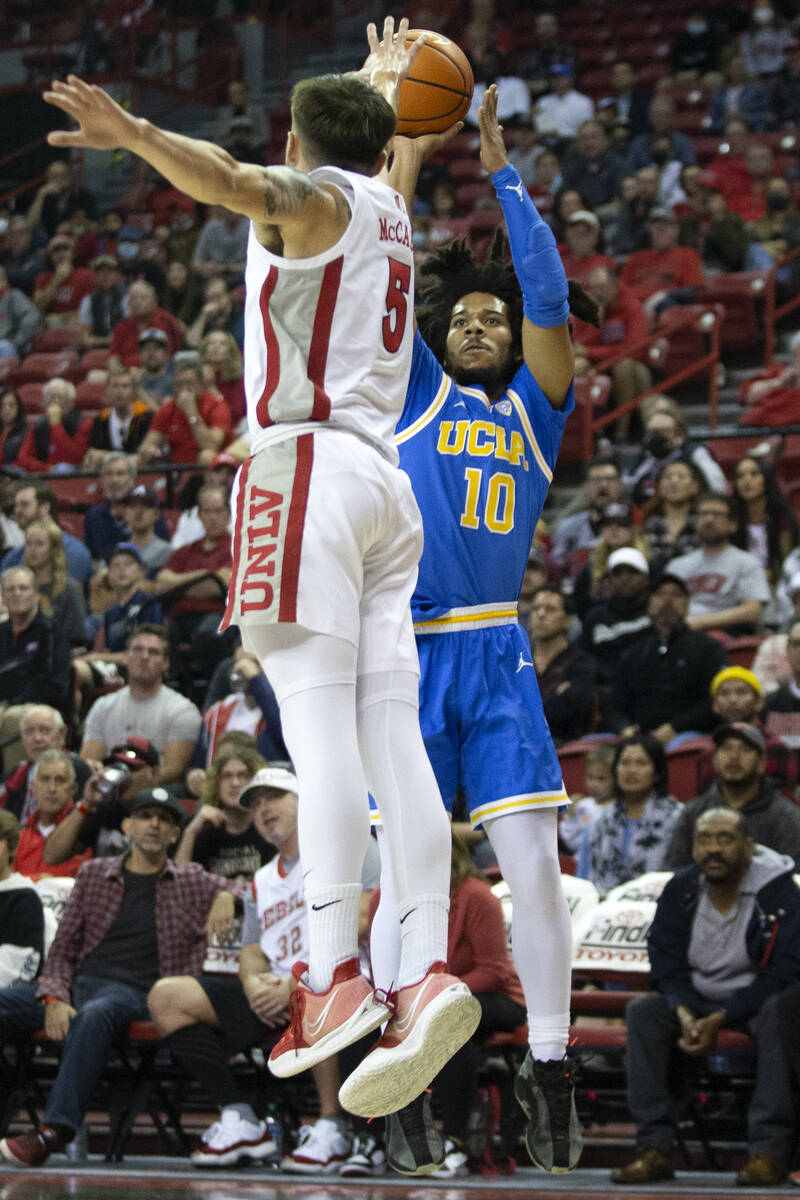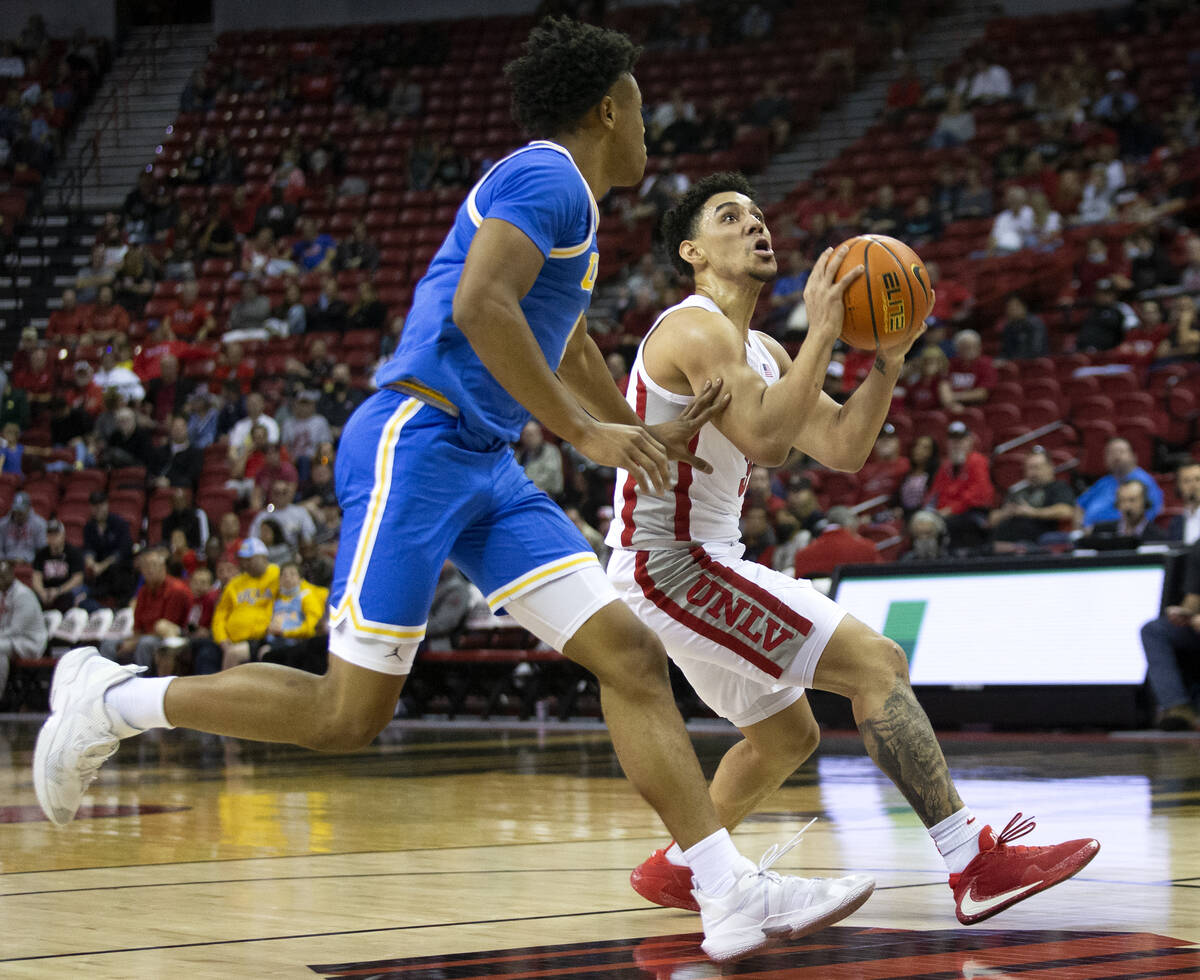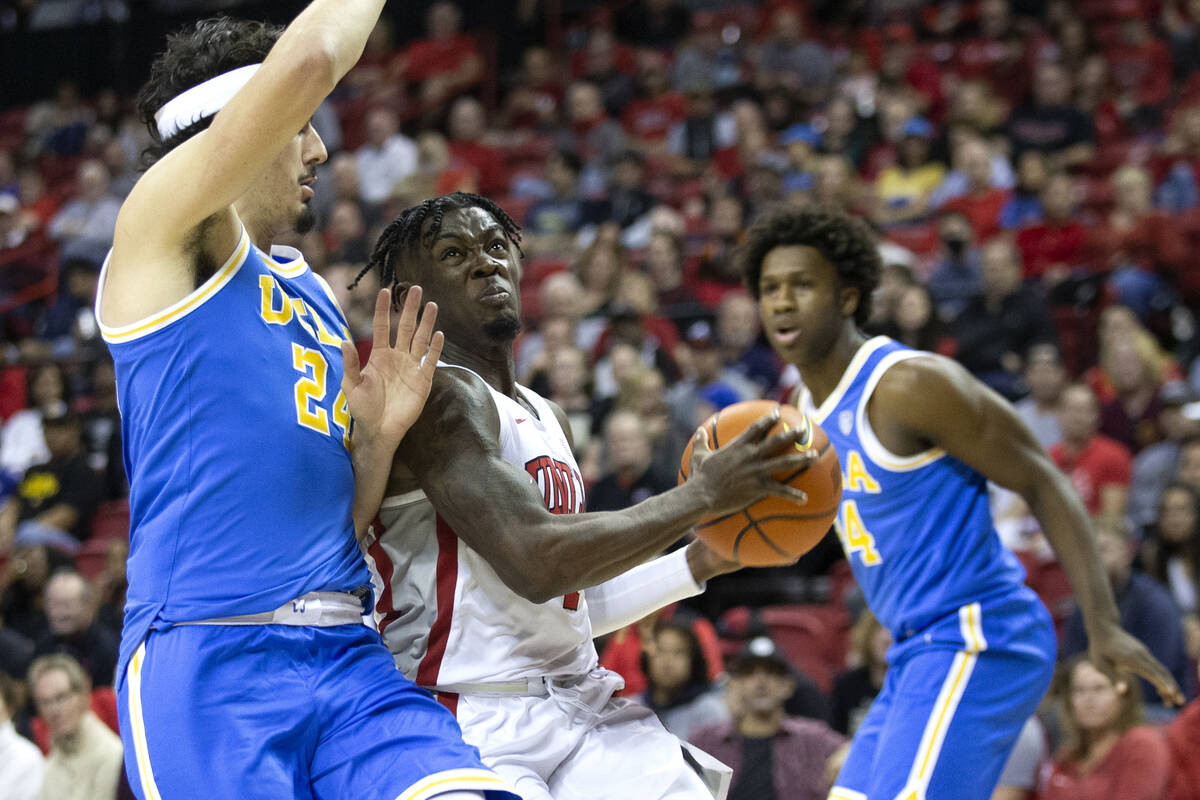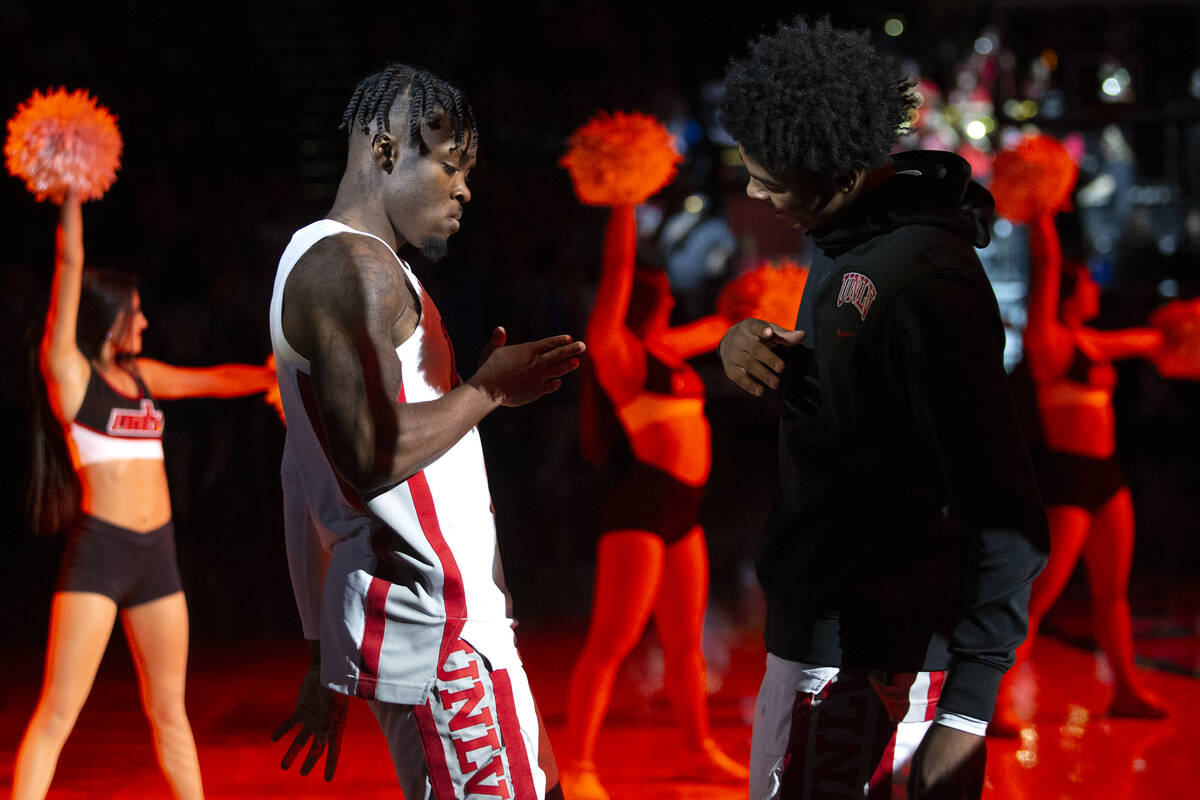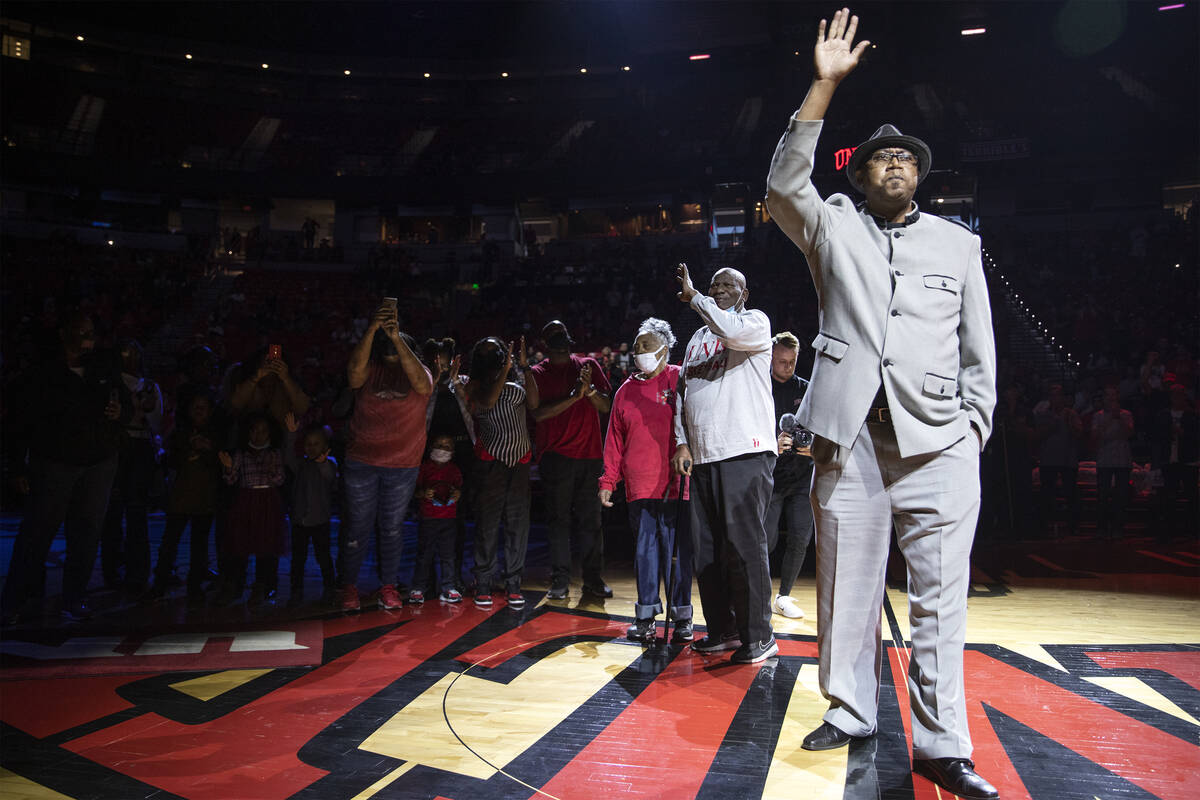 UNLV men's basketball coach Kevin Kruger finally has some game tape he's looking forward to watching with his team after a resounding loss Saturday to No. 2 UCLA at the Thomas & Mack Center.
"This is going to be an opportunity to show the guys, that as good as UCLA is … that we've got to be more stubborn about getting to the paint, driving and kicking, moving and doing those things," he said. "They make it really hard because they're in gaps. They're active. And they take on the challenge of guarding the ball."
The Rebels foundered offensively, falling 73-51, before an announced crowd of 6,392 that watched program legend Freddie Banks' jersey retirement at halftime. They shot 30.4 percent from the field and 22.2 percent from 3-point range, settling for a diet of contested jumpers amid resistance on the perimeter and at the rim.
The Bruins (6-1) are a national championship contender, equipped with experienced wings such as Jules Bernard, Johnny Juzang and Jaime Jaquez Jr. But it's becoming hard to ignore UNLV's offensive struggles that stem mostly from a lack of reliable 3-point shooting.
"I still feel like we're a good shooting team," Rebels senior wing Bryce Hamilton said after scoring a team-high 15. "The more passes and the more we create for each other, we'll get better open shots and we'll start knocking them down."
UNLV (4-3) is shooting 27.2 percent from 3-point range against Division I competition this season. Quality defensive teams have been able to exaggerate their help defense on the weak side and clog the paint.
Far too often, UNLV's possessions use the majority of the 30-second shot clock, leaving Hamilton to create in isolation situations that tend to favor the defense despite his savvy arsenal. Even Hamilton on Saturday struggled to squeeze into the congested lane against UCLA, and the Rebels attempted 10 field goals in the restricted area — excluding drives that resulted in shooting fouls.
Meanwhile, Juzang, Jaquez and Bruins junior point guard Tyger Campbell attacked the basket at will, either finishing, drawing contact or collapsing UNLV's defense and opening 3-point shooters. Like Bernard, who made 3 of 4 en route to a game-high 18 points.
The Rebels didn't score for nearly seven minutes during the second half, mirroring a 10-minute stretch without a field goal last Sunday in a loss to Wichita State.
Plenty for Kruger and his staff to unpack.
"We've got enough of a sample size where we can dissect those stretches a little more," Kruger said. "That's something we're going to take a really long, hard look at here in these next few days and see what the common thread is."
Contact reporter Sam Gordon at sgordon@reviewjournal.com. Follow @BySamGordon on Twitter.