UNLV upsets No. 21 New Mexico, grabs first MW win of season
Updated January 7, 2023 - 10:10 pm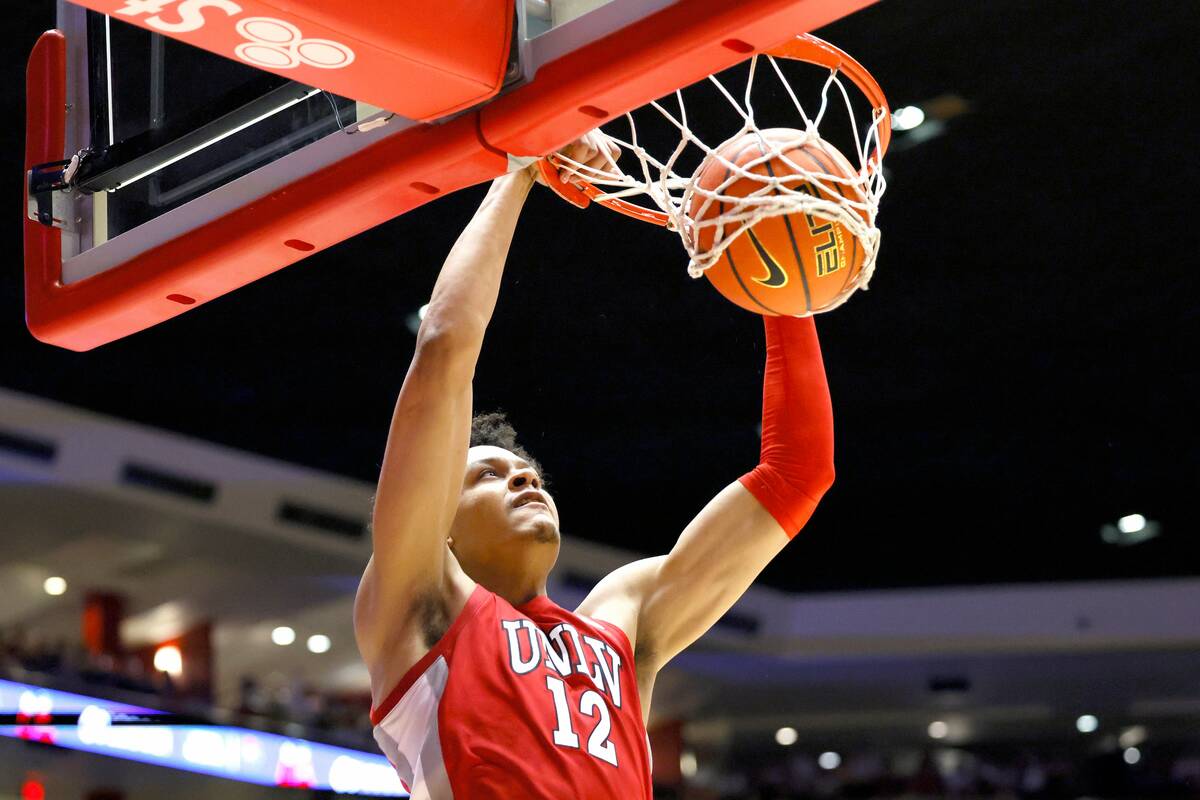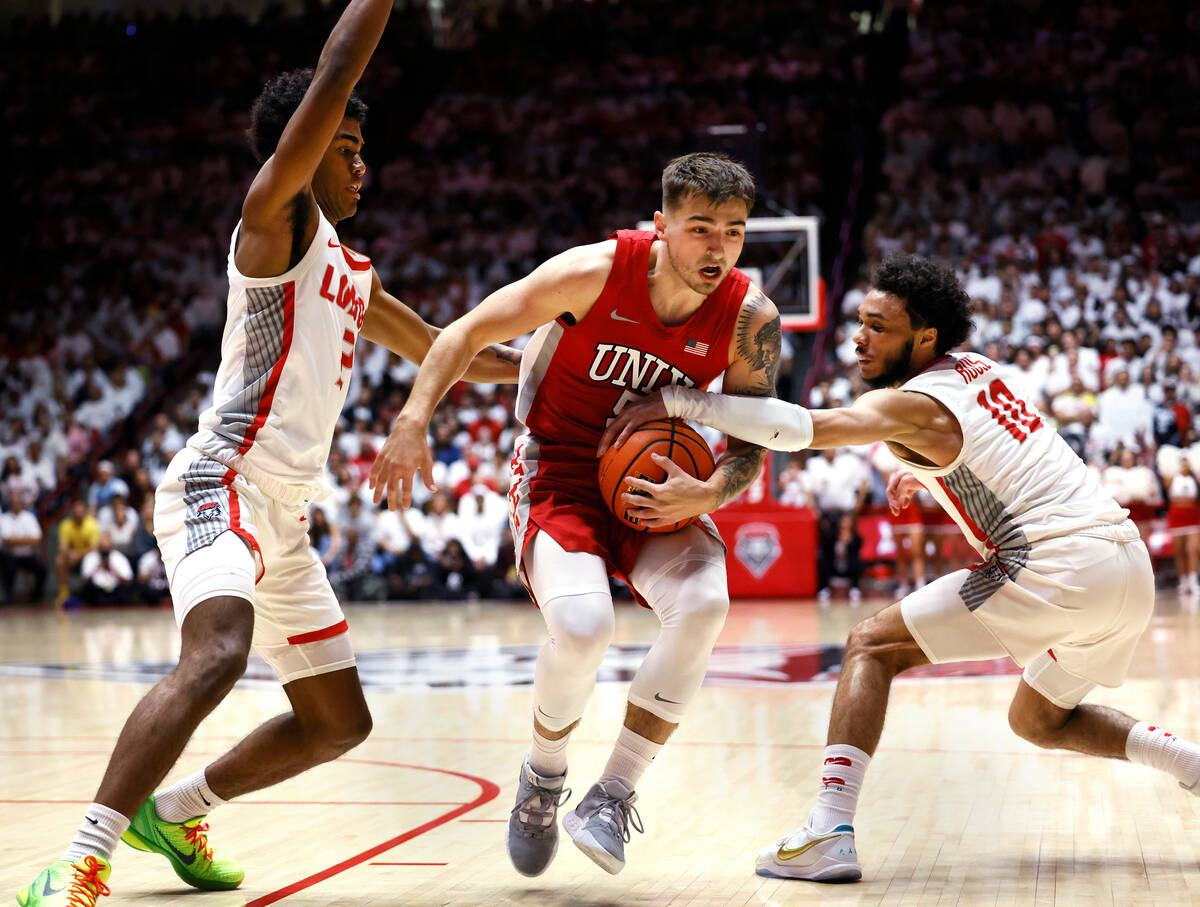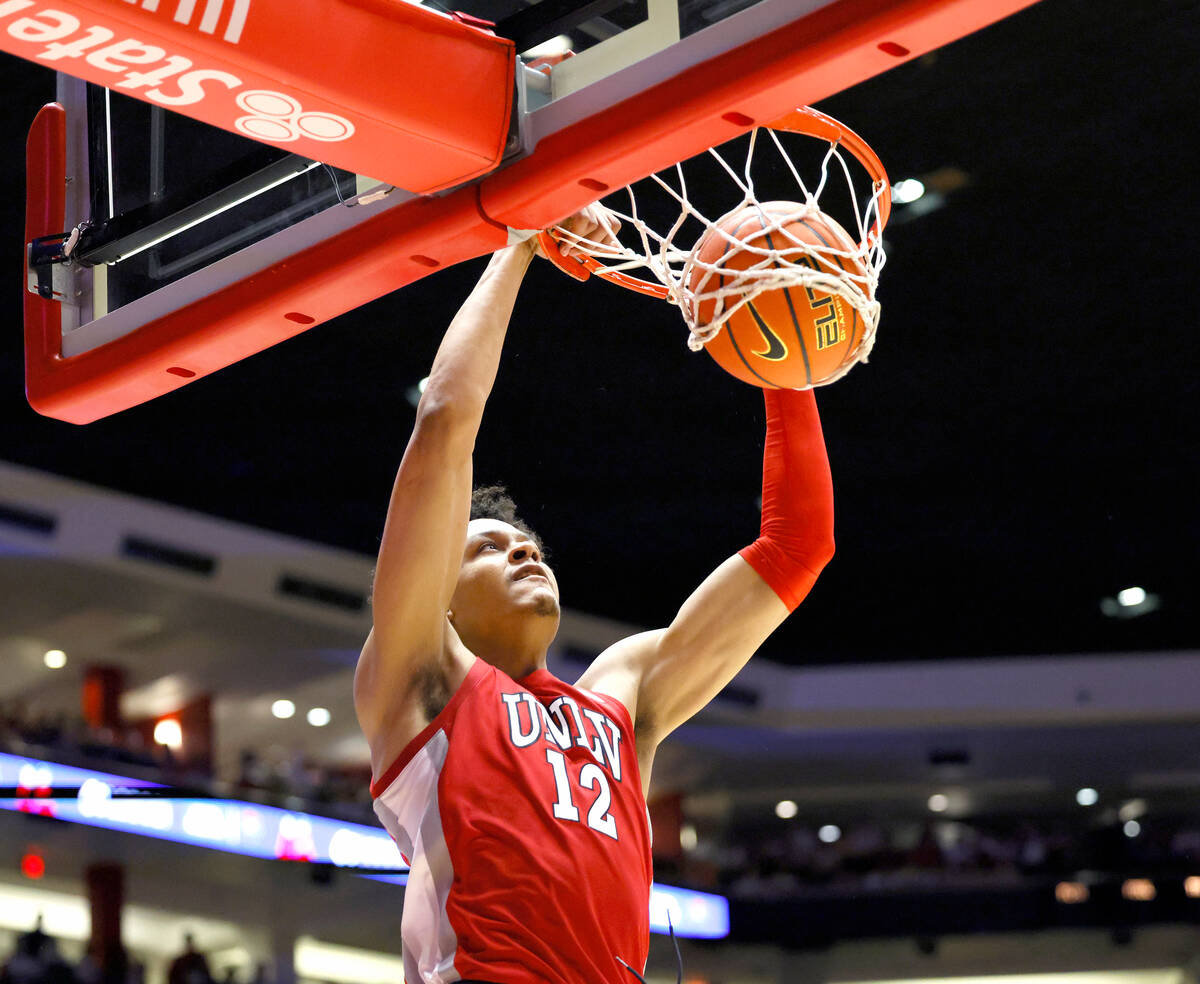 As fifth-year guard EJ Harkless headed to the bench, it felt like the Rebels' hopes of an upset were slipping away.
Despite leading for a majority of the second half, UNLV found itself in a precarious position with 22 seconds remaining during Saturday's 84-77 win against No. 21 New Mexico.
Lobos junior Jamal Mashburn Jr.'s layup seconds earlier cut the Rebels' lead to four points. Then Harkless committed a five-second in-bound violation to hand the ball back to New Mexico.
The extra possession led to a Mashburn attempt from 3 at the top of the key, but as the Lobos guard released the ball, Harkless flew by and hit Mashburn's shooting hand.
Harkless, who scored a game-best 25 points, fouled out. Mashburn, a 79.5 percent free-throw shooter, had three attempts to potentially cut UNLV's lead to just one point. Instead, he went 1-for-3.
The Rebels grabbed the rebound off Mashburn's final miss and made their free throws to close out the win.
"Of course," UNLV coach Kevin Kruger told reporters, "it's easy to say it's a fun one now because we came out on top."
UNLV beat New Mexico in front of a sold-out crowd of 15,424 at The Pit in Albuquerque to earn their first Mountain West victory of the season.
The win, UNLV's second against a ranked team this season, also snapped a two-game losing streak. After starting the season 14-0, New Mexico lost twice this week, also falling to Fresno State 71-67 Tuesday on the road.
"That atmosphere just gets everybody's competitiveness going," Kruger said. "The guys were in it. Everyone was fighting."
The Rebels, and sophomore Keshon Gilbert in particular, got off to a tough start. New Mexico senior guard Jaelen House turned the UNLV sophomore over twice in the first two minutes while Gilbert was simply trying to bring the ball up the court, and the Lobos took an early 8-0 lead.
Kruger made a quick substitution to bring in fifth-year guard Jordan McCabe, and he helped the Rebels (12-3, 1-2 Mountain West) settle down. The veteran point guard, combined with a strong first half from center David Muoka, kept the Rebels close, but the Lobos led by 12 points with nine minutes remaining in the half.
Then, Gilbert finally woke up. He hit his first 3 of the conference season — though he also got a flop warning on the same play — to begin a personal 8-2 run.
"He played loose," Kruger said. "He played free. He had fun."
House and Mashburn also got into early foul trouble, but UNLV finished the half with a McCabe turnover that led to an emphatic dunk by fifth-year New Mexico forward Morris Udeze. The Lobos (14-2, 2-2) headed into halftime with the 43-38 lead and seemingly all of the momentum.
However, UNLV exploded out of the locker room to begin the second half. Gilbert returned the favor of early turnovers by getting quick steals against House and Mashburn to create easy layups in transition. Harkless added a 3, and Luis Rodriguez had a put-back dunk to help the Rebels go on a 9-0 run and take their first lead of the game.
The Rebels never gave it back, and Harkless took control. The former Oklahoma guard scored 21 of his 25 points in the second half on 7-of-11 shooting. His array of Eurosteps, hesitations and step-back jump shots overwhelmed the Lobos.
He was also 7-for-7 on free throws.
Gilbert recovered from his shaky start to score 14 points. The sophomore had five turnovers, but four came very early in the first half, and he also added five assists.
Rodriguez poured in 12 points, Muoka scored 11 and had seven rebounds, and McCabe had 12 points to reach double figures for the second time this season.
"Guys did what they needed to do," Kruger said. "We talk about that a lot, give ourselves a chance to win the game."
Contact reporter Andy Yamashita at ayamashita@reviewjournal.com. Follow @ANYamashita on Twitter.