UNLV walk-on Austin Starr rolled out of bed and started shooting — really
October 27, 2015 - 2:56 pm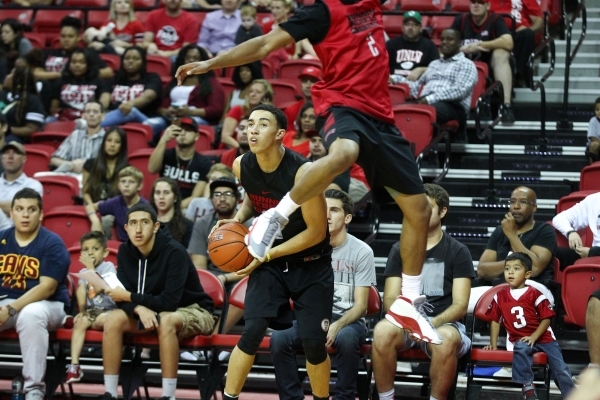 If it sometimes appears Austin Starr could roll out of bed and hit 3-point shots, it's because he grew up doing exactly that.
Starr is a pure shooter, raised in a basketball family in a Henderson home that had a high ceiling for a reason. The living room extended 25 feet vertically to accommodate the arc of a jump shot. He is, after all, the son of a former NBA player.
"My dad had a court in our living room, so I woke up shooting," he said. "I walked down the stairs and there was my court. That's probably where I got some of my shooting skills."
The rest was passed on from his dad, Keith Starr, who played college ball at Pittsburgh and was a fourth-round draft pick by the Chicago Bulls in 1976. He retired after one season because of knee injuries. From 1984 to 1992, he was an assistant coach on Jerry Tarkanian's staff at UNLV.
Dave Rice played for the Rebels at the end of Keith Starr's coaching tenure. Now Austin Starr is a walk-on freshman guard playing in his hometown for Rice, whose Rebels play their only exhibition game at 7 p.m. Friday, Nov. 6 against Whittier College at Thomas & Mack Center.
Starr spent three years on the varsity team at Foothill High School, but he graduated in 2014 with no college offers and stayed in Las Vegas to attend Impact Basketball Academy's one-year prep program. Still, his college options were few and not too appealing.
He had opportunities to play at junior colleges in California, Oregon, Texas and Washington, in addition to Arizona Christian University on the NAIA level.
"I think a lot of schools maybe looked at him as being a little too small," Foothill coach Kevin Soares said.
Starr is listed at 6 feet 3 inches, which is probably a slight exaggeration. But he earned his nickname – "Shooting Star" – and that's what drew in Rice, who once earned a spot on Tarkanian's roster because of his shooting skills.
"Pure shooter," Rice said. "Austin has a high basketball IQ, and he's a coach's son. I believe he can play minutes for us at some point in time."
As part of a talented UNLV team with 12 scholarship players who expect significant minutes this season, Starr is realistic. He's not going to be starting. He might not get into many games. But he will be getting better because of the competition he's facing each day in practice. Two of his new teammates – 7-foot freshman Stephen Zimmerman and 6-9 junior Ben Carter – were opponents at Bishop Gorman High.
"I'm not going to say I deserved anything," Starr said of his lack of college offers. "It's a blessing and honor to be here. I'll do as much as I can to help the team, and push my teammates every day like they do me.
"Coach Rice likes the way I play. He watched me through high school."
Starr averaged 14.9 points as a Foothill senior, leading the team to the Sunrise League championship while impressing his former coach in ways other than scoring.
"He's one of the highest basketball IQ guys that I've coached since I've been at Foothill, and guys like that can help the team," said Soares, the Falcons' coach since 1999. "I know he will be a great practice player.
"He might miss four or five shots, but he never lacked any confidence. He could hit five or six in a row. He shot us back into some games. He can definitely light it up."
Starr proved that recently by winning the 3-point contest in the Runnin' Rebel Madness event at the Downtown Las Vegas Events Center last week. He hit 9 of 12 shots in the first round on the way to beating five teammates for the title.
Shooting outside was no different than shooting in his living room, where his dad marked the court with a 3-point line.
It's no surprise the Golden State Warriors have caught Starr's eye. He calls Stephen Curry and Klay Thompson his favorite players. But he does have interests aside from shooting a basketball.
"I played bass guitar in elementary school," he said. "I was in a band for a year. We didn't establish a name. I had long curly hair. I played like two songs total."
He also golfs – "I'm not technically good at golf, but I enjoy it," he said – and is into bowling, posting a high game of 206. Bowling is another passion passed on from his dad.
"My dad has been my teacher for everything," he said. "He taught me how to shoot. He's a big inspiration for me."
Contact reporter Matt Youmans at myoumans@reviewjournal.com or 702-387-2907. Follow him on Twitter: @mattyoumans247