UNLV wins 3rd straight game with victory at Colorado State
Updated February 1, 2023 - 7:09 pm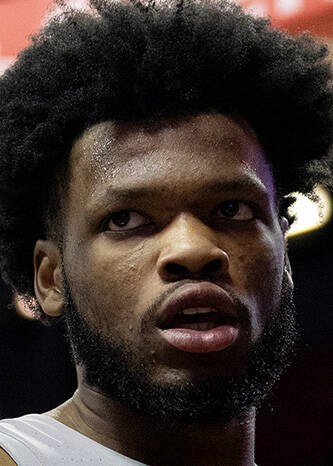 UNLV sophomore guard Keshon Gilbert had eight seconds to make something happen during the Rebels' 83-71 win over Colorado State on Tuesday night. He needed only three.
With UNLV leading by six and inbounding the ball from the sideline with eight seconds remaining before halftime, Gilbert collected the ball, saw the defense drop and took what it offered him. He pulled up from the top of the arc and made a 3-pointer to send UNLV into the locker room with a nine-point lead.
Gilbert's resurgent 3-point shooting, along with a strong showing from the Rebels' bench, helped UNLV win its third consecutive game with a victory over the Rams at Moby Arena in Fort Collins, Colorado.
Fifth-year guard EJ Harkless led UNLV with 17 points, Gilbert scored 16, and seniors Justin Webster and Luis Rodriguez had 11 each.
"Teams go through ups and downs," coach Kevin Kruger said. "It happens. We went through a tough two-week stretch, and now we've had a good week-and-a-half stretch. Guys are feeling good."
Gilbert got off to a hot start. After Colorado State went up 6-0, he hit a 3-pointer off an offensive rebound. A few minutes later, another Gilbert 3 began a 17-2 run to put UNLV ahead by 12 points around the 11-minute mark.
UNLV's reserves were responsible for most of the scoring despite missing fifth-year guard Jordan McCabe, who did not dress for the game. Freshman Keyshawn Hall punished Rams defenders on the low block and scored seven of his 10 points in the first half.
Sophomore Shane Nowell also continued his hot stretch on 3-pointers, going 2 of 3. He's 6 of 10 since forcing his way into the rotation Jan. 24 and has made multiple 3s in each of the past three games.
UNLV also got a boost from Rodriguez, who played for the first time since suffering a groin injury Jan. 21 against Fresno State. Along with his 11 points, he had six rebounds, two assists and two steals.
Colorado State kept things interesting, though. It cut UNLV's lead to one point with six minutes remaining in the first half, but the Rebels went on a 13-5 run to finish the period.
"At some point you just kind of remember things are going to work out," Kruger said. "We're a good team, it's a good group of guys, and we're going to make good things happen."
UNLV led for the entire second half and was ahead by 22 points with eight minutes remaining. The Rebels shot 47.5 percent overall and 40.7 percent on 3-pointers. Gilbert hit 4 of 6 3-pointers, the first time he's made that many in a game since Nov. 12 against Incarnate Word. He's made multiple 3s in two of his past three games.
The Rebels also got productive minutes from reserve senior center David Muoka, who had six points, five rebounds, two assists and a block in 14 minutes, his most extensive playing time since Jan. 14.
Muoka, Nowell, Hall and Rodriguez outscored the Rams' bench 33-2.
UNLV turned Colorado State's 12 turnovers into 19 points, had 20 second-chance points off 12 offensive rebounds and held the Rams to 29 percent shooting on 3s.
"They're having fun doing it, guarding their tail off, making plays for each other, and it's just fun to watch them," Kruger said.
Contact reporter Andy Yamashita at ayamashita@reviewjournal.com. Follow @ANYamashita on Twitter.