UNLV women's season ends in loss to San Jose State
Updated March 2, 2020 - 11:27 pm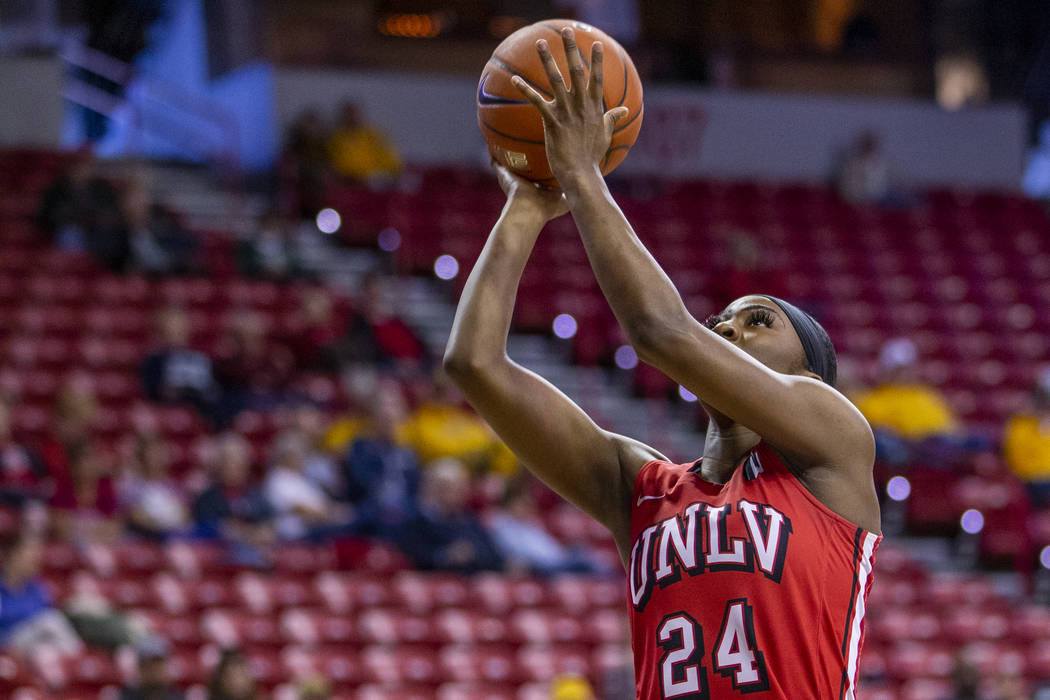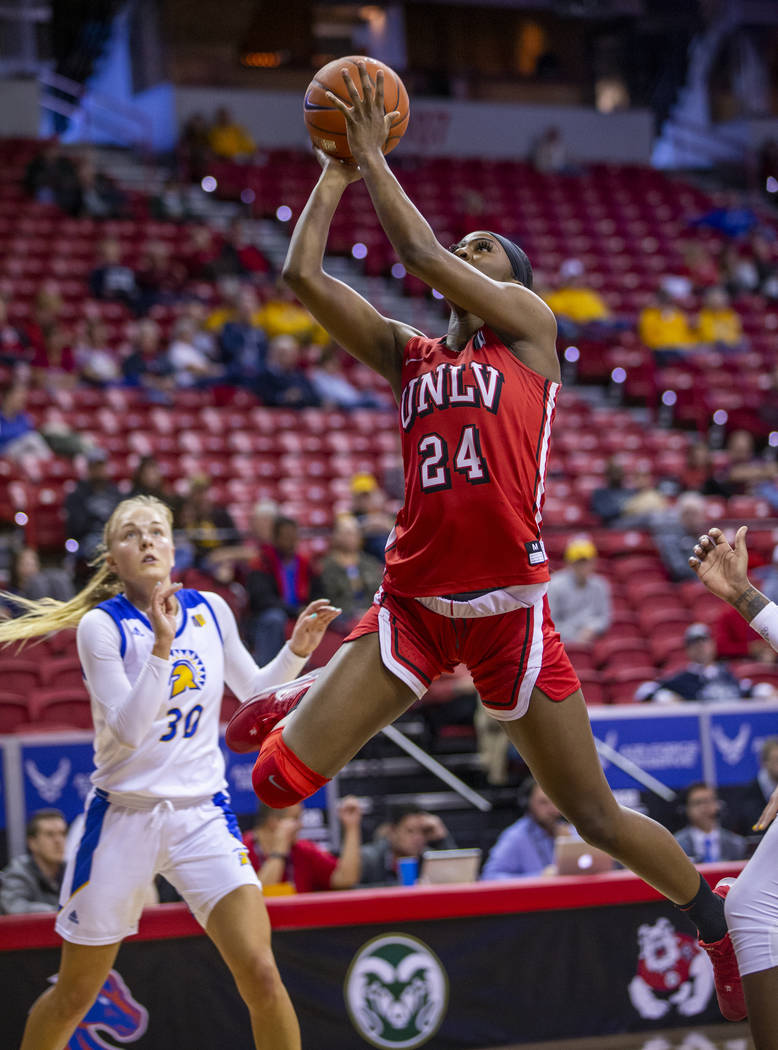 Rodjanae Wade walked dejectedly to the UNLV bench with 7:55 left holding one of her shoes, unable to mask her frustration.
The wheels were coming off for the Lady Rebels, and there was only so much Wade could do about it.
She totaled 26 points and 21 rebounds — the first 20-20 game in Mountain West women's tournament history — and her teammates combined to score 22 points. The result was a 67-48 loss for the fifth-seeded Lady Rebels to No. 4 San Jose State in Monday's quarterfinals at the Thomas &Mack Center.
Wade made 11 of 22 shots; her teammates combined to make 9 of 38.
In many ways, it was a typical game for UNLV. Wade entered averaging 15.1 points, or about 25 percent of Lady Rebels' total.
"I felt we were standing and waiting for RJ (Wade) to make something happen with two or three people on (her)," UNLV coach Kathy Olivier said. "You can't do that. I love that RJ said we have a lot of threats, which we do, but we have to have better spacing. We have to move better without the ball. We know that we did that at times this season, but we just didn't do it consistently."
UNLV (13-17) ended the season with seven losses in its final eight games. The Lady Rebels lost all three meetings with San Jose State (19-11).
It was a tough way for Wade to end her college career, but she leaves quite a mark.
Her 21 double-doubles this season set a school record, previously established by career leading scorer (men or women) Linda Frohlich, who had 20 in the 1999-2000 season. Wade's total also tied the conference record first set by Fresno State's Bego Faz Davalos in 2016-17.
The 21 rebounds against San Jose State set a conference tournament record, passing the 20 grabbed by Colorado State's Ellen Nystrom in 2015 against the Spartans.
Wade ended her UNLV career with consecutive 20-20 games, the other coming also against San Jose State.
"It means a lot," Wade said. "It's big time. It sucks we didn't come out with the win, but it feels good that I was able to contribute and play for this team for four years."
She did what she could to push the Lady Rebels through. But even Wade struggled at times, making just 4 of 12 free throws and committing six turnovers.
Both teams were enormously sloppy, combining for 47 turnovers. UNLV had 24 giveaways and the Spartans 23, but San Jose State did a much better job converting turnovers, outscoring the Lady Rebels 29-9.
"So that just kills us," Olivier said. "We're not a team that's going to score a lot of points."
San Jose State took control in the second quarter with a 10-point run to go up 32-22. The Spartans will try to build off this performance against top-seeded Fresno State (24-6) in the semifinals at 6 p.m. Tuesday.
"Our goal was to hold them under 50," Spartans coach Jamie Craighead said of UNLV. "We know that RJ is going to score, and we try and take everybody else away.
"We think our defense is good, and we think we can play with anybody."
Contact reporter Mark Anderson at manderson@reviewjournal.com. Follow @markanderson65 on Twitter.