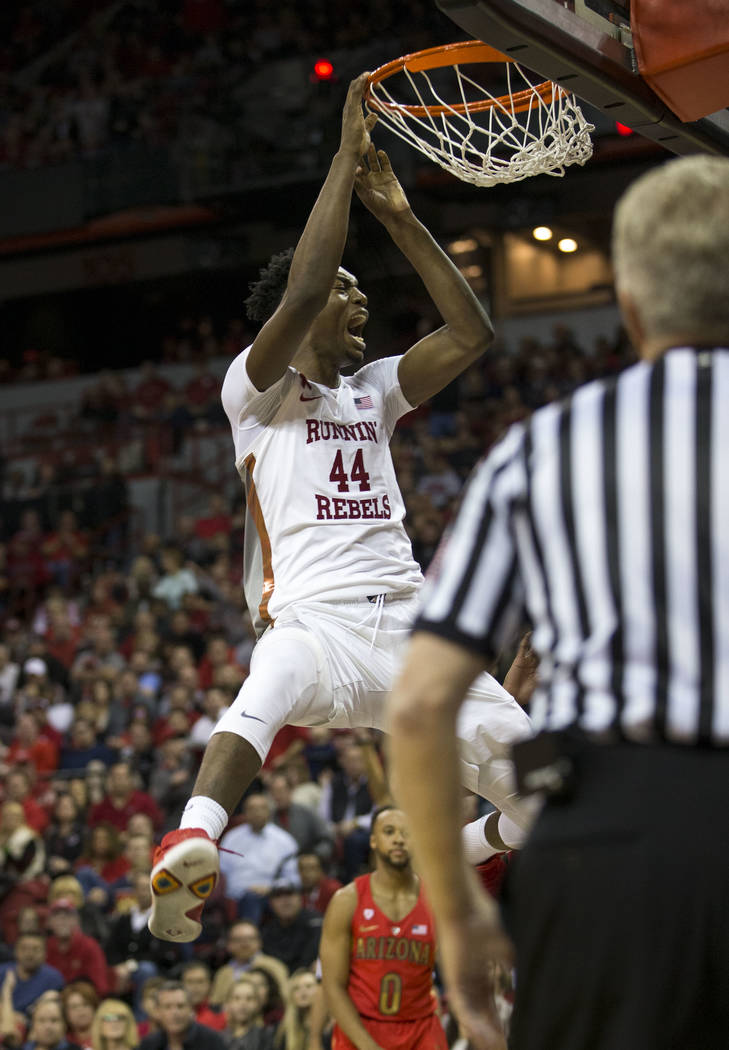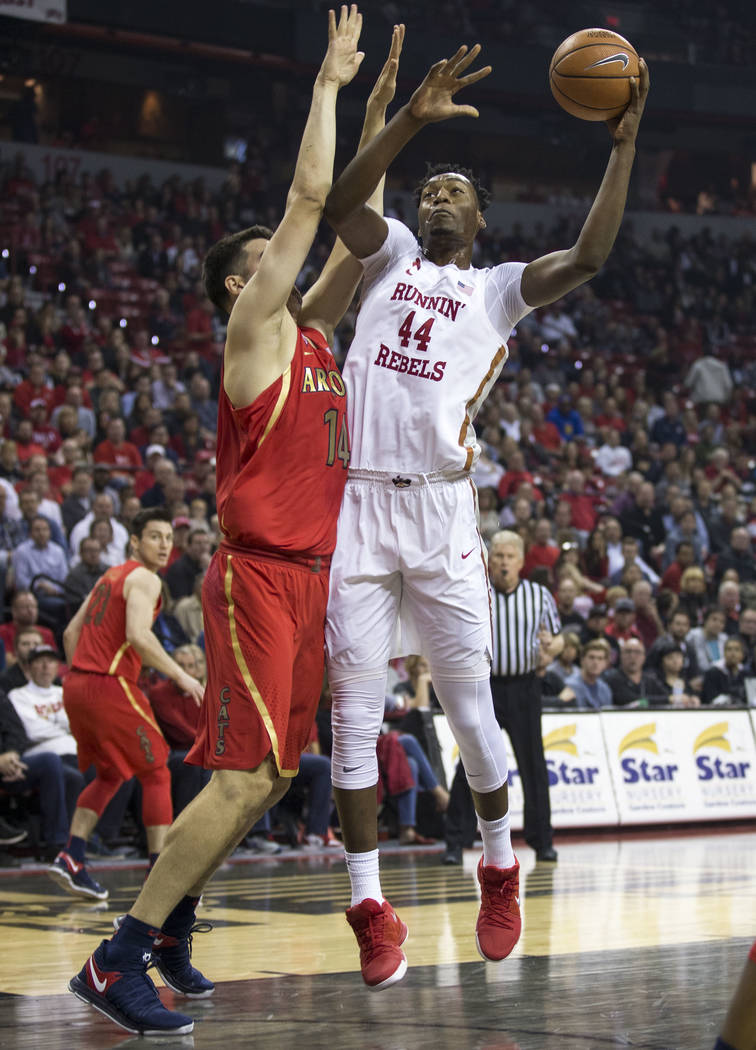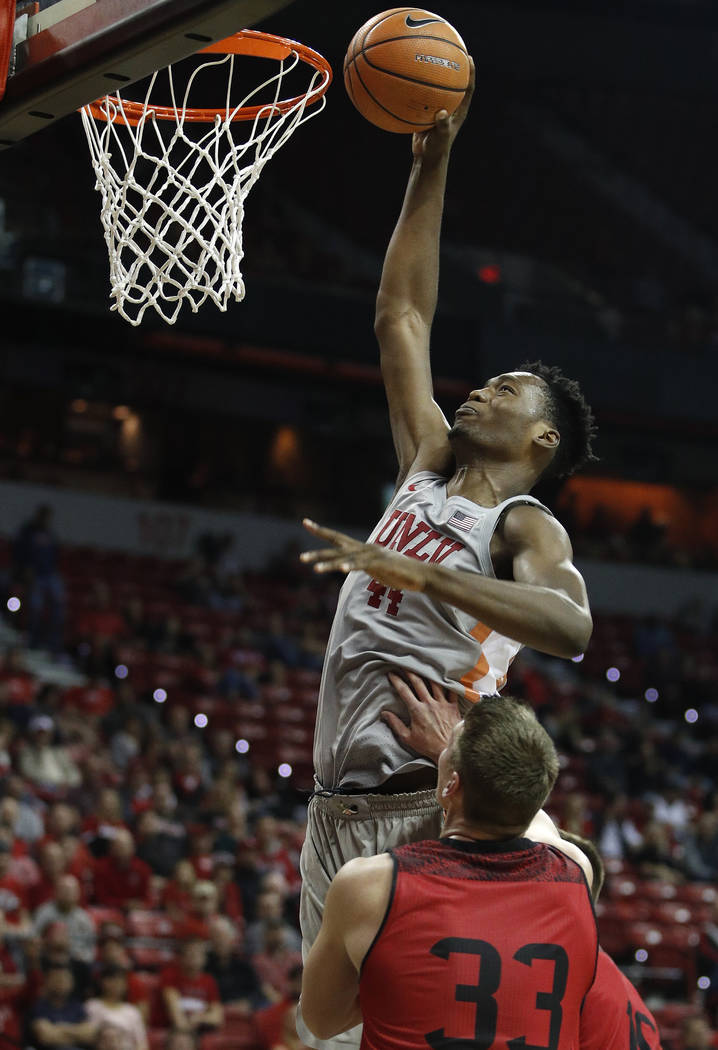 Arizona, a basketball team that despite its three early losses still has legitimate national championship aspirations, paid UNLV forward Brandon McCoy the ultimate compliment Saturday.
The Wildcats didn't deem it enough to simply assign 7-foot-1-inch freshman Deandre Ayton to handle McCoy. They often sent guards to help defend and at times even threw 7-footer Dusan Rustic into the mix against UNLV's 7-footer.
"I was used to being double-teamed in high school, but I wasn't expecting Arizona to double-team me," McCoy said. "I thought it was going to be mano-a-mano, but it's all right."
The double-teams helped force McCoy into six turnovers, but he also helped put the Rebels in position to win. He made 13 of 17 shots, scored 33 points and collected 10 rebounds in the 91-88 overtime loss.
Next up for the Rebels (6-2) is Oral Roberts (2-7) at the MGM Grand Garden at 7 p.m. Tuesday. UNLV is an 18-point favorite in the game, which will not be televised or streamed online.
McCoy leads the Rebels with 20.4 points per game and his 11.9 rebounding average is second to Shakur Juiston's 12.5. UNLV's 46.4 team rebounding average is first nationally.
McCoy, a five-star recruit, came in with extraordinary expectations and so far has met them, which doesn't surprise UNLV coach Marvin Menzies. He pointed out that McCoy has played many high-level games, including in Egypt over the summer for the U.S. U-19 World Cup team.
"We knew what we were getting in the whole person," Menzies said. "Even though he's a freshman, he's been on a big stage. He's had mics in front of his face and lights. He's seen a lot more than the average freshman, so his adjustment and transition is kind of what we expected, what we hoped for, actually."
McCoy is the fourth McDonald's All-American the Rebels have signed since 2012, and he averages more points and rebounds than the other three. Stephen Zimmerman Jr. averaged 10.5 points and 8.7 rebounds in the 2015-16 season; Rashad Vaughn 17.8 and 4.8 in 2014-15; and Anthony Bennett 16.1 and 8.1 in 2012-13.
All three of those players were drafted into the NBA after their freshman seasons, and it wouldn't exactly be a shock if McCoy is only around for one season.
Judging by his play, he doesn't seem to be looking ahead, but the challenges will keep coming as opponents try to find ways to defend him.
That could include more double-teams, which Arizona tried with some success.
"I don't think I handled them really well," McCoy said. "I probably should've slowed down more. I saw that the baseline was open a lot when I was double-teamed, so I probably could've gone baseline. I've got to work on that."
McCoy did his part in the matchup with the Wildcats' young phenom Ayton. The two are old pals and former AAU teammates.
McCoy said they didn't talk before the game. Plenty was said during it.
"But after the game, it was nothing but love," McCoy said. "I told him I love him and stay in touch and keep growing. He said the same thing to me, and we took pictures after."
Most of the season is still to be played, but the beginning for McCoy has been nearly picture perfect.
Contact Mark Anderson at manderson@reviewjournal.com. Follow @markanderson65 on Twitter.
Game day
Who: Oral Roberts vs. UNLV
When: 7 p.m. Tuesday
Where: MGM Grand Garden Arena
TV/Radio: None; KWWN (1100 AM, 100.9 FM)
Line: UNLV -18; total 150
Oral Roberts (2-7)
Coach: Paul Mills (2-7, first season)
Probable starters
Player ; Pos. ; Ht. ; Ppg.
R.J. Fuqua ; G ; 5-11 ; 7.8
Sam Kearns ; G ; 6-0 ; 10.3
Emmanuel Nzekwesi ; F ; 6-8 ; 10.4
Javan White ; F ; 6-10 ; 8.6
Albert Owens ; C ; 6-9 ; 15.3
UNLV (6-2)
Coach: Marvin Menzies (17-23, second season)
Probable starters
Player ; Pos. ; Ht. ; Ppg.
Jordan Johnson ; G ; 5-11 ; 13.6
Jovan Mooring ; G ; 6-2 ; 13.8
Kris Clyburn ; G ; 6-6 ; 10.3
Shakur Juiston ; F ; 6-7 ; 14.1
Brandon McCoy ; F ; 7-0 ; 20.4