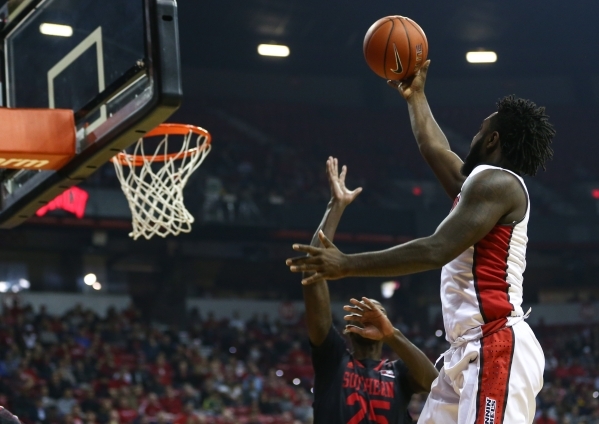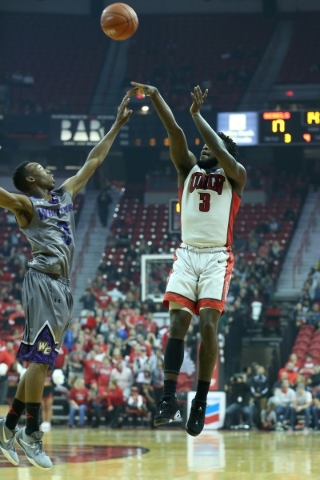 Sophomore guard Jordan Cornish had a to-the-point answer Thursday regarding his turnaround in making 3-point shots.
"Stop thinking so damn much," he said. "That's it, just stop thinking and shoot the ball. Shooters go through their slumps. You've got to get through it."
Times definitely weren't easy for Cornish early in the UNLV basketball season. One season after shooting 48.7 percent from the 3-point line, he came out and made just one of his first 24.
Now he's back to shooting more like last season, and even a little better. Cornish has made 13 of his past 25 3-pointers, including 2 of 3 in Tuesday's 80-68 victory at Utah State.
When the shots weren't falling earlier for Cornish, the minutes began to drop.
"My teammates were behind me the whole time and the coaching staff," Cornish said. "So they helped me out a lot. It's hard, because individually you want to do good and go out there and prove to everyone that you belong out there."
Now he's an integral part of the offense again, often running the point for the Rebels.
"I'm not pressing," Cornish said. "I'm letting the game come to me. It's easier to play the game when Coach (Todd) Simon lets me play point guard, so he's given me the keys to the team also."
SCOUTING UNR — UNLV (12-7, 3-3 Mountain West) visits a UNR team (11-7, 3-3) at 7 p.m. Saturday that has shown noticeable improvement.
The Wolf Pack have won two more games than all of last season under first-year coach Eric Musselman, and they are third in the conference in scoring offense at 78.1 points per game.
"I think they'll play with tempo," Simon said. "I think it's who they are. I think they're going to try to pressure a little bit defensively, and they may take us out of some stuff."
UNR is having success with largely the same cast as last season, though center AJ West left the team in mid-December.
"Getting old and staying old in college basketball is a good strategy," Simon said.
This could be a trap game for UNLV, which is coming off three consecutive victories and has major challenges next week at home against Mountain West leaders Boise State and San Diego State. The Aztecs are the Rebels' most intense basketball rivalry, and UNR is second, at least in theory.
How intense the rivalry is with the Wolf Pack from UNLV's standpoint is debatable.
"For young guys, especially the way we recruit nationally, you have to get them to understand it's like whatever local rivalry they're used to," Simon said. "The local guys, I don't think it's as big a deal. I think they understand it. But especially guys going through the first time, you've got to instill in them that this is a big deal."
Cornish is one Rebel who is fired up to play the Wolf Pack. The teams won in each other's building during last year's regular season.
"I think about when they taunted our crowd last year here," Cornish said. "We've got to get those guys."
He sounded as if he thought better of that statement, quickly adding, "It's just another game for us, though. We've just got to win."
COLORFUL — Just like in the football rivalry, the teams will wear their primary colors. UNLV will go with red and the Wolf Pack with blue for Saturday's game and for when the teams meet Feb. 20 in Las Vegas.
TIME SET — UNLV's game against Boise State on Wednesday at the Thomas & Mack Center will be at 8 p.m. CBS Sports Network will televise the game.
COOK RETURNS — Junior guard Daquan Cook returned to practice Thursday. He didn't make the trip to Utah State because of an illness.
HIGHLY RATED — The Rebels have an uphill climb in the Mountain West, but they are the conference's highest-rated team, according to Ken Pomeroy (Kenpom.com). UNLV was 67th as of Thursday afternoon, followed by Boise State at No. 79 and San Diego State at No. 82.
Contact Mark Anderson at manderson@reviewjournal.com or 702-387-2914. Follow him on Twitter: @markanderson65.
Check our GameDay page for full coverage of the UNLV-UNR game.