UNLV's Jovan Mooring questionable for UNR game on senior night
February 27, 2018 - 8:04 pm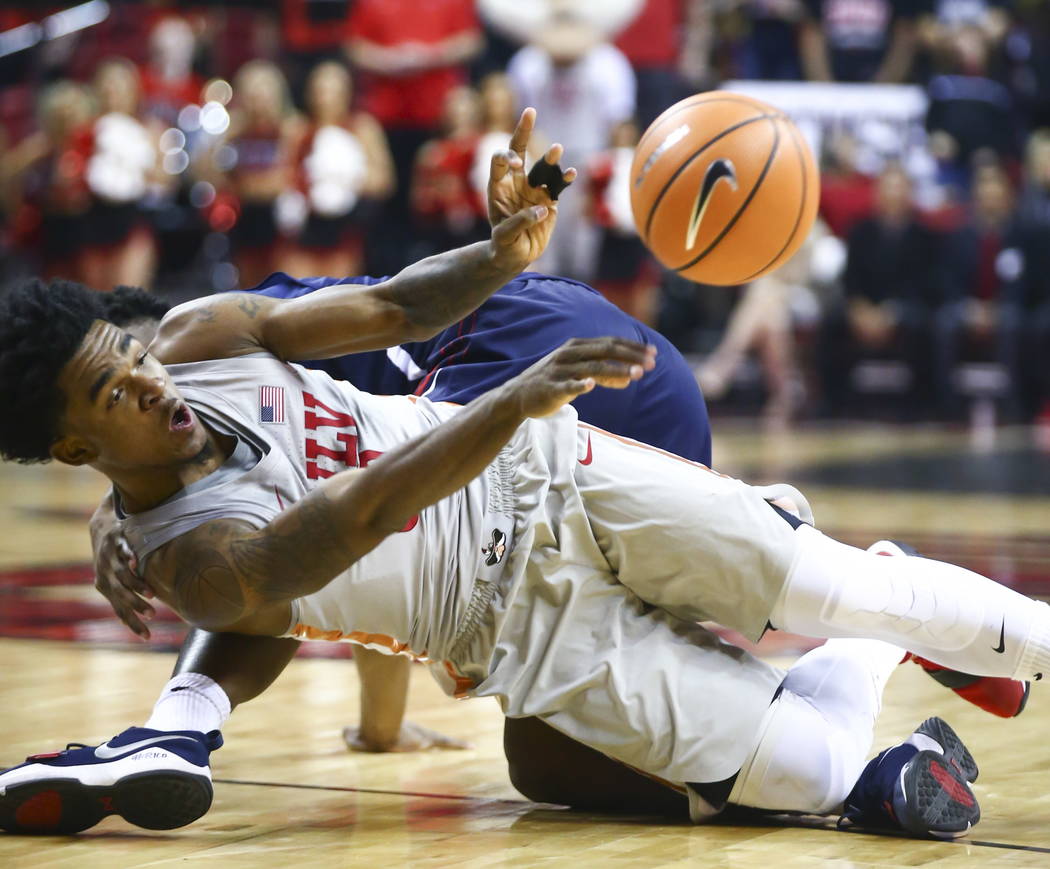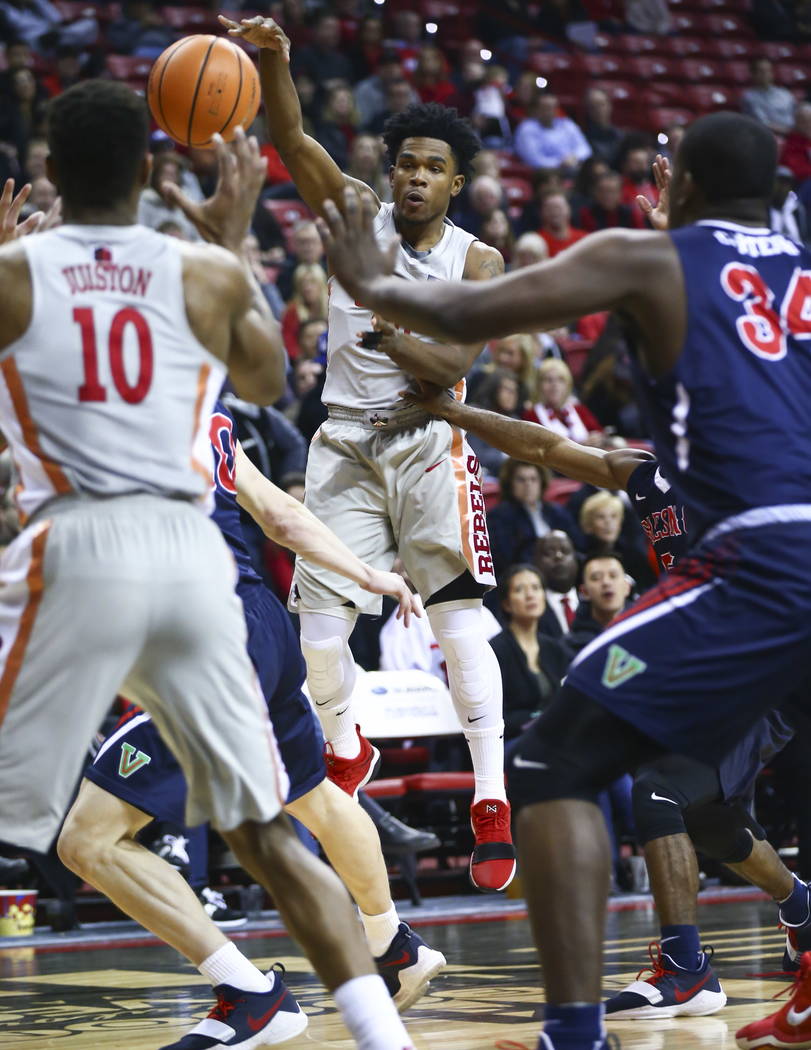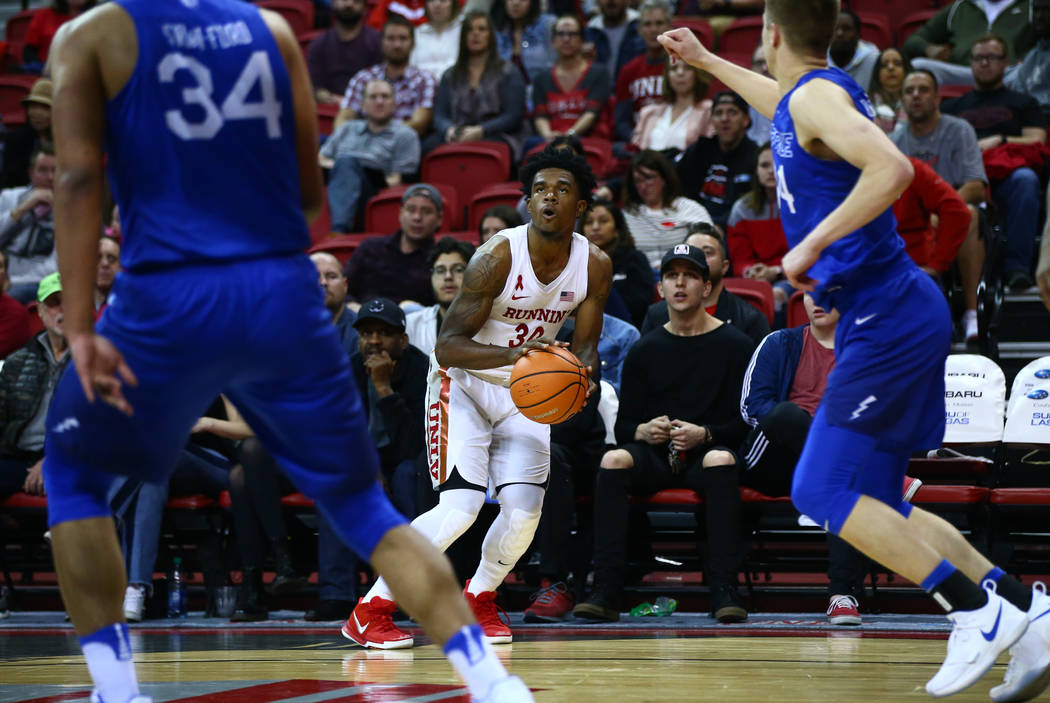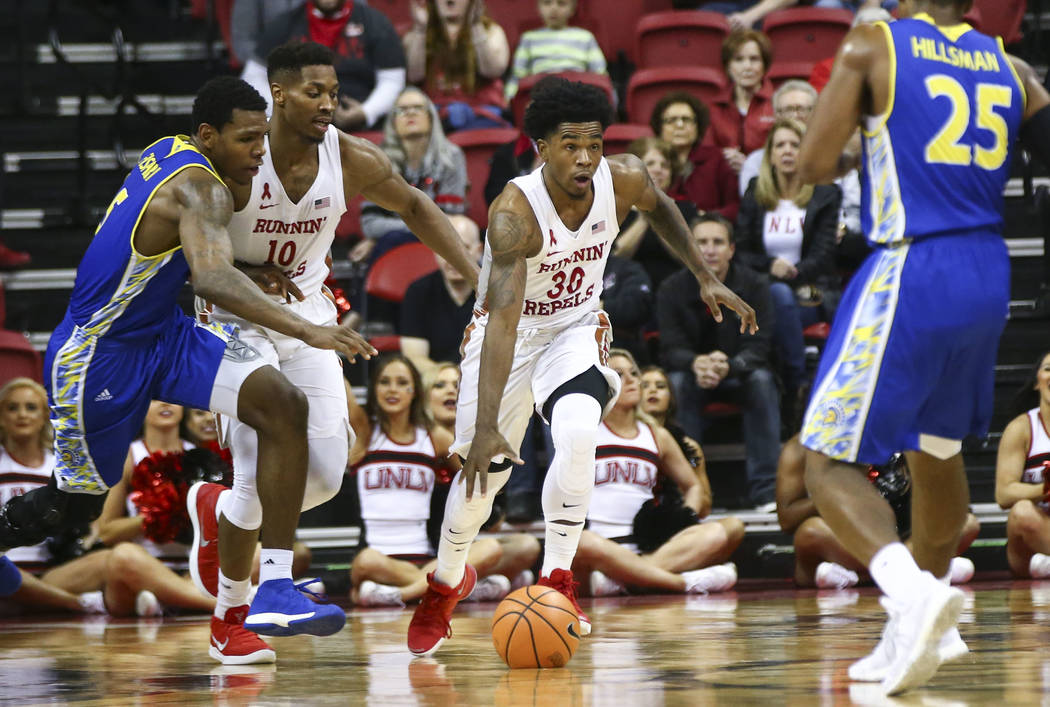 UNLV coach Marvin Menzies walked to where three reporters sat as practice was about to begin Tuesday.
He delivered news that senior guard Jovan Mooring wouldn't practice because of an injury and would be a game-time decision Wednesday when the Rebels play No. 21 UNR at 8 p.m. at the Thomas & Mack Center.
If Mooring has shown anything in his two seasons at UNLV, however, it's that he will do anything to win, which means he will do anything to play on senior night against the Rebels' intrastate rival.

"Obviously, (a victory) would be special for the city of Vegas," said Mooring, who was interviewed before Menzies revealed the injury and didn't mention that he was hurt. "As of now, I'm just thinking about how can we get better going into the Mountain West tournament? I think if we do the right things, the results will take care of themselves."
UNLV (19-10, 8-8 Mountain West), which beat the Wolf Pack 86-78 in the first meeting, will try to end a three-game losing streak. The Rebels are seventh in the conference standings, a game behind Wyoming, with two to play. UNLV, which finishes its regular season Saturday at Utah State, needs to finish in the top five to get a bye into next week's conference tournament quarterfinals.
UNR (25-5, 14-2) has clinched the top seed and the regular-season title. The Wolf Pack are 3-point favorites in a game that will be televised on CBS Sports Network.
The Rebels need Mooring, who produced 31 points in the Feb. 7 meeting between the teams. He injured a foot or ankle early in Sunday's 91-90 loss at New Mexico and later was fouled hard into the side boards. Menzies did not disclose the nature of the injury.
Mooring, who averages 14.3 points, is a major reason the Rebels have made an eight-victory improvement over last season. But perhaps only Brandon McCoy generates more of a reaction from UNLV fans, not all of it favorable.
"I think my playing style makes me an easy target," Mooring said. "The fans here have things that they've seen over the years, and I guess I do some things they're not used to. Sometimes they take it the wrong way or it upsets them, I don't know."
Fans and media members have criticized Mooring for taking shots he shouldn't, but he's also a player who is more than willing to take a shot with the game on the line.
As a coach, Menzies would rather rein in a player than be forced to motivate him.
"He's taken us on a roller coaster, and roller coasters are fun," Menzies said. "He's going to leave here in my mind a guy that challenged me, but at the same time gave me a lot of joy and a lot of good memories. As a human being, he's leaving UNLV, but he's not leaving my family. He's a special kid."
Fans might find next season that they will miss Mooring more than they expected. He not only leads the Rebels with 58 3-pointers but also averages 3.2 assists and is the team's best defender.
Mooring is the type of player willing to step in and draw a charge, then do it again on the following possession.
"Yeah, I will do whatever it takes to win a game," Mooring said. "Whatever."
Contact Mark Anderson at manderson@reviewjournal.com. Follow @markanderson65 on Twitter.
Game day
Who: UNR at UNLV
When: 8 p.m. Wednesday
Where: Thomas & Mack Center
TV/Radio: CBS Sports Network; KWWN (1100 AM, 100.9 FM)
Line: UNR -3; total 164