UNLV's La Rocque balances roles as new mother and coach
Updated January 27, 2023 - 2:38 pm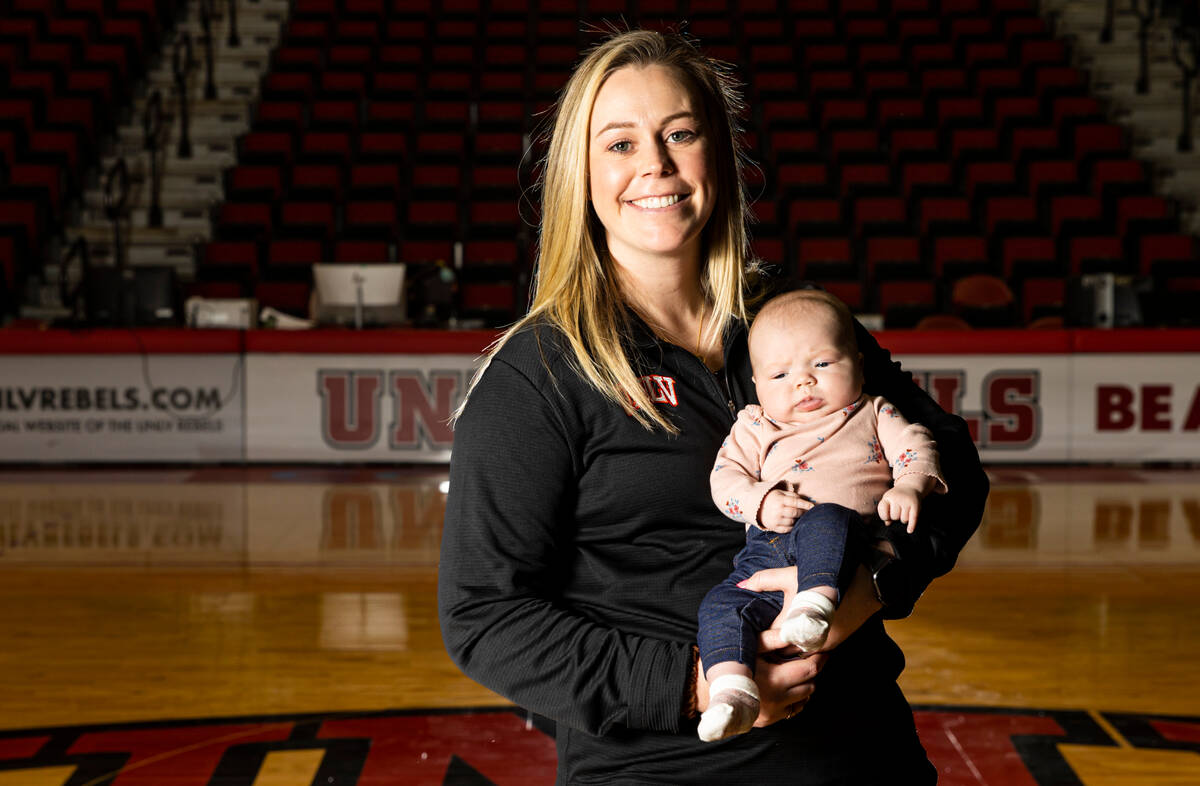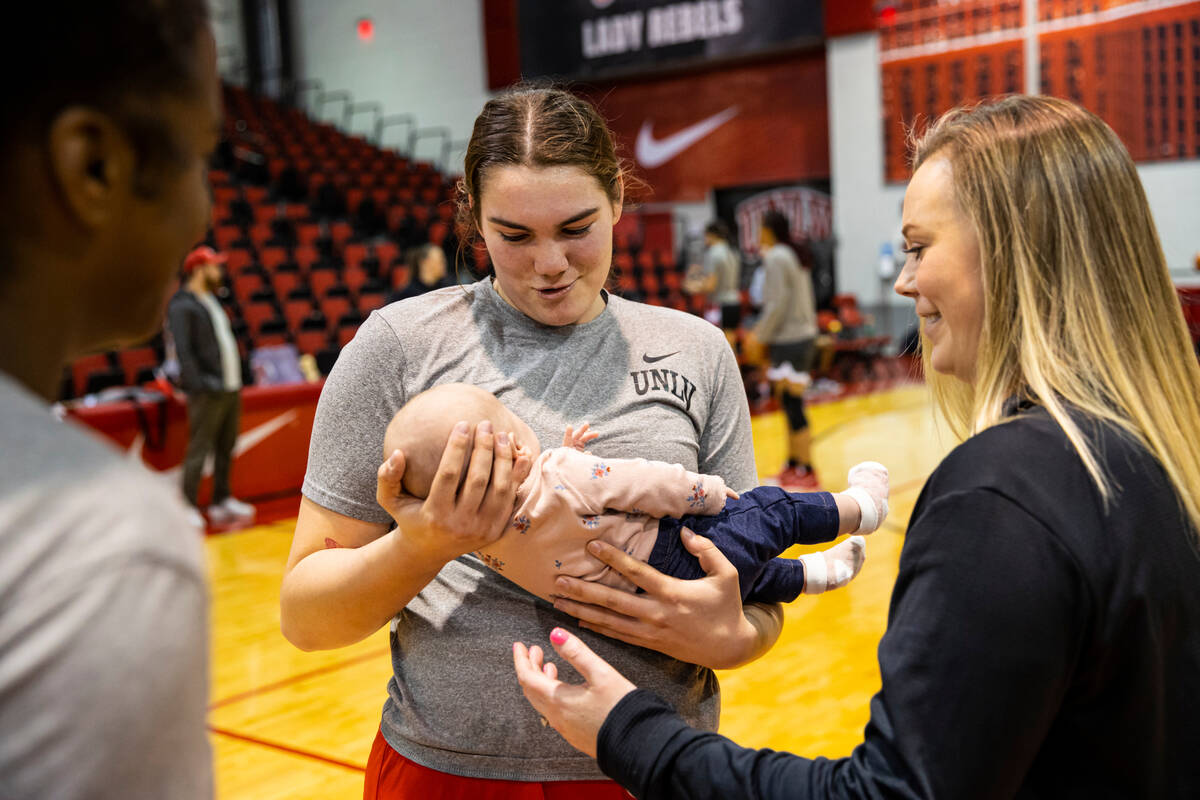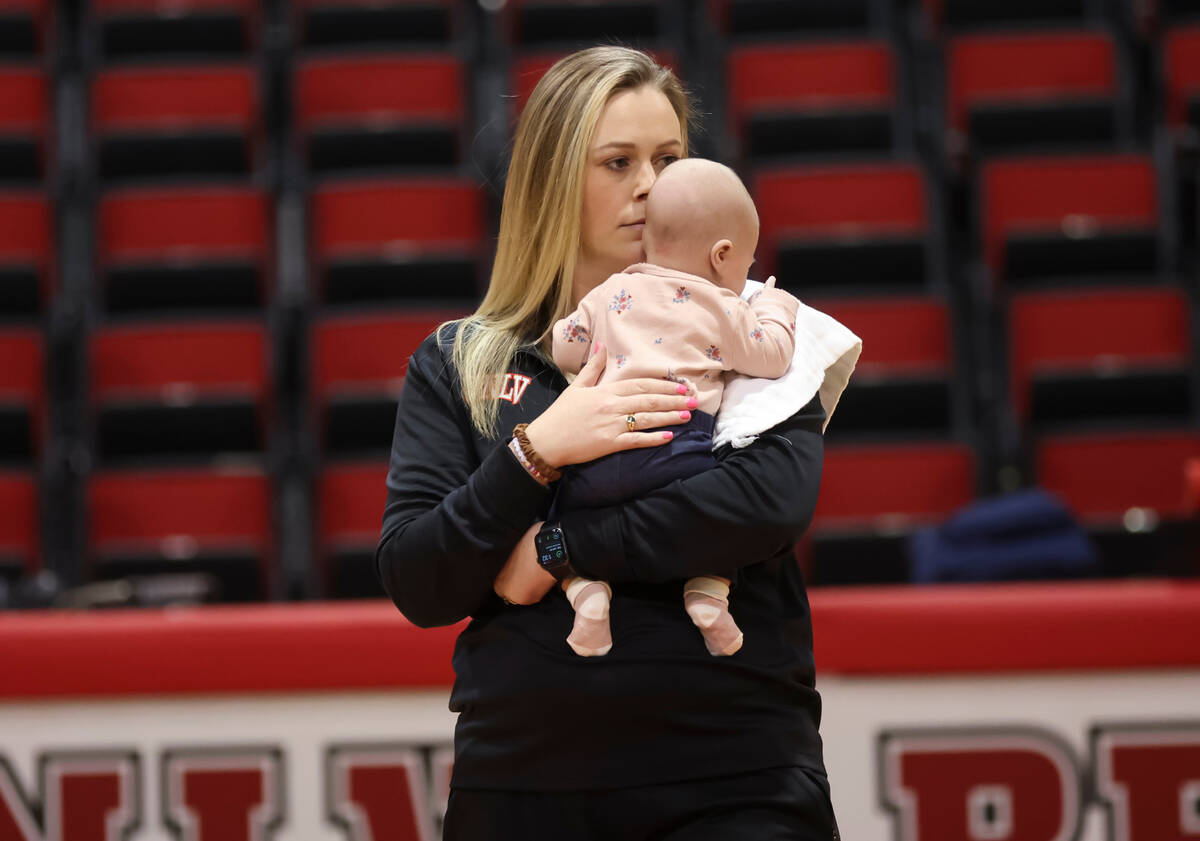 Lindy La Rocque remembers how much time was left in the third quarter. Of course she does.
Seven minutes.
That's when she stood up to call a play. That's when she knew.
"My water broke," she said.
Say this for Ellie Mae Cunningham — if there was a time to bounce into this world, best it be during a 114-53 exhibition win against Chico State rather than some Mountain West nail-biter.
La Rocque is the UNLV women's basketball coach and mother to a 2½-month-old daughter, in the midst of a magical season while learning how to balance all the responsibilities that come with both roles. It's a lot.
The Lady Rebels and their 10-game win streak host UNR at 2 p.m. Saturday at Cox Pavilion.
Ellie was born the day following that exhibition rout to Lindy and her husband, Dan Cunningham.
La Rocque had returned home in 2020 to assume the job of trying to make the Lady Rebels into something. As one of the finest players Las Vegas has produced — she scored 2,678 career points at Durango High, a school record for the boys' and girls' teams— she arrived determined to take a program that hadn't been to the NCAA Tournament in 20 years and build a winning culture.
That was the plan. That is what she wanted. But that wasn't all. She also wanted to start a family.
"I didn't know what to expect other than it was going to be crazy and exhausting and a challenge," La Rocque said. "Maybe that's the competitive spirit in me. My husband and I are thankful we can tackle all this together.
"We've been blessed with a really good baby. Good temperament, eats, sleeps, is healthy. She's holding up her end of the bargain, for sure."
And, apparently, has impeccable timing.
Support from UNLV
Dearica Hamby is the former Aces player who was traded to Los Angeles last Saturday and alleged in a series of social media posts that the Las Vegas team held her second pregnancy against her.
She said she was bullied, manipulated and discriminated against. The WNBA Players Association is investigating her claims. The Aces still have yet to comment.
Things couldn't have been more different for La Rocque at UNLV, where a profound amount of support came immediately after informing the athletic department of her pregnancy.
"That was extremely important," said athletic director Erick Harper. "The more stress on someone, the tougher it can be. We wanted to make sure Lindy was healthy mentally, physically, emotionally. She has been unbelievable and has done a magnificent job balancing all of it. It's absolutely important our staff knows I care about them and their health and well being."
Said La Rocque: "The support was phenomenal. They were excited from the get-go. When they figured the (birth) was going to be right at the beginning of the season, they said, 'Well, if anyone can do it, you can.'"
Things are different for now. La Rocque no longer puts in a long day's work and then some, the grind of coaching an intense one.
She plans practice, attends practice, runs practice and then leaves for home about an hour later. Her husband and baby join the team for road games.
Maybe the biggest difference, however, is this: How a coach now interacts with her players.
She sees them differently as a mother. Has deeper conversations with them. Understands more about them.
"I coach young women — I've always coached young women," said La Rocque, who assisted on staffs at Belmont and Stanford after serving as a graduate assistant at Oklahoma. "But having a daughter of my own has reminded me they're also someone's daughter and sister and friend. I've tried to keep that at the forefront of how I'm coaching and teaching them."
They've noticed.
Desi-Rae Young is a junior center who recently developed a pregame routine with La Rocque's baby. She held the child before a matchup at Wyoming and went for 15 points and five rebounds in a comfortable 14-point win.
She won't be stopping now.
"I'll be holding her," Young said. "I think the pregnancy was good (for La Rocque). We practice and play as hard as ever, but she's bringing some mama skills over to us now.
"Motherhood has made her a better coach — understanding we are women and that we go through a lot of things. It's like we're her older daughters now."
Think about it: La Rocque missed a total of two games after giving birth. Two.
The least surprised person is the one who knows her best.
"She loves those girls," said Dan, who works for a software company. "Basketball is life for us. It's hard to step away from it at all. But we do a good job managing everything with the baby and practice and games.
"Her motherly instincts have kicked into another gear with her players, knowing what a kid needs and what help she might be able to give them."
While still finding success on the scoreboard.
Lots of winning
La Rocque has always known winning, having helped lead Stanford to four consecutive Final Fours as a player. She now has arguably her best team in three seasons as UNLV's coach.
The Lady Rebels are 19-2, 9-0 in conference, a defending league champion and NCAA Tourney participant last season that wins by an average of more than 12 points a game.
They're just really good, is all.
"We all want to win the Mountain West again and get back to the tournament," said sophomore guard Alyssa Durazo-Frescas. "Same goals. Same mindset. None of that has changed, but everything has changed for the better with Ellie. We all love her to death.
"(La Rocque) still really cares about basketball and demands just as much from us, but being a Mom has given her a mellower side."
There was a point in practice Tuesday when La Rocque, holding her baby, instructed during a shooting drill.
It makes you wonder about Ellie's possible future as a player, her Mom one of the best shooters to come out of Las Vegas and her father standing 6-foot-8.
"She's already got some good length and some size to her," La Rocque said jokingly. "Hopefully she shoots like her mom and has her dad's height. That would make for a good point forward.
"We're definitely going to expose her to the game and raise her in a gym."
Lindy La Rocque … Living her best life?
"It's a better life," she said, "than I could have ever dreamt."
Ed Graney is a Sigma Delta Chi Award winner for sports column writing and can be reached at egraney@reviewjournal.com. He can be heard on "The Press Box," ESPN Radio 100.9 FM and 1100 AM, from 7 a.m. to 10 a.m. Monday through Friday. Follow @edgraney on Twitter.
Up next
Who: Lady Rebels (19-2, 9-0) vs. UNR (8-12, 5-4)
When: 2 p.m. Saturday
Where: Cox Pavilion
TV: SSSEN
Radio: KXST-AM (1140)