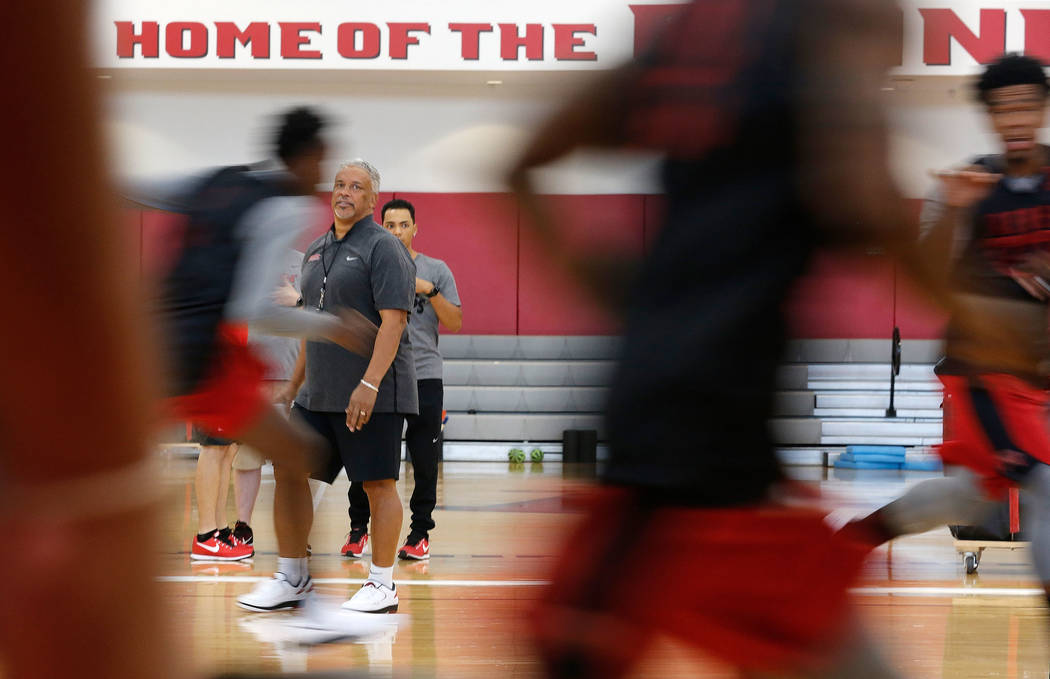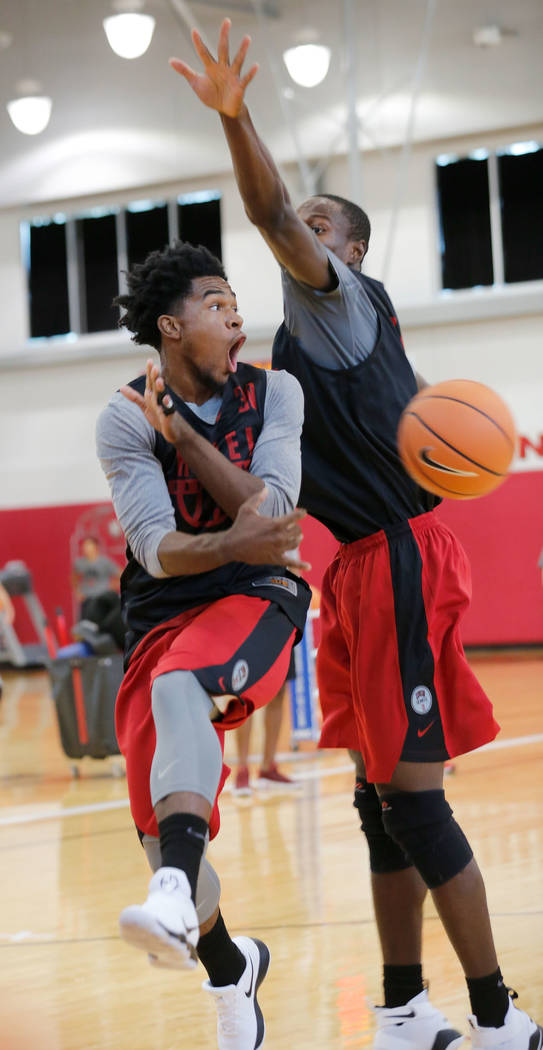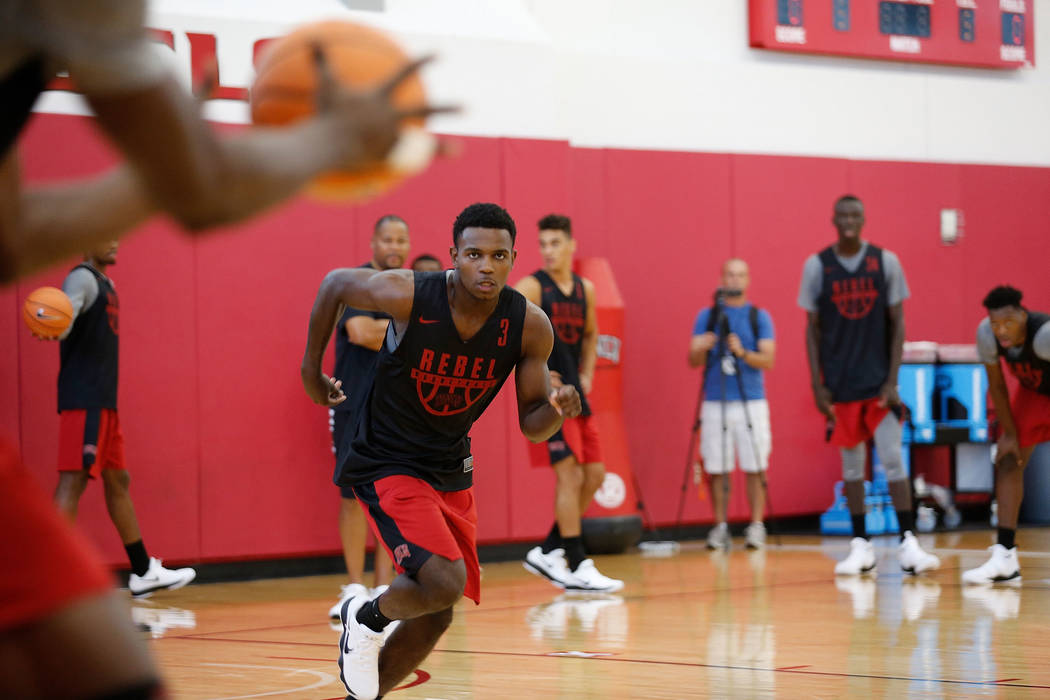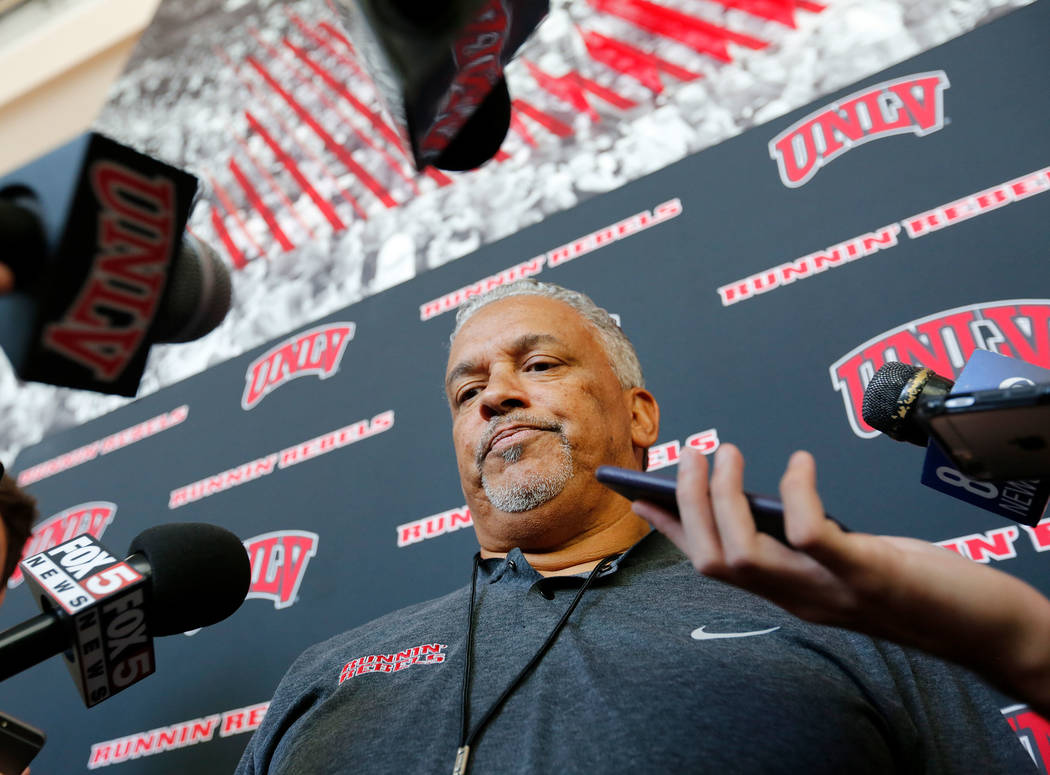 UNLV basketball coach Marvin Menzies walked into Mendenhall Center for the season's first practice with his typical sunny disposition, and he had good reason to smile.
Thanks to a highly rated recruiting class and some key returning players, hopes are high his Rebels will be much more of a factor in the Mountain West race this season.
But there also was a cloud that hung over college basketball as Menzies met with the media Saturday, and he opened the session by addressing the FBI investigation that has sent ripples of shock and horror across the national landscape.
UNLV has not been tied to the fraud and bribery probe that resulted in federal charges against four assistant coaches at high-profile programs and Louisville coach Rick Pitino being placed on administrative leave with the expectation he would be fired.
"I know how we do things, and I know how I do things," Menzies said. "So I'm very, very confident that we have nothing to worry about here. I'm very confident of the future of this program. I'm excited for it, and excited about this year's team."
UNLV looks to rebound from last year's 11-21 record, the worst in program history. The Rebels went into last season knowing it was a rebuilding year given the heavy roster turnover during the coaching change from Dave Rice's staff to Menzies'.
The outlook for this season, which opens Nov. 11 against Florida A&M at the Thomas & Mack Center, brightened considerably after UNLV's coaches put together a recruiting class that was ranked 15th nationally by 247Sports and 25th by ESPN.
Brandon McCoy, a 6-foot 11-inch forward, headlined the class. He was ranked the country's 14th-best prospect by 247Sports and the 16th best by ESPN.
Senior guard Jovan Mooring said his goal was "to get to the NCAA Tournament. I would like for all of us to be on the same page and continue to grow together. We have a lot of talent, but talent's not going to win us those games."
Menzies wasn't ready to pronounce the Rebels a tournament team, but Mooring's outlook captured the team's feeling as the season approaches.
"I'm very optimistic for a lot of different reasons," Menzies said. "Obviously, I think we've upgraded our talent. I think we've brought in some strong players in terms of their character.
"Will there be a hiccup on the road this year? That's always something that happens through the course of a season, but you plan and you prepare and you do the right things to try to create the culture and the excitement and the atmosphere. The (high-tempo) style of play that we wanted to play when I took over the job, I think we're going to be able to see some of that this year, and I think we're going to be able to build on that."
More Rebels: Follow all of our UNLV coverage online at reviewjournal.com/Rebels and @RJRebels on Twitter.
Contact Mark Anderson at manderson@reviewjournal.com. Follow @markanderson65 on Twitter.