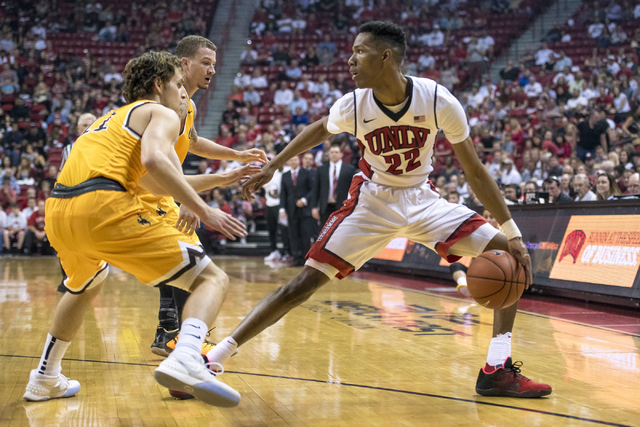 UNLV sophomore guard Patrick McCaw was named to the coaches' second-team All-Mountain West basketball squad on Tuesday, repeating the honor he received by the media two days earlier.
He also was named by the coaches to the league's all-defensive team.
Going into Wednesday's 1:30 p.m. conference tournament game against Air Force at the Thomas & Mack Center, McCaw averages 13.9 points and 4.0 assists. He is first in the Mountain West with 2.5 steals per game and tied with fellow Rebel Jerome Seagears for second with an assist-to-turnover ratio of 2.0.
The major awards went to Fresno State's Marvelle Harris for Player of the Year, San Diego State's Skylar Spencer for top defender, the Aztecs' Jeremy Hemsley for top freshman, New Mexico's Elijah Brown for top newcomer, San Jose State's Brandon Clarke for top sixth man and San Diego State's Steve Fisher for top coach.
There was some differences with the media team, which went with Wyoming's Josh Adams for Player of the Year, UNR's Cameron Oliver for top freshman and the Wolf Pack's Tyron Criswell for top sixth man.
Voted to the first team were Adams, Brown, Harris, San Diego State's Trey Kell and Boise State's James Webb III. The only difference with the media was Kell was on the third team, with New Mexico's Tim Williams on the first team.
Contact Mark Anderson at manderson@reviewjournal.com or 702-387-2914. Follow him on Twitter: @markanderson65