UNLV's rally falls short in 72-68 loss to SMU
Updated November 23, 2019 - 10:30 pm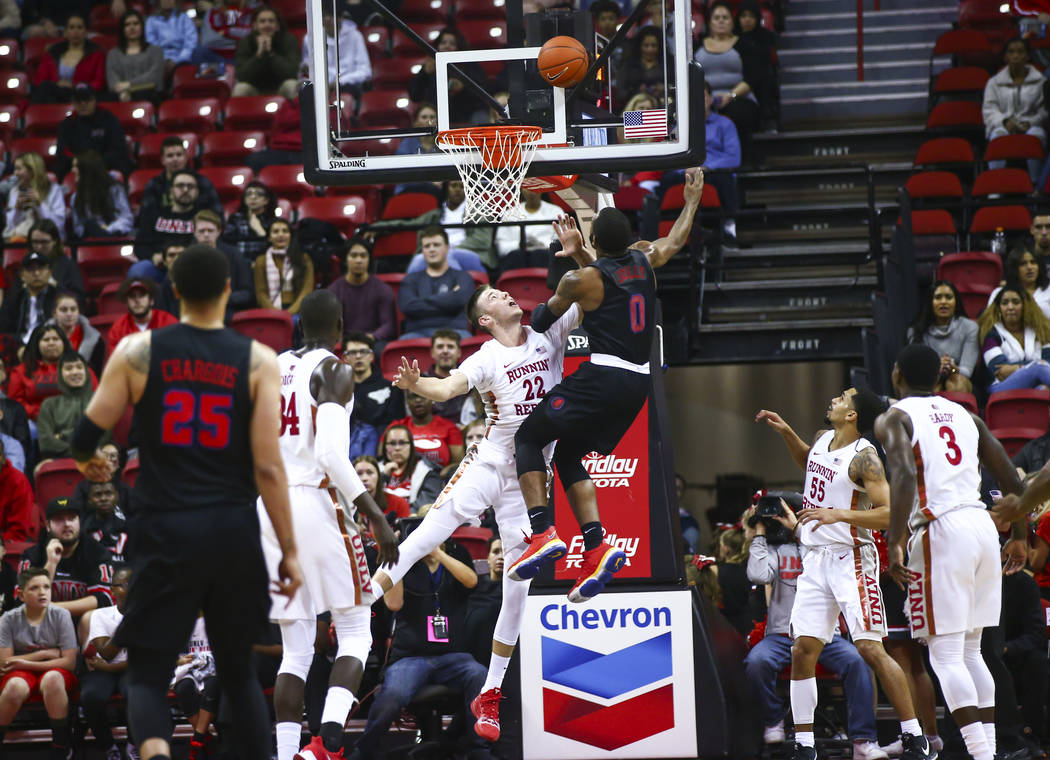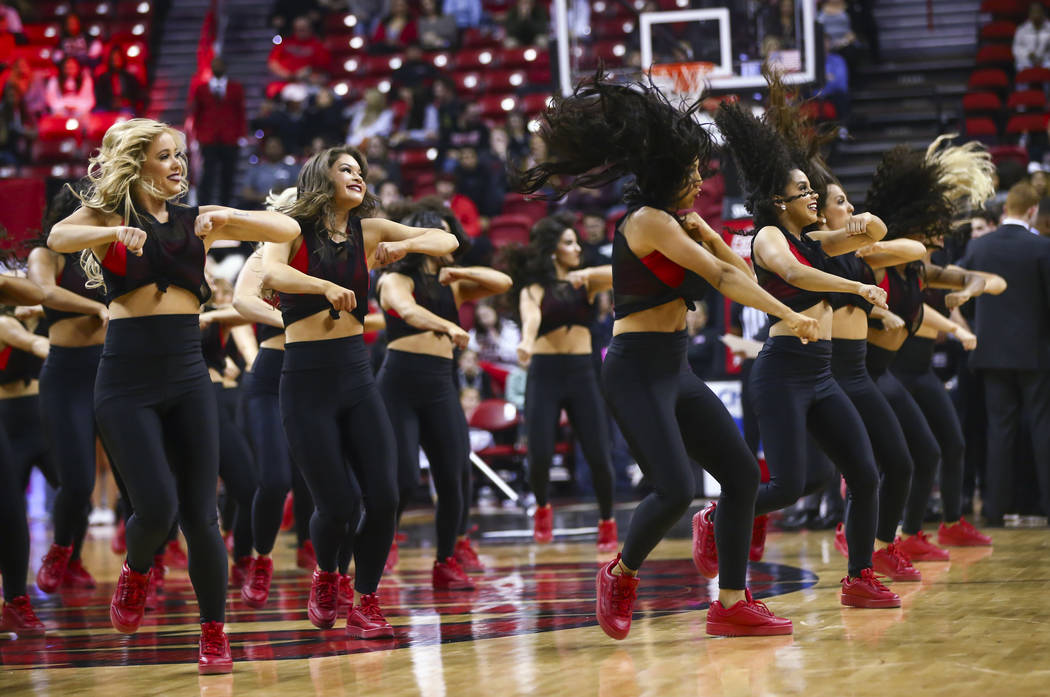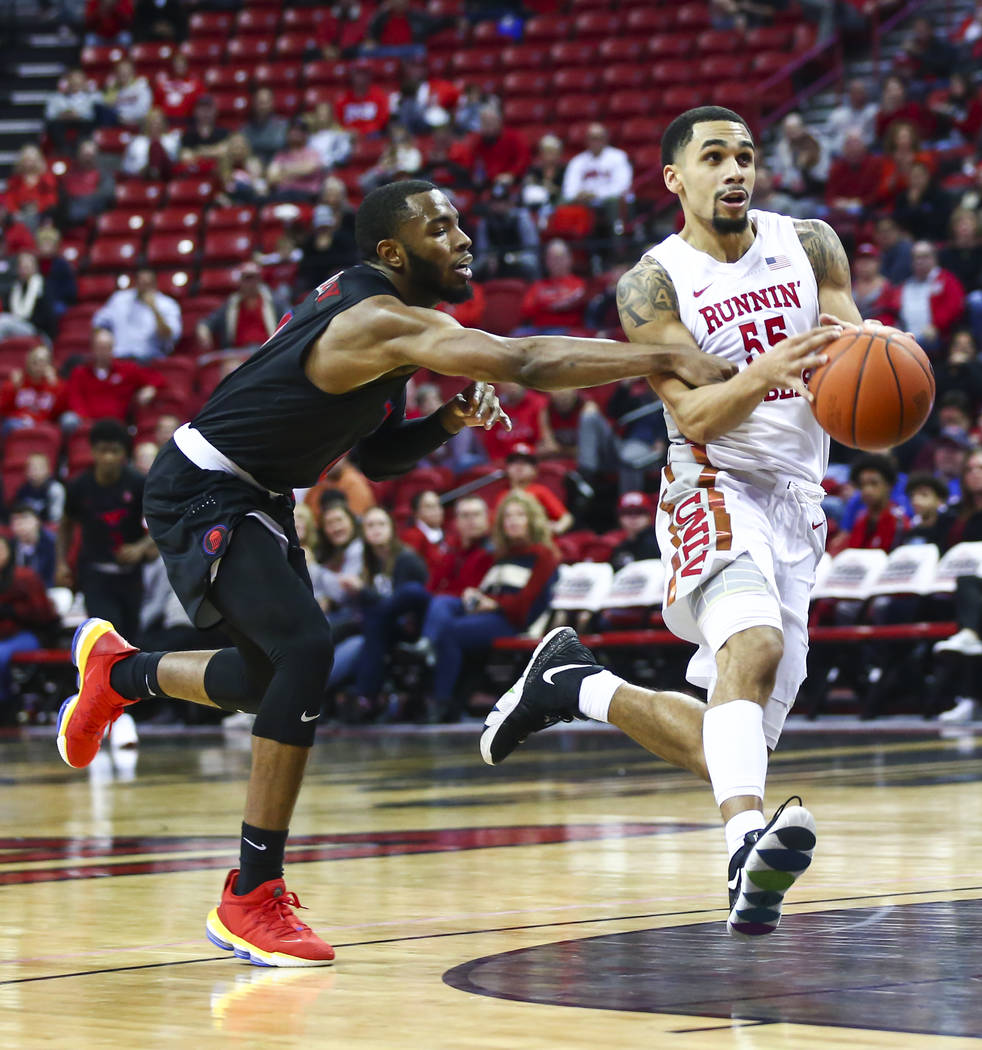 UNLV put itself in a 10-point halftime hole, and the Rebels spent the entire second 20 minutes doing the best they could to dig out of it.
They got to within two points with 5:16 left, then made a desperate rally in the final minute.
UNLV never made up the difference, though, losing 72-68 to Southern Methodist on Saturday night at the Thomas & Mack Center.
After closing to within 60-58, SMU (5-0) answered by outscoring UNLV 8-1 to retake control. The Rebels (2-5) made one last-gasp effort when Bryce Hamilton made two 3-pointers in the final 29 seconds.
"Right now, the effort is great, but winning is totally different," UNLV coach T.J. Otzelberger said. "Our execution out of timeouts isn't what it needs to be. It needs to get better. Our stubbornness to details has to be really good. Whatever role I need to play in that equation, it's on me, and I'm going to impose my will on it to make sure we don't end up in this spot very often anymore."
Hamilton led the Rebels with 18 points. Kendric Davis scored 21 for the Mustangs.
1. Not exactly winning time
Previous Rebels coach Marvin Menzies used to refer to the final minutes as "winning time," though it often didn't happen under his watch.
It hasn't happened under the new regime, either, though the sample size is small.
UNLV won one game that was tight, breaking open a game tied at 50 to outscore Abilene Christian 22-8 to win 72-58.
Among the losses were overtime games against Kansas State and California when the Rebels had second-half leads. And there was Wednesday's 64-57 loss to Texas State when UNLV led by a point with 9:44 left.
UNLV had three shots at the basket while trailing 60-58 to SMU, but Amauri Hardy missed a layup and 3-pointer.
Give the Rebels credit: They didn't give up, trying to the end to make up the difference, with Hamilton especially getting hot late.
But Otzelberger didn't want to hear it.
"We're done with moral victories," he said. "Our guys played hard. We didn't play winning basketball when it came time to win. That's on me. We're going to get it right. I don't care if I don't sleep in the process. That's not good enough, and it's going to get better here fast."
Hardy, who scored 13 points, also sounded determined to change course.
"We will get these wins," he said. "It's a long season ahead of us."
2. Rebounding was encouraging
UNLV's struggles on the glass compared to the Mustangs' domination, especially with offensive rebounding, was one of the main storylines.
But the Rebels more than held their own, outrebounding SMU 36-27. The Mustangs were among the national leaders in offensive rebounding percentage, but even there UNLV held them to 19.2 percent.
SMU was grabbing 39.1 percent of potential offensive rebounds.
3. Just keep shooting
Hardy, UNLV's leading scorer, was the epitome of having a short memory.
He missed 10 of his first 11 shots, including seven of his first eight 3-pointers. But he then got hot, making three of his final five shots that included 3 of 4 3-pointers.
Contact reporter Mark Anderson at manderson@reviewjournal.com. Follow @markanderson65 on Twitter.