UNLV's season ends with 63-55 loss to San Diego State — VIDEO
Updated March 14, 2019 - 11:14 pm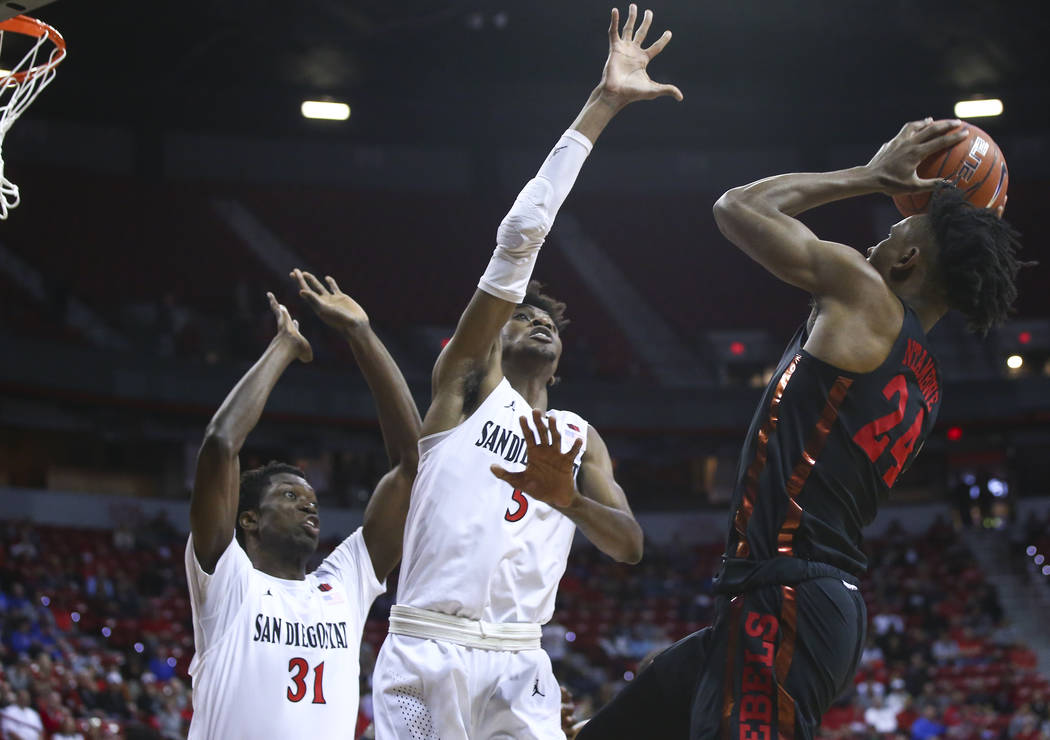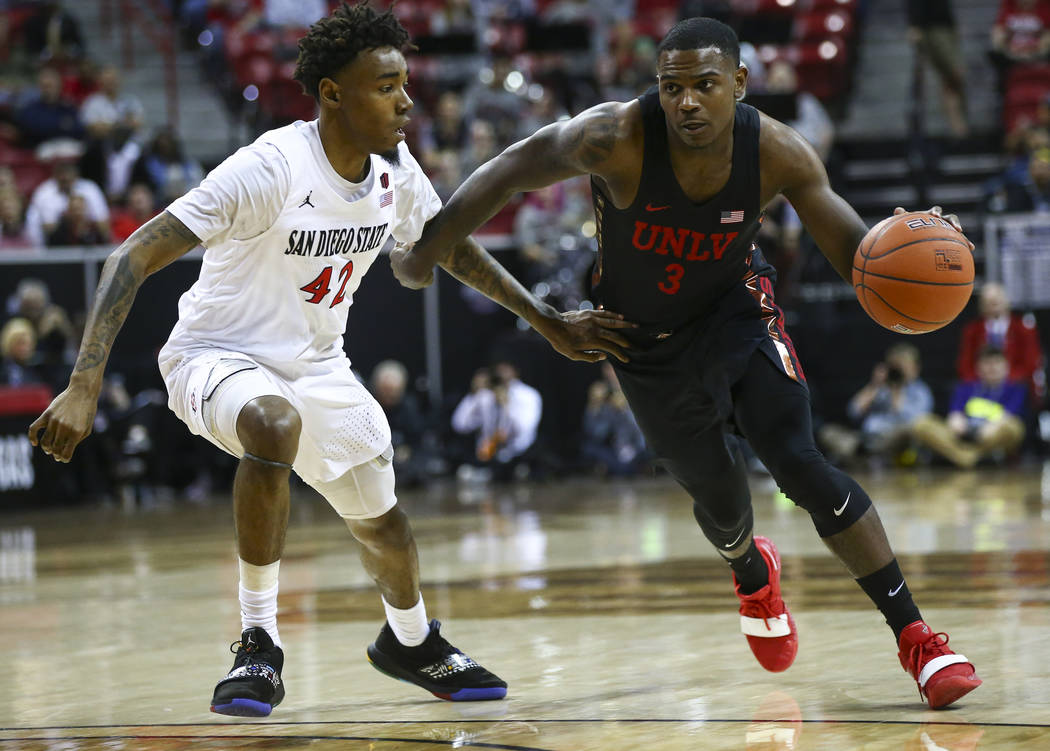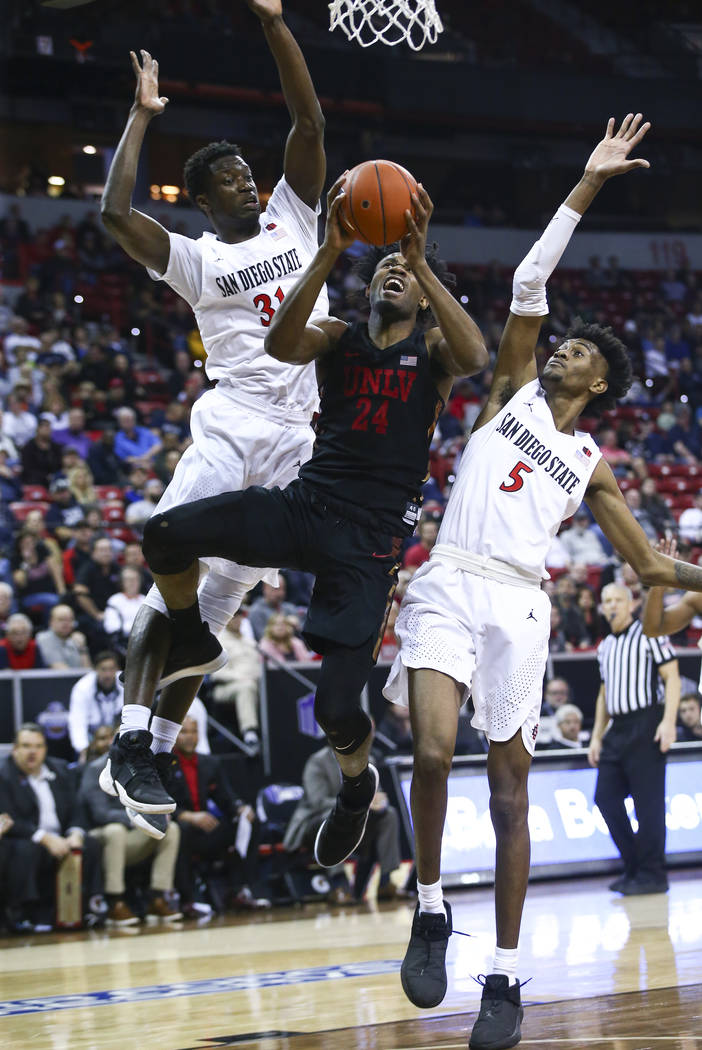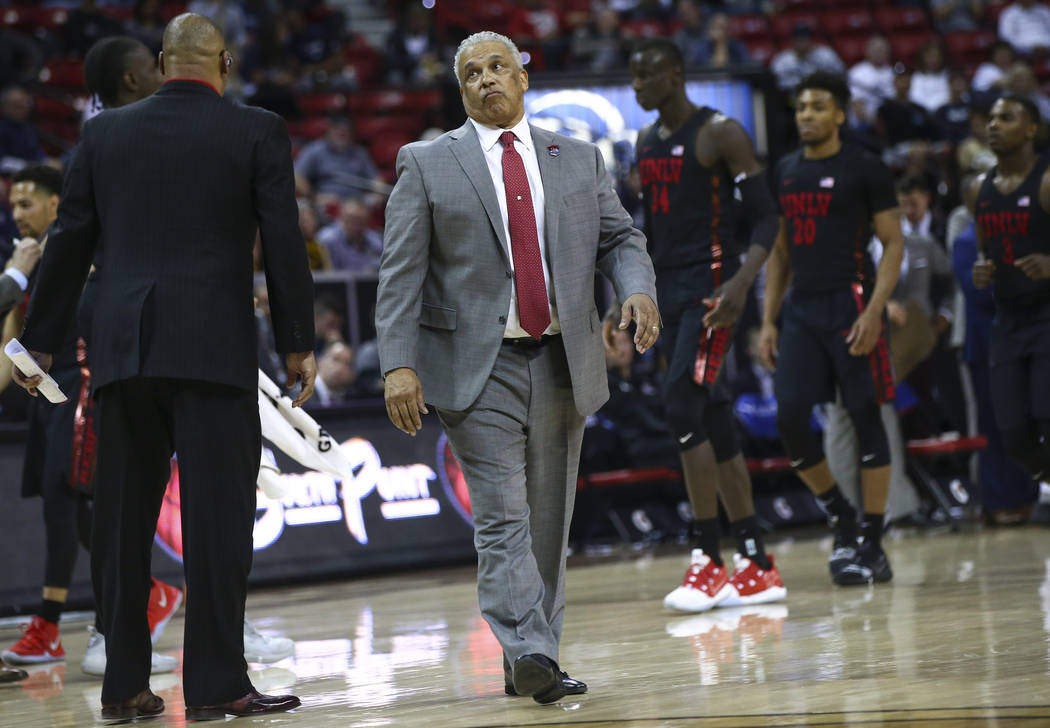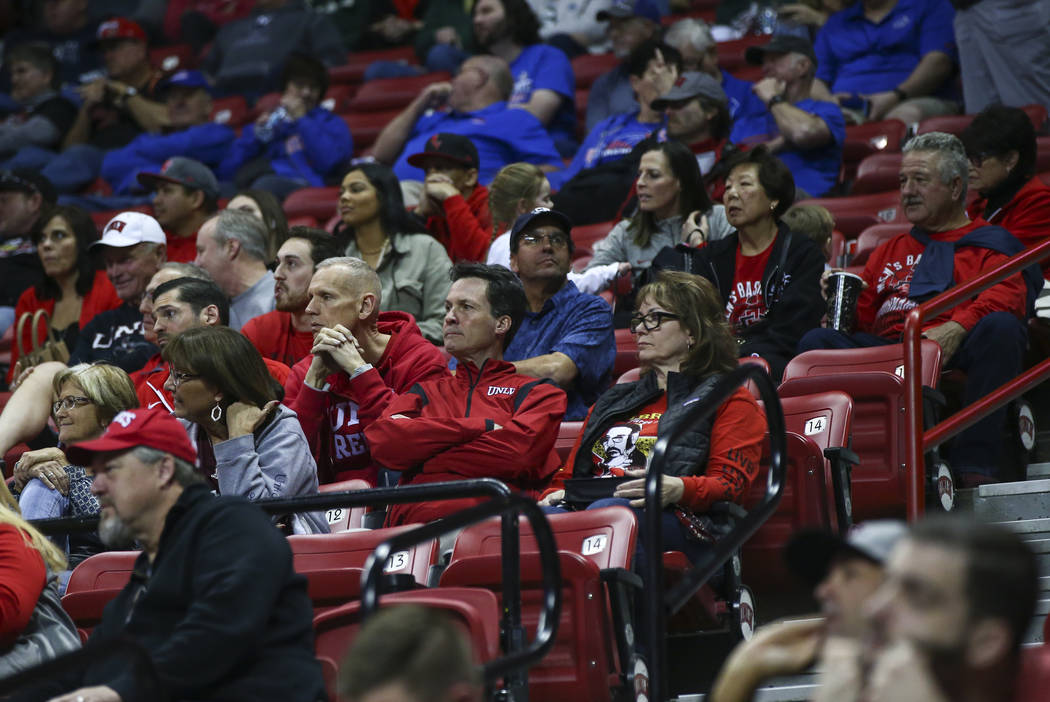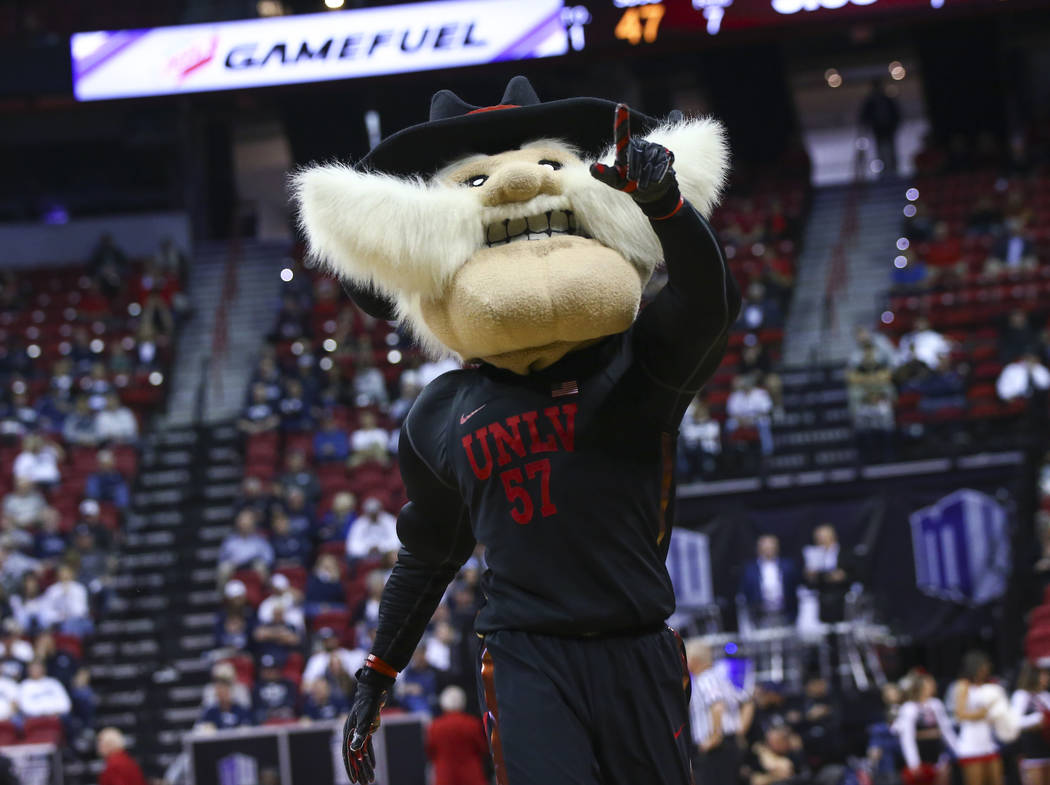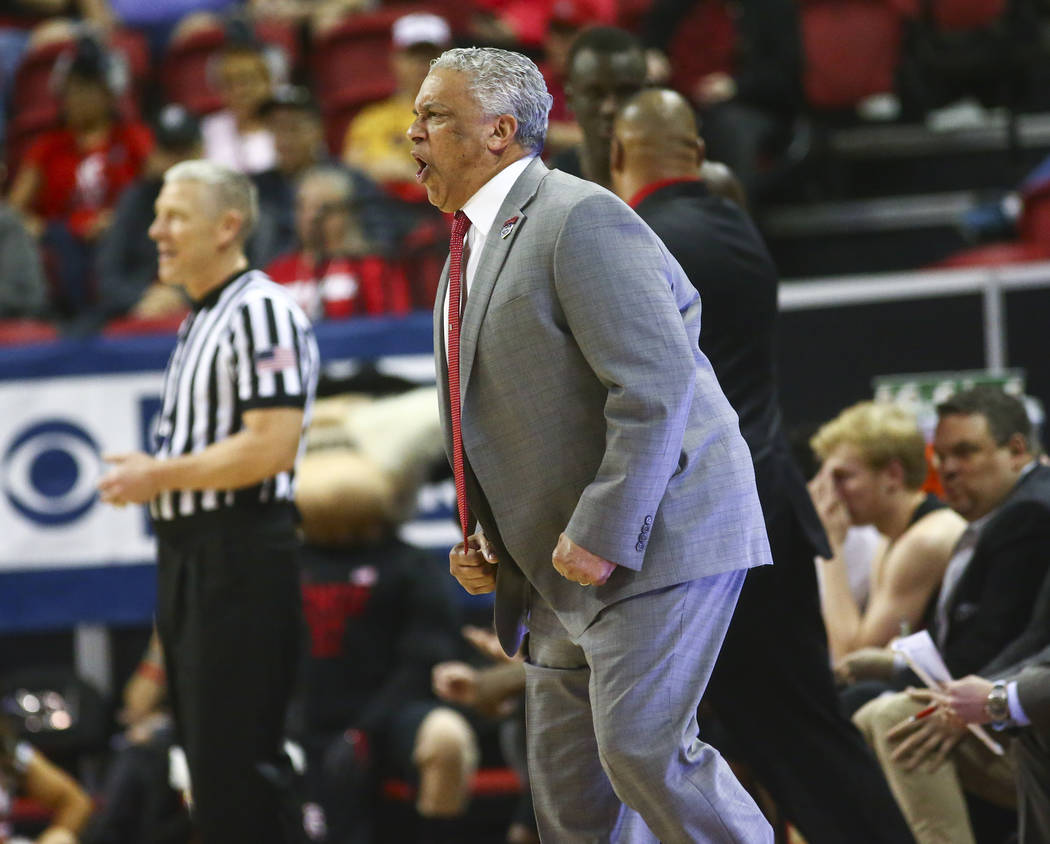 An open jumper here, a layup there, nothing went in for long stretches for both teams, leaving UNLV and San Diego State coaches to marvel how the winning team could shoot 29.8 percent.
So as Rebels coach Marvin Menzies sat down at the podium after Thursday's 63-55 loss in the Mountain West Tournament quarterfinals at the Thomas & Mack Center, he had to stifle his emotions.
Emotions over a game the Rebels had every chance to win.
Emotions over seeing departing seniors Kris Clyburn and Noah Robotham play their final UNLV game.
Emotions, perhaps, over his job status.
"Just a collective set of emotions," Menzies said. "Man, these last games of the season are always tough. There are a lot of people already eliminated, and we're one of those teams now. It's a lot of lessons and a lot of opportunity to grow and learn from, not just your season, but how to handle defeat when you lose, too."
The Rebels, who tied San Diego State for fourth in the Mountain West, finished 17-14. UNLV was the designated visiting team for being the fifth seed and the Aztecs the fourth. The building felt like a road game for the Rebels given the larger contingent of San Diego State fans who watched their team beat UNLV for the 15th time in 16 games.
It's become like a home arena for the Aztecs, who have won 27 games at the T&M since the 2008-09 season, a combination of victories against the Rebels and in the conference tournament. No other team in the country has more victories in an opposing or neutral arena in that span.
"We have a lot of good memories in here," San Diego State coach Brian Dutcher said. "Everybody complains about Vegas' home game, we're playing a lot of games in this building, and we're getting familiar with it and we're feeling comfortable in it."
The Aztecs (20-12) play 14th-ranked and top-seeded UNR in the semifinals at 6 p.m. Friday.
Dutcher is happy to be advancing but felt for Menzies. They coached together as Aztecs assistants from 1999 to 2003.
"I think Marvin's done a great job," Dutcher said. "They finished even with us in the standings. He's built the program every year. They're better off this year than they were the year before and the year before that. And they're trending up. They have the majority of their team back.
"Basketball is sometimes a game of a bounce or two, and I would hate to think that Marvin, because he lost a tough game at home, should even be worried about his job status."
UNLV had its chances to beat the Aztecs but shot 32.3 percent, including 18.2 percent from 3-point range. Kris Clyburn led the Rebels with 19 points.
"In a game like that, you just hope they fall and continue to play hard," UNLV guard Amauri Hardy said.
Jalen McDaniels had 25 points and 14 rebounds for San Diego State.
Menzies, who in three seasons is 48-48, probably will meet with athletic director Desiree Reed-Francois next week. Her decision on his job is expected soon afterward.
"The future's bright," Menzies said. "I have a lot of things to discuss that are very positive. We'll discuss those things and see where it goes."
More Rebels: Follow at reviewjournal.com/Rebels and @RJ_Sports on Twitter.
Contact Mark Anderson at manderson@reviewjournal.com. Follow @markanderson65 on Twitter.
Thursday's results
■ UNR 77, Boise State 69: The top-seeded Wolf Pack (29-3) survived a quarterfinals scare, overcoming a 15-point deficit to beat the eighth-seeded Broncos (13-20). Jazz Johnson scored 20 points and Caleb Martin 19 for UNR, which shot 61.5 percent in the second half. Derrick Alson led Boise State with 21 points and Justinian Jessup scored 18.
■ Utah State 91, New Mexico 83: The second-seeded Aggies outscored No. 7 New Mexico 15-5 over the final 3:14. Sam Merrill led Utah State (26-6) with 23 points and nine assists as the Aggies shot 53.2 percent. Vance Jackson's 25 points for the Lobos (14-18) led all scorers. Utah State made 35 of 45 free throws.
■ Fresno State 76, Air Force 50: The No. 3 Bulldogs (23-8) took control early and cruised against No. 6 Air Force (14-18). Deshon Taylor had 18 points and 10 assists for Fresno State and Aguir Agau scored 16. Lavelle Scottie led the Falcons with 13 points. Fresno State plays No. 2 Utah State at 8:30 p.m. Friday in the semifinals.