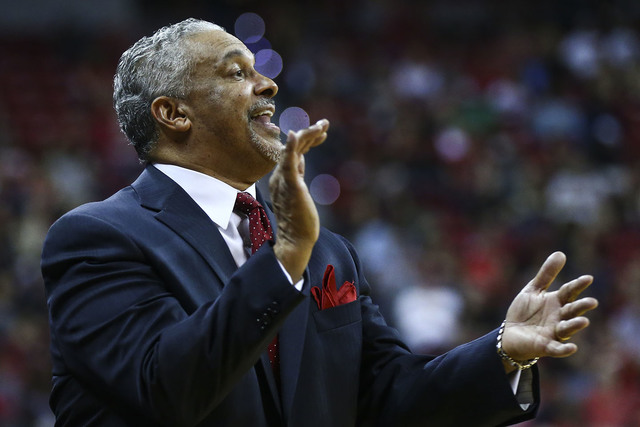 What the UNLV basketball team said following its 71-61 victory over Western Kentucky on Saturday at the Thomas & Mack Center:
Coach Marvin Menzies
"I was hopeful that we would come out and throw the first punch, which we did. But then when we went to the bench, it got a little suspect. It's good for those guys to see what they're doing wrong. That's when you can teach. That's when you get guys better."
"We've got some things we need to work on, but we'll get there. I'm happy with the win. I'm happy with the record (4-2) at this point. … We've got to move forward with making incremental improvements and get ready for the road (Wednesday at Southern Utah)."
On the experience of playing against Texas Christian's zone leading up to the Western Kentucky game: "I didn't think it was very valuable in the first half. We were chopping them up in man, but as soon as they went to the zone, it was like, 'OK, guys, we just talked about this. We just reviewed this. We just walked through it. We just showed film.' … The zone puts teams on their heels. It's truly hard to teach a team how to attack a zone with zeal. … But in their defense, they rallied in the second half and were very good, I thought, at least in the execution part of it. We made some big shots."
Guard Jalen Poyser
"I've been working on it all summer on being more consistent on my jump shot. It's effective right now."
Forward Tyrell Green
"It's like the same with Jalen, throughout the summer and the preseason, I was working on my game. I know the time I put into it, so I just have to stay consistent. That's my main thing."
Contact Mark Anderson at manderson@reviewjournal.com or 702-387-2914. Follow @markanderson65 on Twitter.