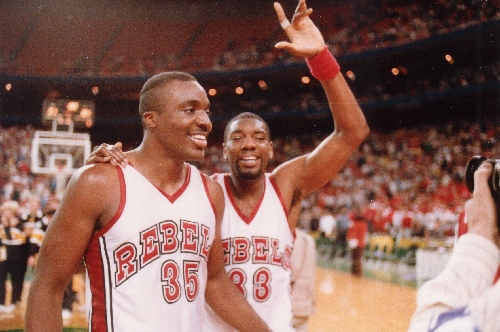 A powerful dunk by Armon Gilliam shook the backboard and rattled fans out of their seats in the Thomas & Mack Center.
In November at age 46, Gilliam provided the highlight of UNLV's Legends Game, and it recalled memories of decades past when the Rebels headlined the "Showtime" era of college basketball.
"We were a lot like the Los Angeles Lakers in the 1980s," Gilliam said last year. "It was a run-and-gun style of play, knocking down 3-point shots and dunking the basketball. It was one sensational play after another."
Gilliam, 47, died of an apparent heart attack Tuesday night while playing a pickup game near Pittsburgh.
His death inspired former UNLV coach Jerry Tarkanian to recount the first time he heard about the 6-foot-8-inch, 230-pounder nicknamed "The Hammer."
In high school in Pennsylvania, Gilliam was a football standout and a late bloomer in basketball. He was playing for Independence (Kan.) Junior College in 1983 when he was spotted by former Rebels assistant coach Mark Warkentien.
Gilliam stood out to Warkentien, who was in Kansas to scout Frank "Spoon" James in a junior college tournament.
"Warkentien called and said, 'I think we've got Spoon. But there's another guy here who didn't start for his JC team, but he's got an all-time body and he just plays harder than hell, and I think we can get him,' " Tarkanian said.
"Nobody was recruiting him."
Several weeks later, Warkentien visited Gilliam at a low-profile camp in West Virginia to secure his commitment.
But Tarkanian said UNLV's pursuit of Gilliam was interrupted by a late push from Maryland coach Lefty Driesell.
"Lefty was my best friend," Tarkanian said. "I called Lefty and I said, 'What the hell are you doing? You've never even seen him play.'
"He said, 'I knew if you were recruiting him, he must be a good player.' But Lefty backed off after I called him."
Gilliam, who starred for UNLV from 1984 to 1987, ranks seventh all time with 1,855 points and ranks sixth with 890 rebounds. He holds the Rebels' records for points (903) and field goals (359) in a season, in 1986-87.
UNLV compiled a 98-11 record in Gilliam's three seasons and reached the Final Four in 1987.
"Armon is one of the best ever. He played physical, and he just played hard all the time," said Tarkanian, who ranks Larry Johnson as the Rebels' greatest player and Gilliam No. 2.
Contact reporter Matt Youmans at myoumans@reviewjournal.com or 702-387-2907.