UNLV's win streak snapped in Reno with loss to UNR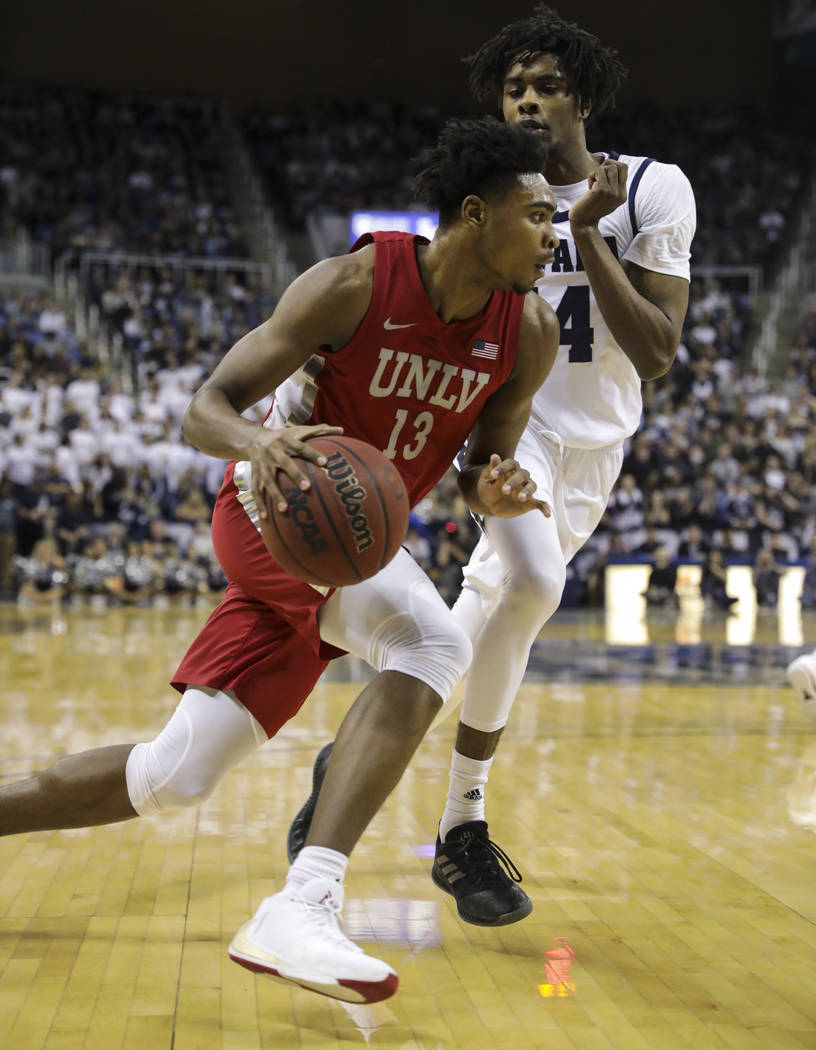 RENO — Eric Musselman might be gone, but UNR's dominance over UNLV remains intact.
The Wolf Pack, led by Jalen Harris' 28 points, were in front for all but 1:22 in defeating the Rebels 86-72 Wednesday night at Lawlor Events Center.
The Rebels (11-10, 6-2 Mountain West) had won seven of eight games, including three straight. But they have lost five in a row and seven of their past eight against UNR (12-8, 5-3).
Both teams are under new leadership since last season, with T.J. Otzelberger replacing Marvin Menzies at UNLV and Steve Alford in for Musselman at UNR. Alford is familiar with this rivalry, having coached UNLV nemesis New Mexico for six seasons until 2013.
Bryce Hamilton led the Rebels with 26 points and Amauri Hardy scored 23.
Here are three takeaways from UNLV's loss:
1. A game of 3s
Sometimes basketball is a simple sport, and this game largely came down to which team made 3-pointers.
The Wolf Pack made theirs, converting on 11 of 26 (42.3 percent). UNLV, by contrast, made 7 of 25 (28 percent).
Though UNR players did their part from the arc, the Rebels were late on closing out throughout the game. That provided the Wolf Pack with plenty of time to shoot in rhythm.
"We needed to be more aggressive on the closeouts with our hands," Otzelberger said. "It was certainly a point of emphasis and something I know our guys have done before that you need to do when you're playing guards that can shoot the way Reno's can."
Hardy said the Rebels "came out flat" defensively, which affected the offense because UNLV wasn't able to get into its transition game.
"We want to play with that same energy that we play with at home," Hardy said.
2. Still something to prove
The Rebels came in on a roll, but it was against teams at the bottom of the conference or with injury and personnel issues (Utah State and New Mexico). There still was a question about where the Rebels stack up compare to the Mountain West's elite.
This game showed there is still some work to do, especially on the road. UNLV's two most recent away games before this one were a loss at Boise State and a near-loss at last-place Wyoming.
UNLV trailed for nearly the entire game, and though the Rebels made several runs, they never closed the gap.
As far as closing the conference gap, the upcoming stretch of San Diego State at home followed by trips to Colorado State and Utah State will further define the Rebels' season and how much ground they have to make up to truly become a conference contender.
3. Mitrou-Long gets closer
UNLV point guard Elijah Mitrou-Long hasn't played since Nov. 30 at Cincinnati because of a broken thumb, but he was in uniform for this game.
The Rebels didn't play Mitrou-Long, but the fact he was dressed is an encouraging sign that he is nearing a return. Whether that means playing Sunday when No. 4 San Diego State visits the Thomas & Mack Center remains to be seen.
"He hasn't practiced yet, so we've got to first get him back to practice," Otzelberger said. "Once we do that, (we'll) evaluate where he's at."
Contact reporter Mark Anderson at manderson@reviewjournal.com. Follow @markanderson65 on Twitter.