UNLV's Wood headed to the NBA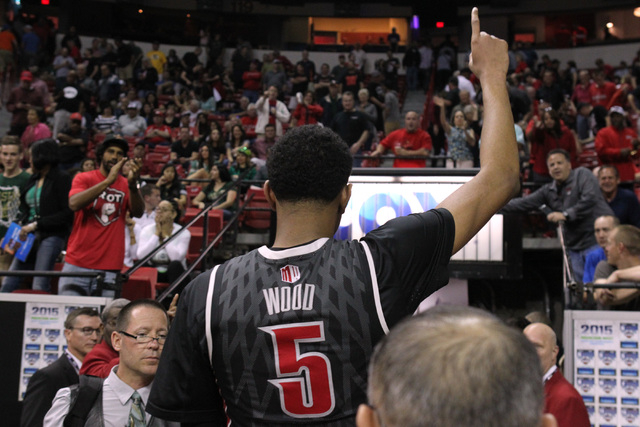 Amid reports and rumors that he planned to stay in school, Chris Wood threw a surprise draft party tonight by announcing he is leaving UNLV.
The 6-foot-11-inch sophomore forward is projected to be a late first-round pick in the NBA Draft in June.
Wood turned down a chance to play alongside 7-foot Stephen Zimmerman, the Bishop Gorman High star who signed with UNLV on Monday, and lead a talented team that still will face high expectations heading into coach Dave Rice's fifth season.
"He let me know he was leaving," said Rice, who received a text message from Wood. "Chris came to us two years ago as a guy who was not on anyone's draft board, and now he's on most draft boards in the first round. I think it speaks volumes to how he developed as a player in our program."
The deadline for underclassmen to enter the draft is Sunday, and Wood seemed to relish the drama surrounding his decision. In the past week, Wood dropped hints on Twitter that indicated he would return to the Rebels. On Wednesday afternoon, he even told a UNLV staff member that he was staying in school.
But a video with Hollywood-type production quality already had been shot.
Just after 7 p.m. he posted a four-minute, 24-second YouTube video and a message to Twitter: "I would like to thank everyone who supported me through this process. I am entering my name in the 2015 NBA Draft."
In the video, Wood said, "I think it's best for me, my family. It's always been my dream to be in the NBA."
Wood was the team's No. 2 scorer (15.7) and leading rebounder (10.0) last season, when the Rebels finished 18-15 and missed the NCAA Tournament for the second straight year. He finished with 90 blocked shots in 33 games.
Rashad Vaughn, the team's leading scorer as a freshman, recently declared for the draft, also making his decision public via YouTube and Twitter. A 6-6 shooting guard, Vaughn is expected to be a second-round pick.
Vaughn and Wood each applied for an evaluation from the NBA Undergraduate Advisory Committee, which provides early-entry candidates with information regarding their potential draft status. Vaughn made his decision before receiving an evaluation.
"The feedback indicated that Chris will be a first-round pick," Rice said, "so we wish him the best."
In a recent mock draft on DraftExpress.com, Wood was projected to go No. 25 in the first round, with Vaughn slotted 45th overall in the second round.
Last spring, junior forwards Khem Birch and Roscoe Smith left UNLV and went undrafted.
Wood, who averaged 4.5 points and 3.2 rebounds in limited minutes as a freshman, made dramatic improvement last season and was voted to the all-Mountain West first team by the media.
In the Rebels' season-ending loss to San Diego State in the conference tournament, Wood had 21 points and eight rebounds. He totaled 27 points, 19 rebounds and seven blocks in a victory over Fresno State on Feb. 10, when Vaughn suffered a knee injury and played his final game.
Wood scored 24 points and Vaughn had 21 in UNLV's 71-67 victory over No. 3 Arizona on Dec. 23 at the Thomas & Mack Center.
Despite losing his top two scorers, Rice said he still welcomes high expectations for the 2015-16 season.
Zimmerman now leads a front line that includes 6-10 center Goodluck Okonoboh, who started as a freshman, 6-8 junior forward Ben Carter, an Oregon transfer and Gorman product, and 6-8 forward Dwayne Morgan, who came on strong at the end of his freshman season.
Patrick McCaw, a 6-6 shooting guard who averaged 9.6 points as a freshman, is the Rebels' leading returning scorer.
"We are very fortunate that we are in a position with a lot of depth up front," Rice said. "We can absorb a loss like that, and we are very excited about the future."
Contact reporter Matt Youmans at myoumans@reviewjournal.com or 702-387-2907. Follow him on Twitter: @mattyoumans247.