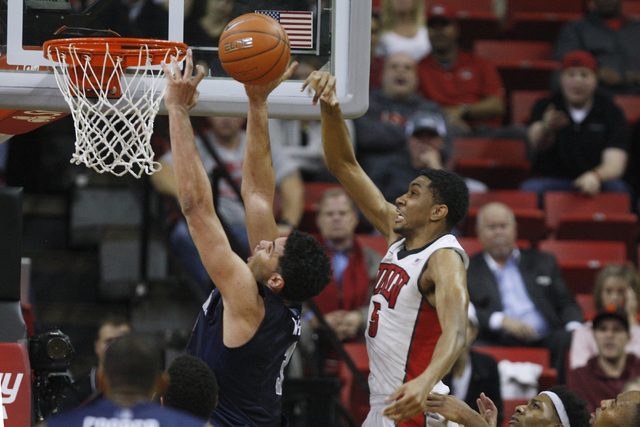 It was there for the taking, a golden opportunity to steal a conference win on the road.
Somehow, UNR was able to close the deal Wednesday at the Thomas & Mack Center. The Wolf Pack managed to stay step for step with UNLV for 40 minutes, and David Carter's team did enough things right to escape with a 64-62 victory.
Marqueze Coleman wound up the hero, nailing a 20-foot jumper with 4.8 seconds to go to break a 62-all tie.
Moments before, Eric Cooper Jr. had put the Wolf Pack back in front, 61-60 with 1:04 to go by hitting his fourth 3-point field goal of the night. Cooper matched Rashad Vaughn's 3-pointer after Vaughn had put the Rebels back in the lead 60-58 with 1:24 remaining.
"We've really grown up the last two weeks," Carter said of the Wolf Pack, which improved to 2-0 in the Mountain West, 6-8 overall and registered its third straight win over UNLV in the series after having dropped the eight previous. "Not many teams can come in here and win, so for us to steal one, it's a good feeling."
Credit UNR for clutch shooting to help it get the win. Coleman, who had a tough shooting game, going just 2-for-9 from the floor, managed to hit the biggest shot. The Wolf Pack got the ball quickly into the frontcourt and Coleman, a junior, understood the time and score situation.
"We wanted to find an open space on the floor and I got a pretty good look," Coleman said of his shot from just inside the 3-point line that found the mark. "Coach talked about sustaining effort and I thought we did a good job of hanging in there."
Forward AJ West, who had 15 points and 15 rebounds to lead the Wolf Pack, said it took a little longer than everyone in Reno wanted for this group to come together. But wins such as Wednesday's can do wonders for a team's confidence.
"It's a longer learning curve for a new group," he said. "We had to adjust to not having Deonte (Burton) and it's taken us awhile. But I could see the way we've been practicing and playing that it was starting to come around. We're not playing like individuals the way we were early in the season. We're more trusting of each other now."
Carter said the zone defense his team played the majority of the game was critical to not allowing UNLV to use its superior individual size and skills to control things.
"I liked what we did with the zone," Carter said. "We know how talented they are and we felt it was a way to slow them down."
Offensively, UNR shot only 35 percent from the floor and were just 5 of 14 from 3-point range. But Cooper had four of the five treys and he was able to knock down a couple with Rebels in his face.
"I was focused on this game," said Cooper, whose father was among the 13,530 fans on hand at the Thomas & Mack. "I had been rushing my shot and the coaches were telling me to just slow down. It's not easy to do that when you're in a game like this and everyone's so hyped up and the crowd's into it.
"But it felt good to make a positive contribution and come in here and get a big win."
Contact reporter Steve Carp at scarp@reviewjournal.com or 702-387-2913. Follow him on Twitter: @stevecarprj.