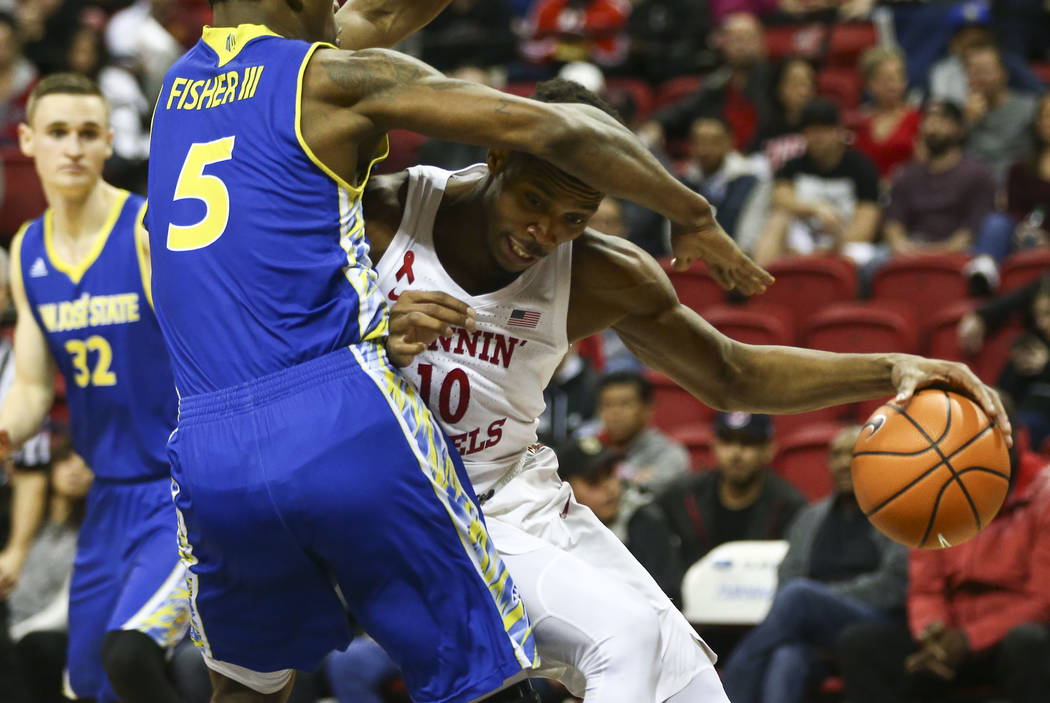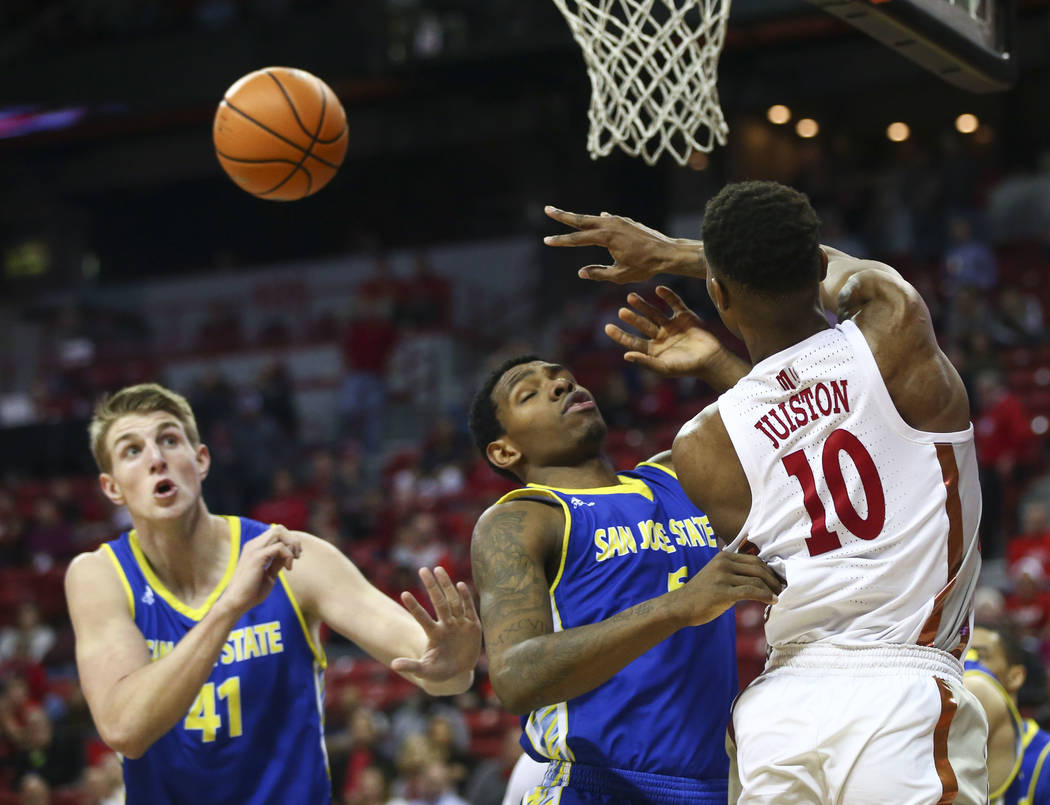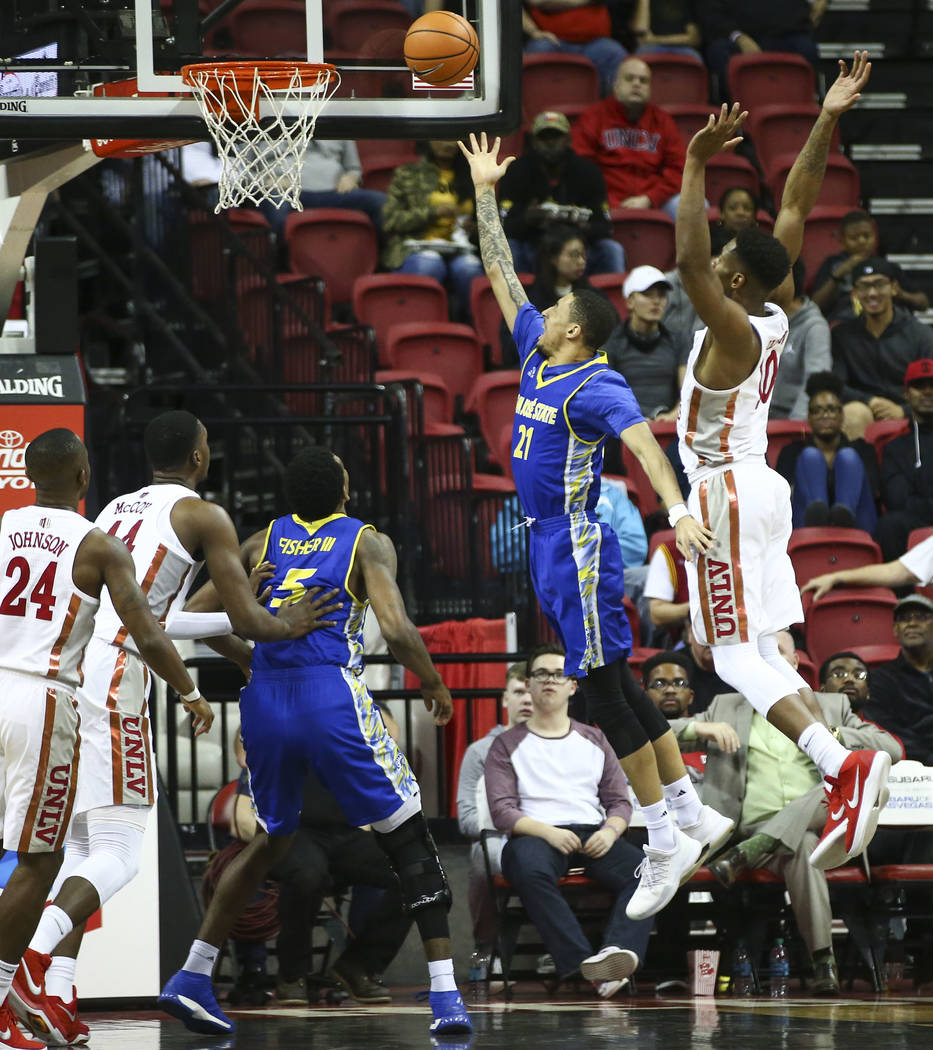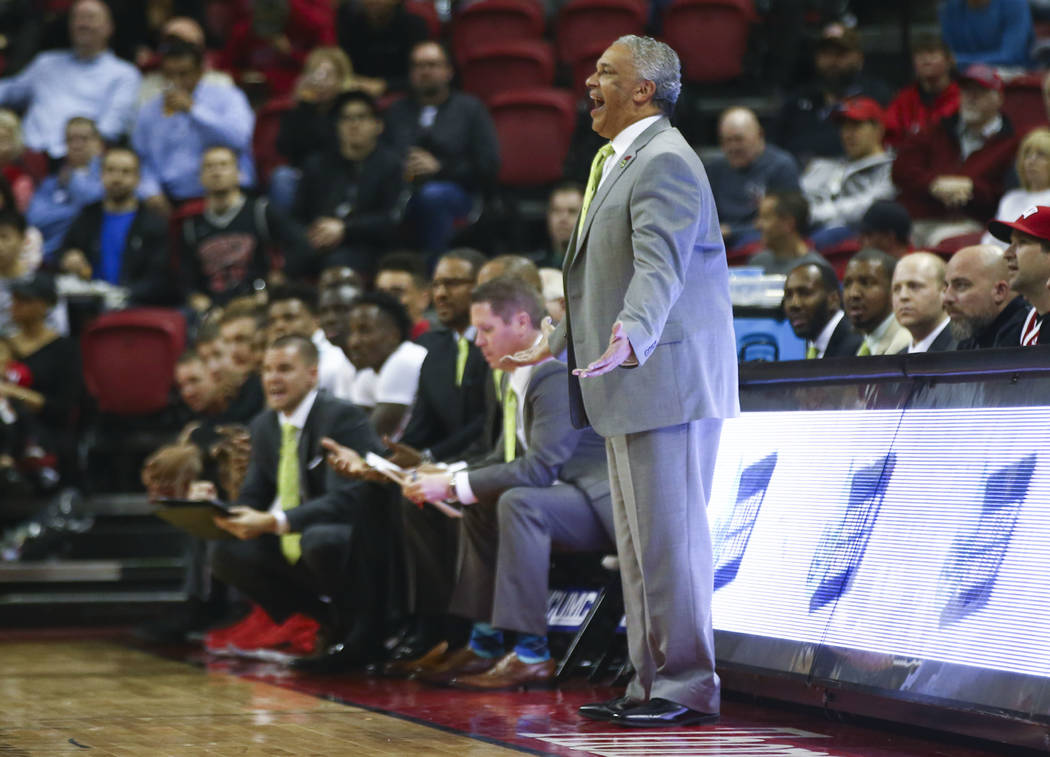 With the exception of New Mexico's push into the top half of the Mountain West standings, there has been little surprise to how the first half of the conference basketball season has played out.
As expected, UNR and Boise State sit atop the standings, and Air Force and San Jose State are bringing up the rear. Several teams are clumped together in the middle fighting to get off the play-in date at the Mountain West tournament from March 7 to 10 at the Thomas & Mack Center.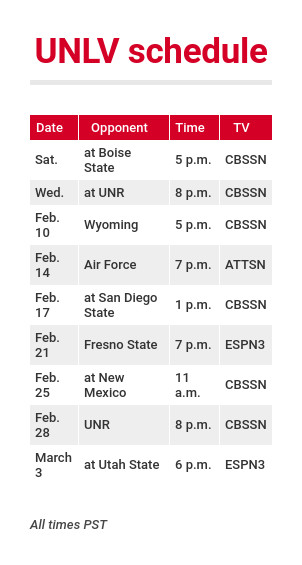 UNLV begins the second half of its conference schedule at 5 p.m. Saturday at Boise State, so here's a look at where the Mountain West teams stand and how the rest of the season might play out. The teams are listed in order of the conference standings.
1. UNR (19-4, 8-1 MW)
Kenpom/RPI rankings: 17/14
Where the team stands: The Wolf Pack have lived up to expectations and are one horrible noncall at Wyoming from being undefeated in conference. UNR is strong on both ends of the floor, ranking second in the conference in scoring offense (83.4 points per game) and fourth in scoring defense (71.3).
Outlook: UNR has the chance to separate itself from the rest of the conference when the Wolf Pack visit Boise State on Feb. 14. If the Wolf Pack win that game, they shouldn't have trouble capturing the top seed for the conference tournament, though season-ending trips to UNLV on Feb. 28 and San Diego State on March 3 await.
2. Boise State (18-4, 8-2 MW)
Kenpom/RPI rankings: 47/40
Where the team stands: Chandler Hutchison has put himself in position to become conference Player of the Year, averaging 19.7 points and 7.7 rebounds. Boise State leads the Mountain West in scoring defense, allowing 67.3 points per game.
Outlook: That Valentine's Day meeting with UNR is Boise State's chance to make a run at the regular-season title. The Broncos end the regular season Feb. 27 at San Diego State and March 3 at home against Wyoming, which could affect momentum and seeding in the conference tournament.
3. Wyoming (15-7, 6-3 MW)
Kenpom/RPI rankings: 108/56
Where the team stands: The Cowboys have won four in a row to move up the standings, with an eye-opening 104-103 double-overtime victory over UNR. Justin James leads the conference with 20.1 points per game.
Outlook: Wyoming has a tough road this month, visiting UNLV, San Diego State, Fresno State and Boise State.
4. New Mexico (11-12, 6-4 MW)
Kenpom/RPI rankings: 117/160
Where the team stands: New Mexico had won five of six games before Wednesday's 89-80 loss at Utah State. First-year coach Paul Weir has maximized the production, but the lack of talent compared to other teams will be tough to overcome.
Outlook: A home game Feb. 6 against Boise State will be quite telling as to where New Mexico stands. The Lobos also face challenges Feb. 14 against Utah State, Feb. 20 at Wyoming, Feb. 25 against UNLV and March 3 against Fresno State.
5. UNLV (16-6, 5-4 MW)
Kenpom/RPI rankings: 80/154
Where the team stands: The Rebels had a rough start to conference play, but have responded with an 88-78 victory over San Diego State and 76-67 win over San Jose State. Five-star recruit Brandon McCoy excelled in both games.
Outlook: The schedule gets much more difficult, beginning with trips to Boise State on Saturday and UNR on Wednesday. UNLV doesn't have many easy spots left.
6. Utah State (13-11, 6-5 MW)
Kenpom/RPI rankings: 135/144
Where the team stands: As indicated by the record, it's been an uneven season for the Aggies. But as they showed Wednesday against New Mexico, Utah State is no one's idea of an easy night.
Outlook: Three of the Aggies' toughest remaining games — Boise State, UNR and UNLV — are at the difficult-to-play Dee Glen Smith Spectrum.
7. Fresno State (15-8, 5-5 MW)
Kenpom/RPI rankings: 86/121
Where the team stands: Fresno State is coming off tough losses of 65-62 to Utah State and 102-92 at UNR. The Bulldogs are talented, but could get stuck playing on the first day of the conference tournament.
Outlook: Fresno State seems to get hot at this time every season, but five of the remaining eight games are on the road.
8. San Diego State (12-8, 4-5 MW)
Kenpom/RPI rankings: 61/123
Where the team stands: This has been a transition season in going from coach Steve Fisher to Brian Dutcher and from a defense-first team to one that wants to get up and down the court.
Outlook: San Diego State is still talented and can make a statement late when Boise State on Feb. 27 and UNR on March 3 visit.
9. Colorado State (10-14, 3-8 MW)
Kenpom/RPI rankings: 200/184
Where the team stands: The play on the court is the least of the Rams' problems. The athletic department has launched an investigation into how coach Larry Eustachy has conducted himself.
Outlook: The investigation is likely to be a major distraction, and Colorado State already is reeling from five consecutive losses.
10. Air Force (8-12, 2-6 MW)
Kenpom/RPI rankings: 257/243
Where the team stands: Air Force averages 68.3 points, second worst in the Mountain West. It's been a distracting season for the Falcons, who had to reschedule a game against Fresno State after the federal government shutdown.
Outlook: The prospect of another shutdown Thursday looms over the program, and the Falcons have trips scheduled to UNLV, Boise State and Wyoming.
11. San Jose State (3-18, 0-10 MW)
Kenpom/RPI rankings: 297/291
Where the team stands: Outside of Ryan Welage (18.6-point average), the Spartans don't have anyone who can throw a scare into opponents. They are last in scoring at 65.9 points per game.
Outlook: San Jose State figures to win a league game at some point, but guessing which one is the challenge.
Contact Mark Anderson at manderson@reviewjournal.com. Follow @markanderson65 on Twitter.