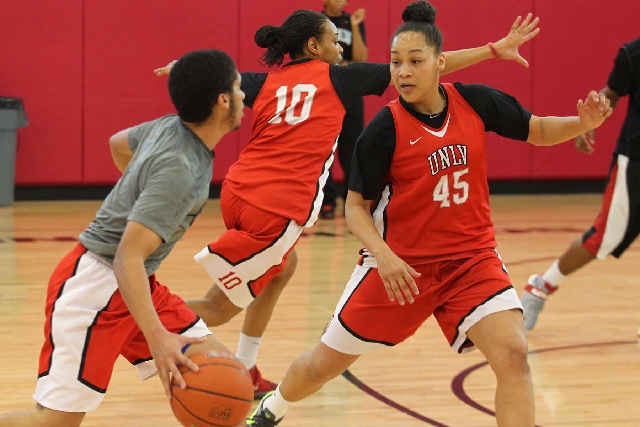 Freshman Rejane Verin had a confused look on her face when asked about being extra motivated to beat New Mexico because of last year's stunning loss.
That defeat to the Lobos is irrelevant to her, and with the notable exception of senior Kelli Thompson, it doesn't mean much to the other UNLV women's basketball players, either.
Most didn't experience the pain Thompson felt — either they weren't on the team or didn't play much — and so today's 2:30 p.m. Mountain West quarterfinal at the Thomas & Mack Center against the Lobos is simply about trying to win and make it to the next round.
"It's a new year, new players, new tournament," Verin said.
Fourth-seeded UNLV (12-18) would have good reason to be confident against No. 5 New Mexico (16-13). Each team went 8-8 in conference play, but the Lady Rebels swept the season series.
That mattered little last year, though, when UNLV also beat New Mexico in both regular-season meetings but then lost to the Lobos 61-58 in the tournament quarterfinals.
But even if that setback doesn't resonate with most of the current Lady Rebels, it provides a lesson on the importance of taking every game seriously.
"In my opinion, we weren't supposed to lose that game," Thompson said. "We got a little ahead of ourselves. We were thinking about the NCAA Tournament and not New Mexico first, and they took advantage of that.
"I let the younger ones know that that can happen. We thought we were going to go in there and kick their butts just like both times we did in conference, and in the tournament, it's anybody's game. They didn't back down, and I don't expect them to back down on Thursday."
Thompson doesn't need extra motivation. She and point guard Mia Bell felt the pain, but Bell was ruled out in the preseason after undergoing knee surgery.
So it's Thompson, a first-team all-conference selection, who recalls the memories of being the No. 2 seed and on the cusp of making the NCAA Tournament. That is until No. 7 New Mexico used a 12-point run to key the upset.
The Lady Rebels not only were out of the conference tournament, they also had to settle for the Women's National Invitation Tournament. They lost 71-63 in the first round to Saint Mary's (Calif.).
One factor possibly in the Lady Rebels' favor this time is their resiliency.
This is a team that repeatedly has dealt with injuries. In addition to Bell, UNLV lost Alana Cesarz to a knee injury and Briana Charles to a broken hand.
UNLV not only didn't fold but also changed its style, becoming a strong inside team balanced by Thompson's perimeter shooting ability.
"I think this team has shown their character," coach Kathy Olivier said. "They have completely fought through adversity. They've actually been very fun to coach. They come in every day willing to work hard. I do truly feel we've gotten better every day they've come in here, and that's what makes it fun to coach."
Verin, in particular, has become a force in the post, averaging 8.0 points and 6.8 rebounds to become the conference Freshman of the Year. She has been especially effective down the stretch, averaging 21.3 points and 11.0 rebounds in the past four games.
"Rejane has been phenomenal," Thompson said. "I mean, the way she's been playing these last four or five games is unreal."
UNLV's overall season wasn't as good as its 2011-12 season, when it went 22-10, but the Lady Rebels overcame more adversity in breaking even in conference play.
They have the makings of an excellent team next season, but UNLV's players have only today's game on their minds.
"Let's win the first game of the tournament and then go from there," Olivier said. "We don't want to get too ahead of ourselves. It's a team we can't do that with."
Contact reporter Mark Anderson at manderson@reviewjournal.com or 702-387-2914. Follow him on Twitter: @markanderson65.
UNLV VS. NEW MEXICO
■ WHEN: 2:30 p.m. today
■ WHERE: Thomas & Mack Center
■ RADIO: KSHP-AM (1400)