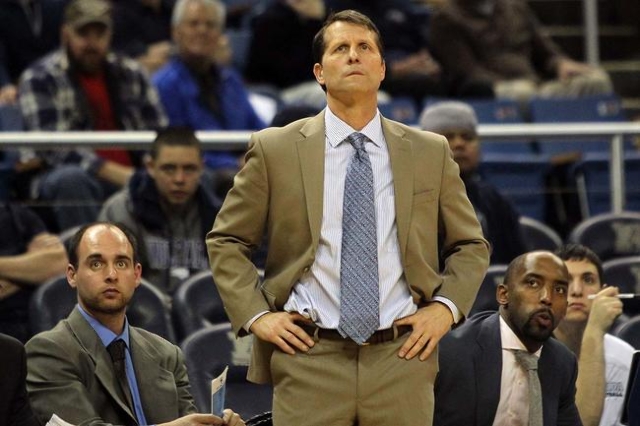 LOGAN, Utah — Tim Duryea was preparing for basketball season, about to begin his head coaching career at Utah State when his phone rang.
It was then-UNLV coach Dave Rice letting Duryea know he was about to lose one of his best players in forward David Collette. Duryea was shocked, but sure enough, Collette — who enrolled at Utah last week — had one foot out the door in what became a contentious transfer.
Just like that, Duryea faced a crisis before the first tip-off.
"It did affect how we play," Duryea said. "It did affect how some of the kids on our team played because of the fact that we played offense through him, and so everybody played off of him in some respect. When that changed, the game changed for a few of our players. We had to figure out how to adjust their game and the way defenses react to them on the floor.
"It definitely had an impact when you don't have a chance to plan for something like that. You've got to adjust on the fly, and that's kind of what we spent the first 15 games of the year doing."
Now deep into the season, Duryea's Aggies (11-6, 3-3 Mountain West) looked as if they are figuring it out. They host UNLV (11-7, 2-3) at 6 p.m. PST today at the Dee Glen Smith Spectrum, and the game will be streamed on ESPN3.
Duryea is the first of two first-year head coaches the Rebels see this week. They also visit UNR on Saturday and coach Eric Musselman.
As for Duryea, 51, he might be a first-year head coach with the Aggies, but he is a veteran with the program, having served as an assistant to former coach Stew Morrill for 14 years. Morrill retired following last season, leaving a legacy that included 402 victories over 17 seasons at Utah State.
Morrill told his successor "there would probably be two or three times a year where I would think I might have a nervous breakdown," Duryea said. "He assured me that I wouldn't, but that I would feel like I would and not to let that bother me."
The Aggies didn't ease into conference play. After opening with an 80-71 victory at San Jose State, they lost three in a row to San Diego State, Boise State and New Mexico.
Utah State answered that stretch with a 79-60 victory over Air Force last Tuesday and a 96-92 win at Colorado State on Saturday.
Maybe the Aggies now are on the right track, and Duryea is applying the lessons learned as a junior college head coach as well as those gleaned under Morrill.
"Being with a veteran head coach who knew how to run a program and organize a program, you get to see first hand what you need to do to put yourself in position to have a chance to win," Duryea said.
Expectations are high in Reno for Musselman, 51, but more on a long-term scale than immediately. The Wolf Pack, however, are showing improvement, having already won one more game than all of last season. UNR is 10-7 this season (2-3 in the Mountain West).
Musselman is doing it with largely the same talent, but brought chemistry to a team torn apart by strife last season. Nearly every player bought in — the notable exception was center A.J. West, who quit in mid-December.
To win over the players, Musselman and his assistant coaches ran with them in the mountains and on the beach during team-building activities. They also put in a 4-mile run, and the players learned quickly what was expected.
"It was even worse when the coaches finished in front of half the team," Musselman said. "I think it was a fragmented group that has done a good job of bonding and coming together as a unit. We're still trying to improve the culture on a daily basis."
Musselman goes at it hard, be it on the floor or in recruiting. He has picked up two technical fouls in the first 17 games, and previous coach David Carter had two all of last season.
On the recruiting trail, Musselman brought in three four-year transfers who are sitting out this season under NCAA rules. He also has landed three top-150 recruits; UNR had two in its history until now.
Musselman sells his history as the former head coach of the NBA's Sacramento Kings and Golden State Warriors as well as his stints coaching in the NBA Developmental League and the International Basketball Federation (FIBA).
"If anybody wants to play beyond college, they're going to have to play in one of those three leagues," Musselman said. "So I have a unique background of not just the NBA, but the minor leagues and then overseas. It has helped us with recruits because it's being able to say this is what you've got to do on the NBA level, this is what you have to do to get a good European contract, this is what you have to do to play in the D-League.
"I can explain exactly how draft war rooms are, what things are being discussed. I'm not guessing because I've been in these rooms for many years."
Contact Mark Anderson at manderson@reviewjournal.com or 702-387-2914. Follow him on Twitter: @markanderson65
Check our GameDay page for full coverage of the UNLV-Utah State game.