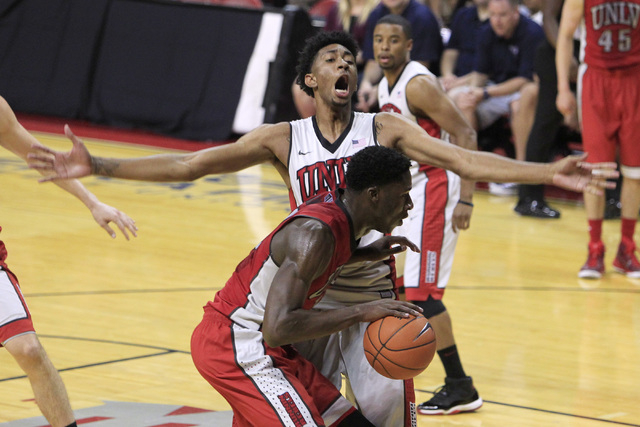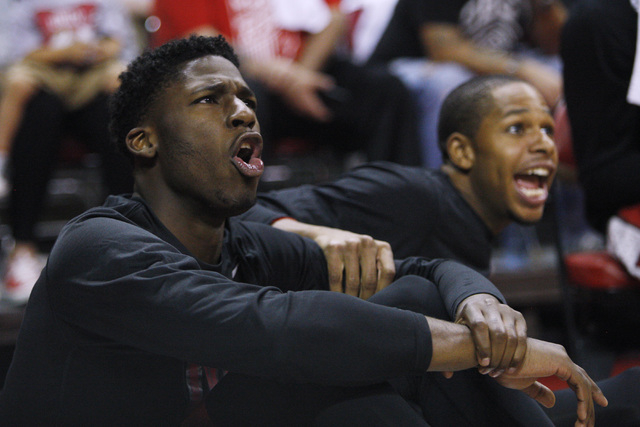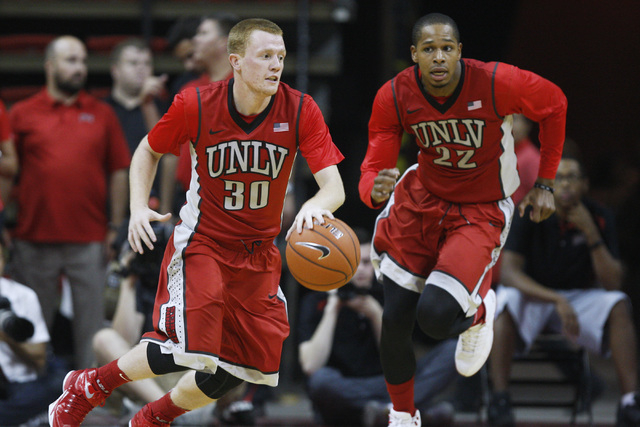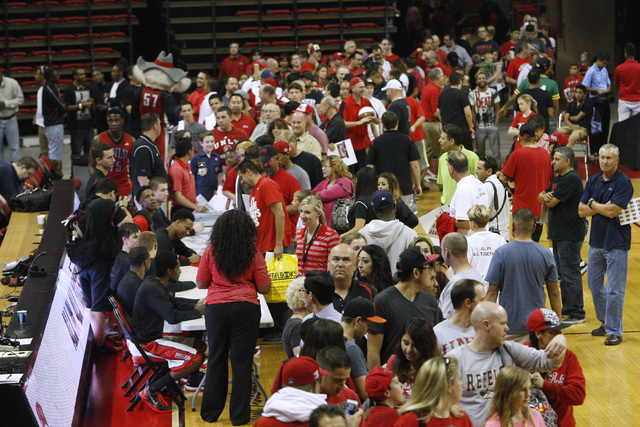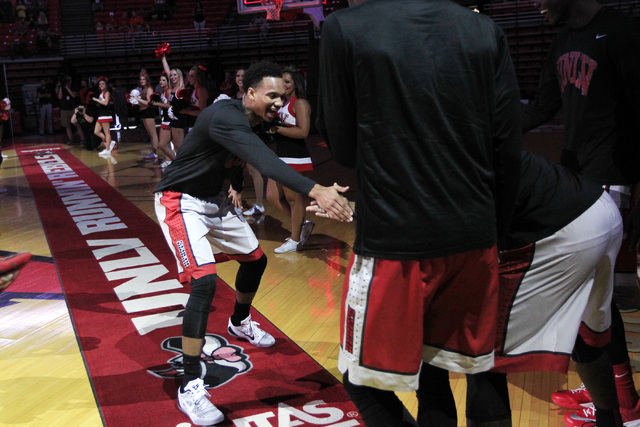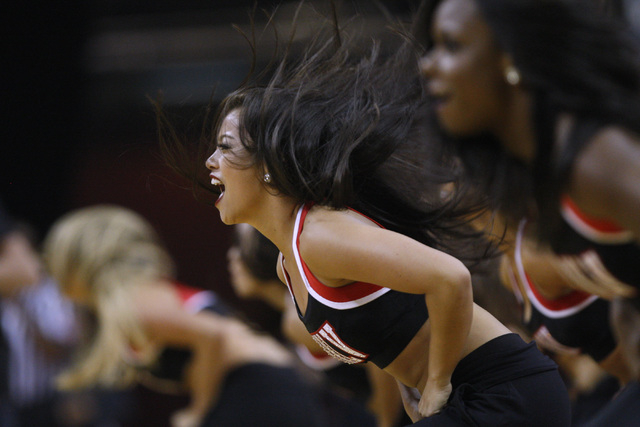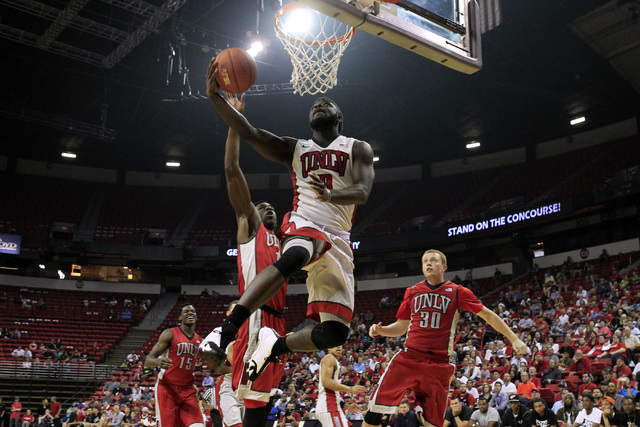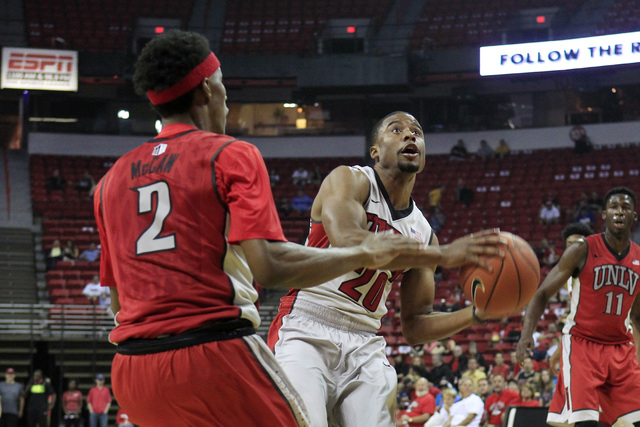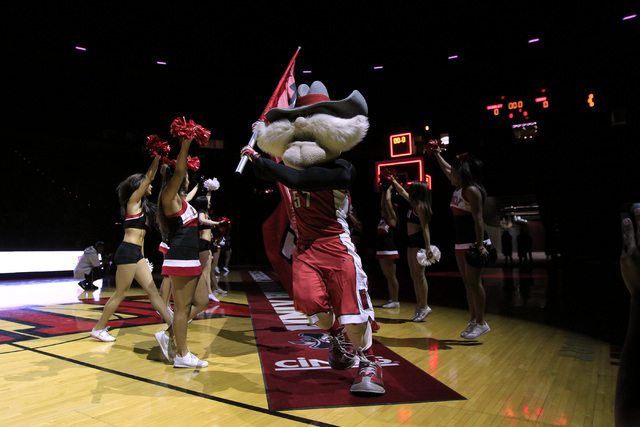 In his unofficial UNLV debut, Rashad Vaughn danced during introductions and dunked in the scrimmage, showing flashes of his style and grace.
"To be able to put on a show for these amazing fans, it was an amazing feeling," he said. "This right here was like the start of our season, and I'm excited."
The Rebels have another month to prepare for the start of the regular season, and it's time they will need to use wisely. A team with eight freshmen and sophomores has some growing up to do before the games count.
Vaughn, a freshman guard from Findlay Prep, admitted as much after the Scarlet &Gray Showcase on Thursday night at the Thomas &Mack Center, where approximately 5,000 fans showed up to watch a shooting contest, alumni game and 20-minute scrimmage.
"We've got a lot to work on," Vaughn said. "We've got to get a lot better."
UNLV coach Dave Rice is entering his fourth season and facing the challenge of molding a young group of talented players into a team that can handle a tough nonconference schedule and contend for a Mountain West title.
The Rebels, missing their top five scorers from last season's 20-13 team, open Nov. 14 against Morehead State. In the meantime, Rice is taking it one step at a time, and Thursday's scrimmage was a small step.
"It's a big deal for the new guys to be able to get out in front of the fans," Rice said. "Practice is practice, but this is actually game-type conditions."
Four seconds into the scrimmage, redshirt freshman Dantley Walker drained a 3-pointer, and it appears shooting the 3 will be a theme for the guard-reliant team.
UNLV's roster was split into two teams of seven players. The Gray team routed the Scarlet team 46-28, and the teams combined to sink 6 of 22 3-pointers.
Chris Wood, a 6-foot-11-inch sophomore forward, hit 1 of 2 3-pointers and finished with 15 points and seven rebounds to lead the Gray.
"It's going to be a team that makes a lot of 3s," Wood said. "I think we're going to be running way more than we have before. No more walking the ball up the court, and more pushing the ball up the court."
Wood was the standout performer of the night, drawing rave reviews from his coach.
"I thought Chris passed up a lot of shots that maybe last year he would have been tempted to take," Rice said. "He attacked inside, and he got to the free-throw line. I thought he was definitely a factor inside, and that's what we need him to be this season. He has to be a post presence for us on both ends of the floor."
Three possible weaknesses in the Rebels were obvious to see — post play, rebounding and shot selection.
Point guard production should not be a problem. Rice also complimented sophomore Kendall Smith, who totaled eight points, five rebounds and four assists while running the Gray team.
Cody Doolin, a senior graduate transfer from the University of San Francisco, guided the Scarlet squad. It was led by freshman forward Dwayne Morgan (14 points) and freshman center Goodluck Okonoboh (six points, six rebounds).
"We're still growing as a team. I think we're going to fit together pretty well," Okonoboh said. "We have a lot of confident guys on this team, and you should expect to win basketball games."
Vaughn, a McDonald's All-American, is wearing jersey No. 1 this season, and he could be the team's leading scorer. In the scrimmage, he shot 3-for-8 and scored six points. Several of his former Findlay teammates were sitting courtside.
"I just remember last year I was in the same seat they were sitting in," Vaughn said. "I'm very anxious. This is a lot better than practice. Practice is tough."
The Rebels will travel to UCLA for a closed scrimmage in early November and play one exhibition on Nov. 5 against Florida National.
Contact reporter Matt Youmans at myoumans@reviewjournal.com or 702-387-2907. Follow him on Twitter: @mattyoumans247.