Vaughn's shooting boosts Rebels to blowout win
November 29, 2014 - 9:01 pm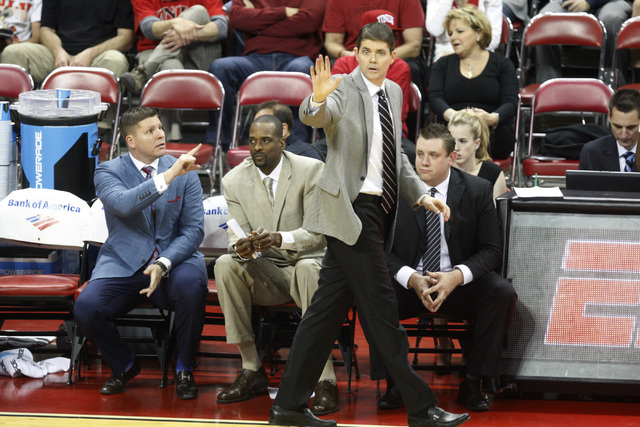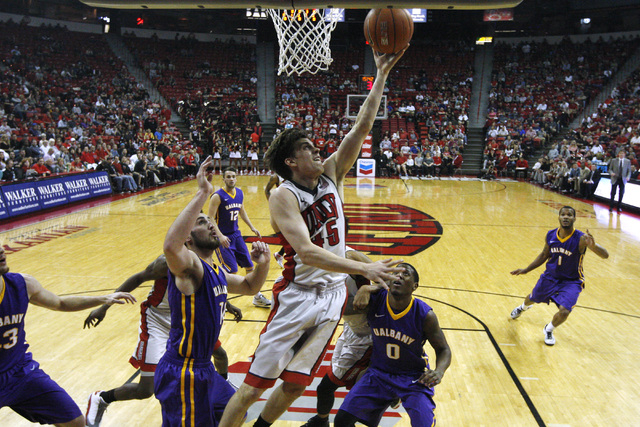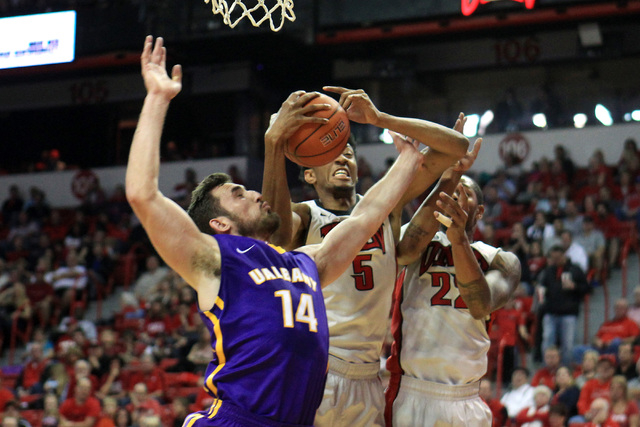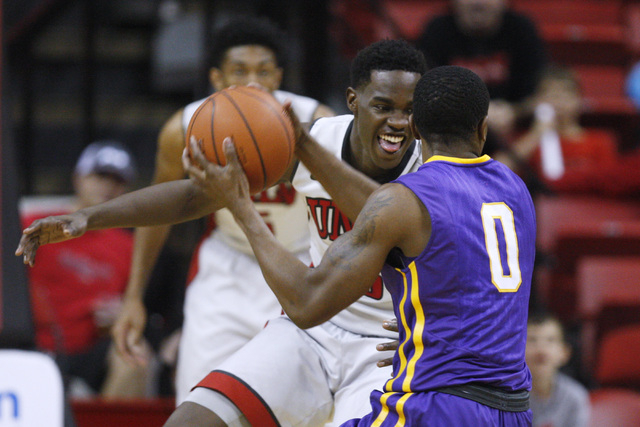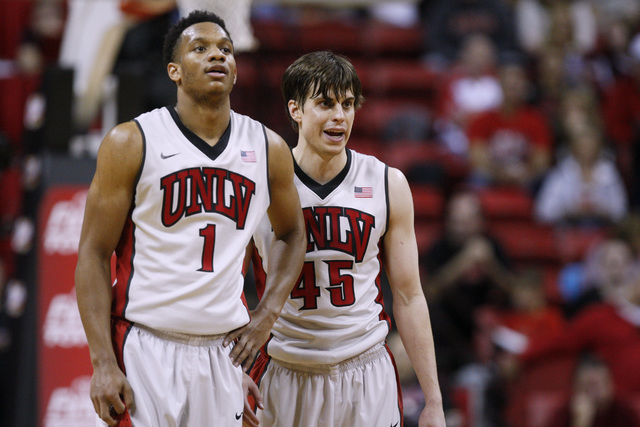 No doctor's visit was needed to determine if Rashad Vaughn was in good health Saturday. When his shots started falling, it was obvious he was feeling better.
A week ago in New York, when the freshman guard all but vanished from UNLV's offense for two games, Vaughn said he was dealing with bronchitis. But he made that diagnosis on his own.
"I didn't tell anybody," he said. "I don't like to give excuses. My shot just wasn't falling, and I was getting tired a lot."
After six days of practice and rest, Vaughn scored 29 points to shoot some life into the Rebels in a 75-59 victory over Albany before a crowd of 11,209 at the Thomas & Mack Center.
"I wasn't sick," Vaughn said, explaining the difference in his play from one weekend to the next. "It's always a great feeling playing in the Thomas & Mack. I love playing here, great fans and great energy."
Vaughn, held to seven points in each game against Stanford and Temple, made five 3-pointers and connected on 11-for-18 from the field as UNLV shot a season-high 52.9 percent and topped 60 points for the first time.
Sophomore forward Chris Wood contributed 19 points and 10 rebounds, and freshman forward Dwayne Morgan added 10 points off the bench for the Rebels (4-1).
UNLV coach Dave Rice said word of Vaughn's illness caught him by surprise last week.
"I didn't even know he was sick until after the fact," Rice said. "It was good to see Rashad get going from the outside. He can score from different spots on the floor. He's a pretty versatile scorer for us. I knew he would find the rhythm because he works so hard."
Vaughn regained his rhythm early, sinking his first 3-pointer midway through the first half. He added two more on back-to-back possessions with about six minutes to go, and the Rebels were on the way to their first halftime lead (37-25) in five games.
The Great Danes (2-3) rallied to cut their deficit to 52-46 with 11 minutes remaining. Morgan scored UNLV's next six points before Vaughn and Wood took over down the stretch.
Peter Hooley hit three 3-pointers and had 18 points for Albany, and Sam Rowley totaled 17 points and 10 rebounds. The smaller Great Danes, who figured to live or die with their perimeter shooting, hit just 5 of 17 3s as the Rebels did a satisfactory job of contesting shots.
Senior guards Cody Doolin (four points, six assists) and Jelan Kendrick (nine points, five rebounds) triggered UNLV's offense in the first five minutes.
"I think we made tremendous progress from our last time out, especially on the offensive end," Rice said. "I thought our offense was much improved. Cody is a big part of what we're doing. He gets the ball to Chris where he can be successful, and he gets the ball to Rashad."
Wood shot 6-for-10 and made one 3-pointer but did most of his scoring inside.
"We have great guys on this team. Anybody can score," Wood said. "I'm just out there getting rebounds and doing what Cody says."
Rice was displeased with the Rebels' lack of screening and spacing on the offensive end in the first four games, so he spent several hours in practice emphasizing what changes needed to be made.
"We even got a couple illegal screens today, which was a good thing because it showed we were screening," Rice said.
Vaughn topped his previous career high of 26 points in the season opener.
"It makes everybody's job a lot easier when he's heating up like that," Doolin said.
UNLV had a 14-0 advantage in fast-break points as Doolin picked up the pace in the transition attack.
The Rebels, who play their first true road game at Arizona State on Wednesday, do not return to the Thomas & Mack until Dec. 17 because of the National Finals Rodeo, which begins Thursday.
Contact reporter Matt Youmans at myoumans@reviewjournal.com or 702-387-2907. Follow him on Twitter: @mattyoumans247.
UNLV 75, Albany 59
Key: Rashad Vaughn scored 29 points and Chris Wood 19 for the Rebels.
Next: UNLV at Arizona State, 5 p.m. Wednesday, Pac-12 Network (334), KWWN (1100 AM, 100.9 FM)
See the Rebels Report Card