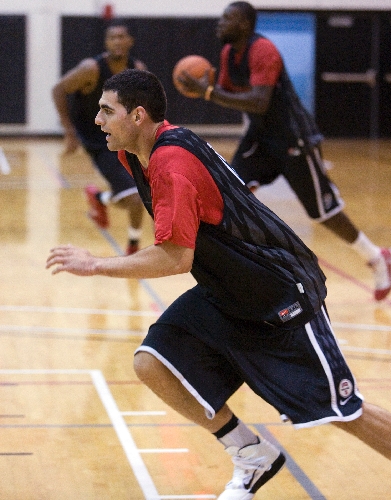 In his spare time, UNLV senior Mychal Martinez attends to his creative talents in art and music production. He plans on the latter turning into a career.
Few people know that about Martinez. But his talents as a basketball player are hidden, too. The college life of a walk-on, more often than not, is spent behind the scenes and at the end of the bench.
"I like to stay anonymous," he said. "I always give someone else the credit if possible."
In high school, Martinez was credited for leading The Meadows to the 2A state championship in 2007, when he was named the Review-Journal's Player of the Year. He played on four state title teams.
Now his value to the team is measured much differently. It's the effort he brings to practice that counts. Working hard and being humble, he said, are needed attributes for walk-ons.
Martinez is one of three nonscholarship players on the Rebels' roster. Senior guard Tyler Norman won two 3A state titles at Faith Lutheran. Junior guard Todd Hanni is from Danville, Ind.
"Often times with walk-ons, the players and coaches very much appreciate all they do, but not everyone appreciates how much they do," coach Lon Kruger said. "They are underappreciated by a lot of folks, but their teammates really respect them.
"Mychal is a fantastic addition. Our best walk-ons, the most productive, are often those with great attitudes and an understanding of the big picture with the team."
Martinez is in the UNLV team photo for the second year in a row. That alone is the realization of a goal, being able to play — albeit sparingly — in front of his parents and two younger brothers.
"I had always been interested in playing here. Honestly, I just love being a part of the team," said Martinez, who played for two years at Yavapai College in Arizona.
"It's a great group of guys on the team, and the coaches treat us very well. I don't know how walk-ons are treated at other programs, but I feel I've been treated very fairly."
Martinez is a versatile 6-foot-5-inch forward. He can step out to hit 3-pointers and bang inside with the big men. But his skills are rarely witnessed in games.
He played a total of nine minutes in five games last season — appearing only once after Christmas — and shot 0-for-3 from the field. The next point he scores for the Rebels will be his first.
"Even if we're up 30 points, just to get in and play is a big deal," he said. "It's still a thrill."
Exhibitions are his time to shine. Martinez scored five points in UNLV's 90-66 victory over Division II Grand Canyon last week and figures to get another shot Tuesday in the final exhibition against Washburn (Kan.).
Martinez, majoring in interdisciplinary studies with areas of emphasis in business management and music production, is on schedule to graduate in the spring. Music and art are two of his three passions.
"I love playing basketball," he said. "For the most part, I look forward to practice every day."
Contact reporter Matt Youmans at myoumans@reviewjournal.com or 702-387-2907.