Walker, Rebel reserves seize chance to shine in easy win
December 5, 2014 - 11:31 pm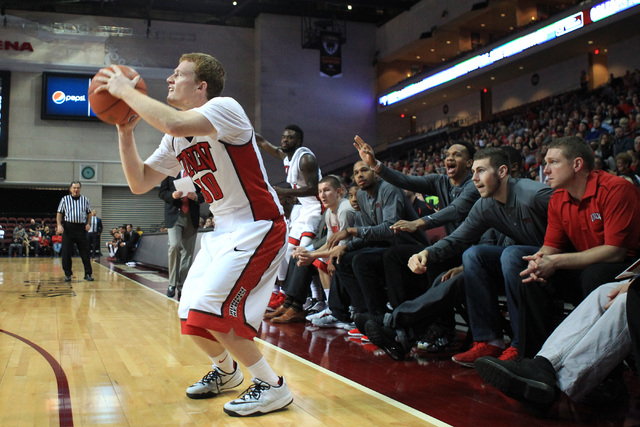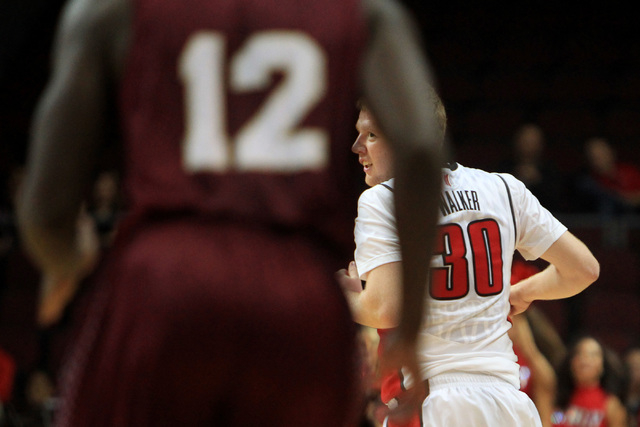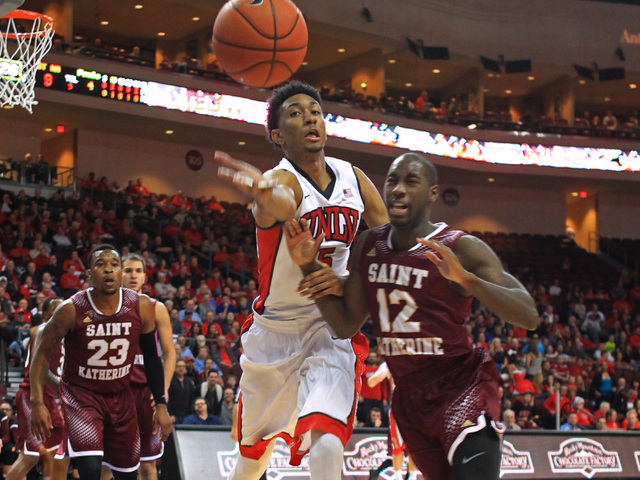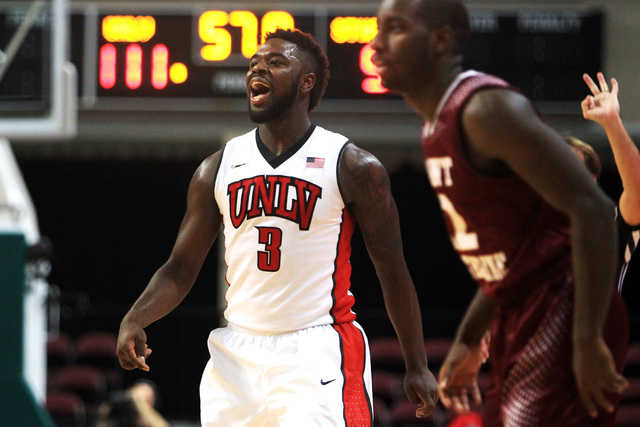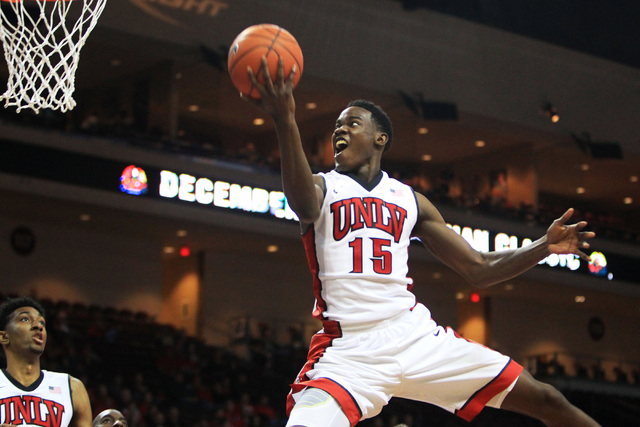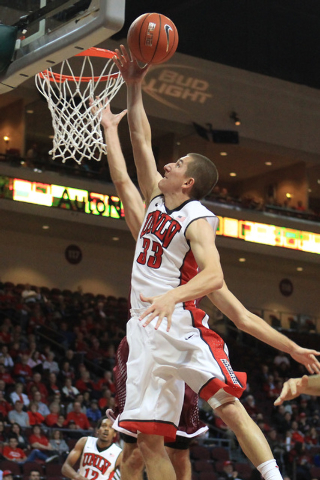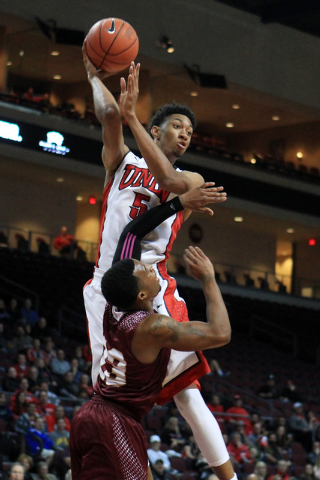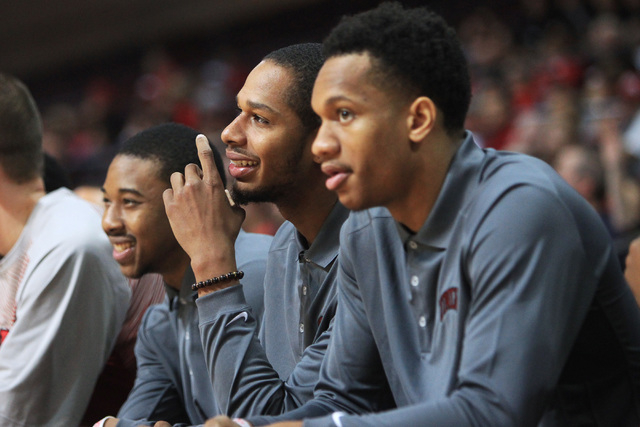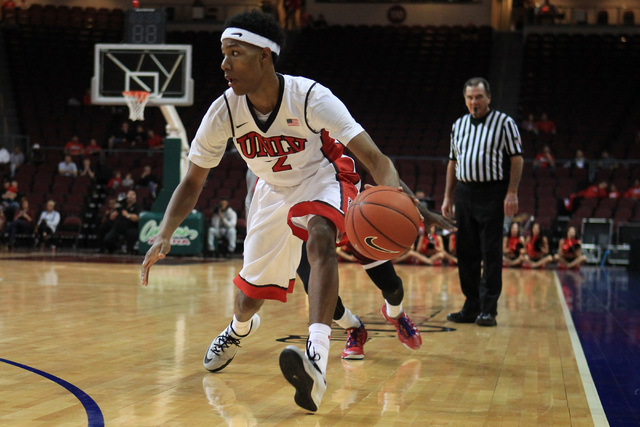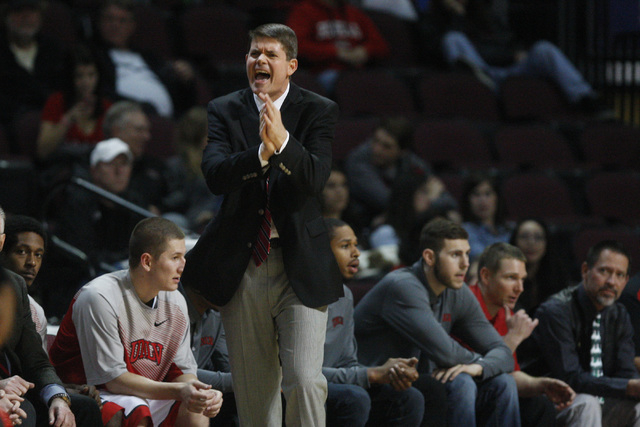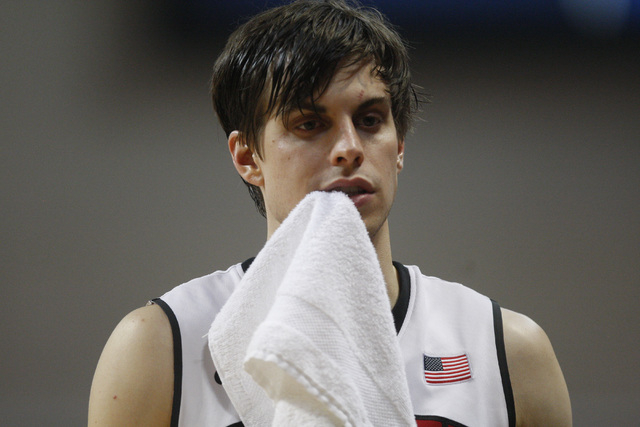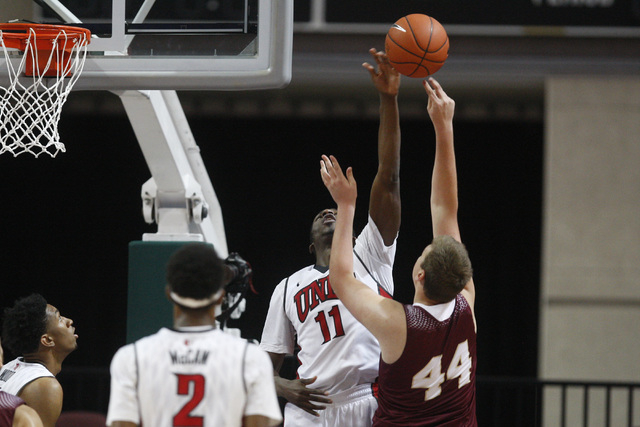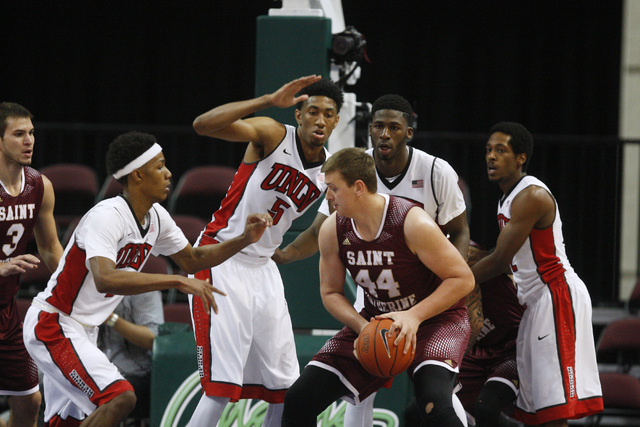 The game everyone expected to materialize between UNLV and Saint Katherine came to fruition by halftime Friday night at Orleans Arena. And Dantley Walker knew he would have a hand in the 113-53 smackdown the Rebels administered to the NAIA Firebirds.
Walker, a 5-foot-11-inch redshirt freshman from Panaca who starrred at Lincoln County High School, was pressed into service because coach Dave Rice's bench had shrunk to nine with injuries to Rashad Vaughn and Jelan Kendrick and Kendall Smith's decision to transfer. He responded with 12 points in 22 minutes, one of six Rebels to finish in double figures.
"I hope there's more to come," Walker said. "I try to prepare mentally the same way every game. But with Rashad and Jelan out, I knew I was going to be needed."
Walker, the leading prep scorer in Nevada history with 3,304 points, committed to UNLV in 2011. He then went on his church mission for two years before returning to the program last year. Walker was redshirted because Rice thought he wasn't physically ready.
On Friday, Walker finally got a chance. He had played garbage time minutes in Brooklyn, N.Y., in the Rebels' loss to Stanford and also played at the end of Wednesday's 77-55 loss at Arizona State. But this was different. He was going to be needed, and he would not be overmatched basketball-wise.
He delivered with four 3-pointers in six attempts, bringing a happy rise out of his teammates and building some trust with his coach.
"It was great to see him do that," said Dwayne Morgan, the 6-8 freshman forward who had a sensational night himself, leading the Rebels with 23 points and 12 rebounds. "Dantley works as hard as anyone, and to see him do well put a smile on all our faces."
There were plenty of contributors. Chris Wood and Goodluck Okonoboh had double-doubles, Wood finishing with 20 points and 11 rebounds and Okonoboh with 12 points and 10 boards.
Cody Doolin finished with 12 points on 3-for-3 3-point shooting and 4-for-4 overall. And Jordan Cornish, who started for Kendrick, got his game in gear in the second half and finished with 19 points.
"I think we're a good team when our agenda is about team," said Rice after the Rebels racked up 28 assists on 41 made field goals to improve to 5-2. "For us, (Friday) was about handling leads. We were up 21-6 at Arizona State and didn't do a good job of handling it. But that comes with learning, and I thought that was big for us (Friday)."
The Rebels trailed 9-7 before getting the lead back at 15-9. It was 20-17 when UNLV went on one of several extended runs, the first a 17-2 spurt that upped the margin to 37-19. The Rebels closed out the half with a 16-7 burst to lead 53-26.
They then started the second half with a 21-2 run. And the score was 91-35 with 10:45 left. UNLV had a 56-31 rebounding edge and 13 blocked shots, six from Okonoboh and five from Wood.
"I liked that we didn't settle for jump shots, and our big men knew they needed to be a force down low," Rice said.
There was one scary moment, as Patrick McCaw landed awkwardly with 2:34 to go after grabbing a loose ball and was holding his right leg. McCaw, who started for Vaughn and had five points and nine assists, was suffering from cramps, but Rice said he expected the freshman to be available at practice Sunday.
Saint Katherine (1-8) was led by D'Vaughn Mann and Jebari Robinson with 10 points apiece. Former Basic High School guard Jaylen Rose had two points in 22 minutes off the bench.
But this was a night for hard work to be rewarded. For guys such as Walker and Barry Cheaney, who also rarely sees the court and had eight points in 12 minutes, this was a game they'll long remember.
"This was very special," said Walker, who fouled out with 26.6 seconds to go and was given a standing ovation from what remained of the announced crowd of 3,775 "It's been a long time, three years, since I played a lot of minutes in a game. I'm sure my folks are very happy. I know I am.
"I know I can do things to help the team. I just want Coach Rice to be able to trust me when he decides to put me in and know that I can produce."
Contact reporter Steve Carp at scarp@reviewjournal.com or 702-387-2913. Follow him on Twitter: @stevecarprj.