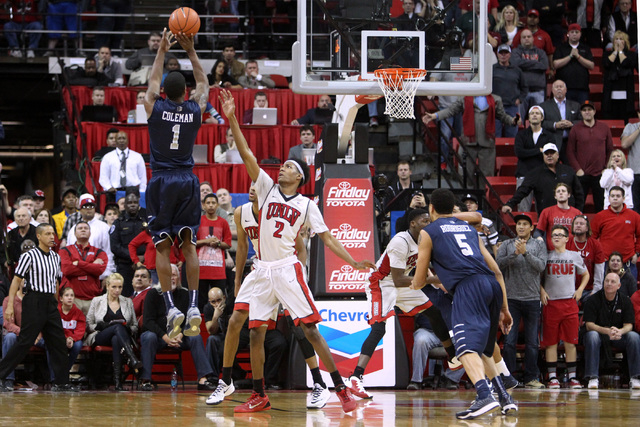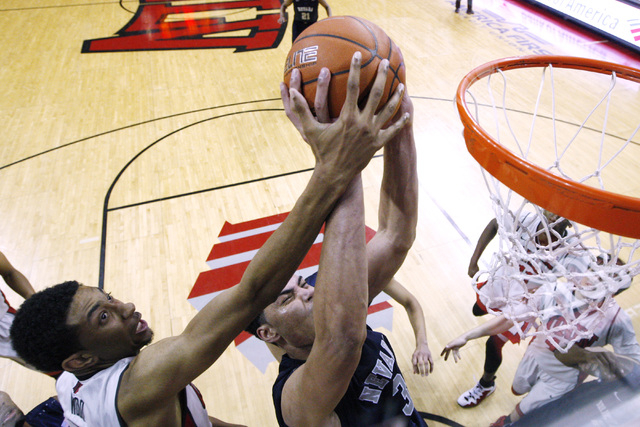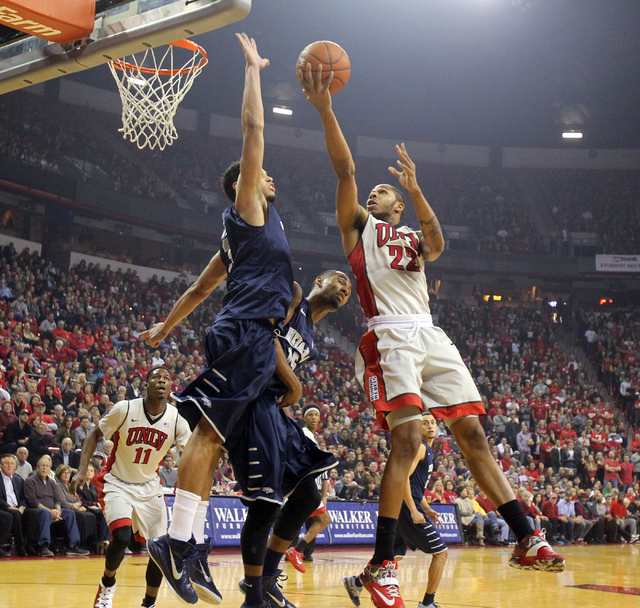 UNLV's season went south in a hurry with a dreadful 64-62 home loss to UNR on Wednesday night.
Much of it can be blamed on A.J. West.
The Wolf Pack's senior forward finished with 15 points, 15 rebounds and six blocked shots as UNR earned its third straight victory over the Rebels.
West was just too much for UNLV in the paint and it cost the Rebels a win in a game they should have never been in a position to lose.
"Obviously that's a very difficult loss for us. We have to get tougher and that's the bottom line," UNLV coach Dave Rice said. "We lost the game because we weren't tough enough. It all comes down to that.
West had 10 offensive rebounds and UNR grabbed 22 as a team. The Wolf Pack were able to convert those into 19 second-chance points.
"I just think we got beat up on the glass a little out there. That was obvious. We keep saying that, but we have to do it. We just have to get tougher," senior point guard Cody Doolin said. "I think it's just a mindset. We have to hit people. It's a physical game. We got out-toughed in our own building tonight. Nobody's more upset about it than us."
It was the first home loss of the season for the Rebels. Rice said he spent the two days since UNLV lost at Kansas lecturing the team on how much more intense games would become once league play began.
The words seemed to fall on deaf ears as the Rebels looked lethargic and uninspired throughout much of the game and were outworked by UNR.
Rice said Oregon transfer Ben Carter, who is sitting out this year at UNLV and participating on the scout team in practice, does similar damage to the Rebels on the boards every day in practice.
It will continue to happen in the games until something changes.
"It has to be a mindset. We have to have the mentality that nobody's going to come in to our arena and be tougher than us," Rice said. "We knew coming in that two keys were going to be defensive transition, which we did a pretty good job of, and defensive rebounding, which we didn't. It's inexcusable. We'll be back doing more defensive rebounding drills tomorrow."
UNLV also couldn't find a way to get a defensive stop down the stretch. UNR scored on seven of its final eight possessions, including the jumper by Marqueze Coleman that won the game in the final five seconds.
The lack of ability to rebound may have had an impact on that final possession. Rice said the staff made a tweak to the defensive strategy on the final play because it was worried about UNR getting an offensive rebound should there be a miss in the final seconds.
"For us to have success in this league, we're going to have to get tougher and we're going to have to get tougher in a hurry," Rice said.
The Rebels had better hope so.
A loss to UNR is embarrassing. There aren't many words to describe what a home loss to San Jose State could mean.
Contact reporter Adam Hill at ahill@reviewjournal.com or 702-224-5509. Follow him on Twitter: @adamhilllvrj.