What ever happened to UNLV basketball's Khem Kong? — VIDEO
December 3, 2015 - 5:08 pm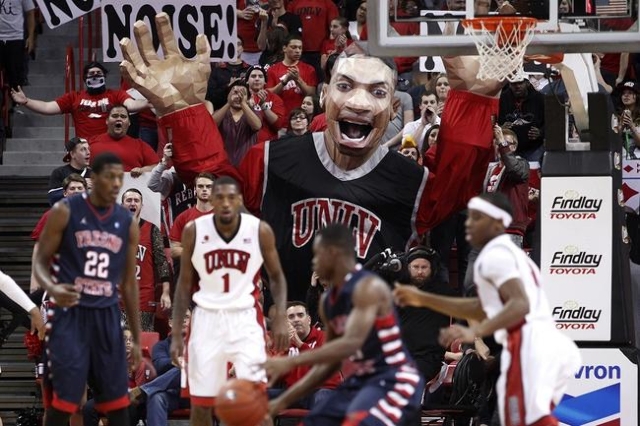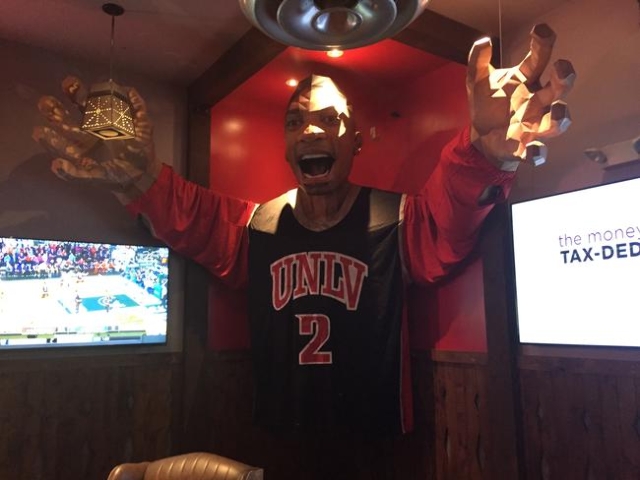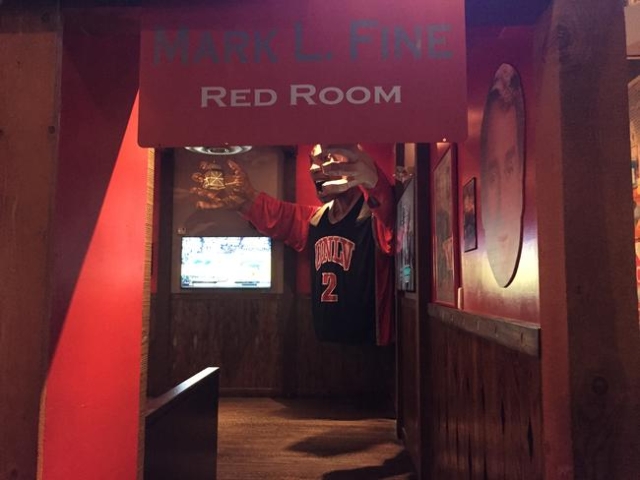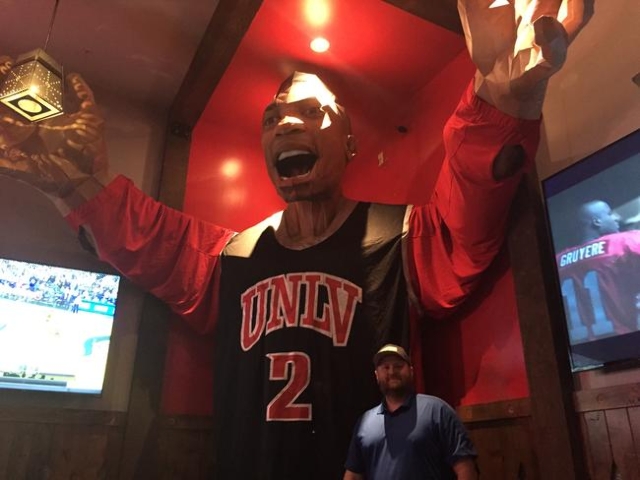 When basketball student sections across the country copied the UNLV Rebellion's idea of a life-sized cut-out player, Las Vegas artist Sean Clauretie decided to design something "nobody else could replicate."
Enter "Khem Kong," a giant, 20-foot wide version of former UNLV Rebel Khem Birch, which became one of the most unique and noticeable props in all of college basketball two seasons ago.
Made from a 3D printer at a cost of about $1,500, Khem Kong was a follow-up to Mozilla, a massive cutout of former Rebel Mike Moser that made headlines during the 2012-2013 season, Clauretie said. Its creation required about two months of printing and assembling, thanks to the help of over a dozen members of the Rebellion.
"A lot of work went into modeling, removing and adding polygons," Clauretie said. "Then we got it back from the printer, divided the pieces to the Rebellion and put it all together."
Khem Kong debuted at the Thomas & Mack Center on Jan. 22, 2014, in a UNLV win over Utah State.
After earning the title of "the largest prop in college basketball" and its own feature in ESPN the Magazine, Khem Kong served through March 14 of last year, where UNLV's season and Birch's Rebel career ended at home against San Diego State.
Birch, then a junior, decided to forego his senior season to enter the NBA Draft. His decision left Khem Kong's creators, who had expected another year of Birch in Las Vegas, in a bind.
"We were under the impression he was going to stay another year," said UNLV student Ben Leavitt, a junior at the time who also co-founded the Rebellion in 2010, "We had plans to keep using Khem Kong."
Leavitt and Rebellion booster Jeff Jacobs said they offered Khem Kong to the player it was modeled after. But when Birch went undrafted in the 2014 NBA Draft, he spent his first professional season in South Dakota with the NBA Development League's Sioux Falls Skyforce. Now, in his second season, Birch plays in Uşak, Turkey.
"It's just too big for a player living out of a suitcase, in those circumstances" Jacobs said.
For 18 months after Birch left UNLV, Khem Kong moved back and forth between storage closets at the Thomas & Mack and Mendenhall Centers, Clauretie said.
The artist pushed for the University to hang Birch's 3D recreation "from the rafters" at Mendenhall, but said his request was denied.
Searching for a spot to house Khem Kong, Clauretie and the Rebellion then began offering it to local restaurants and bars. Finally, last month, the recently-opened PKWY Tavern, owned by Jonathan Fine, claimed it.
Now hanging from the ceiling in a corner of PWKY Tavern's Rebel "Red Room," among Fatheads of Dave Rice, Jerry Tarkanian and Tony Sanchez, Khem Kong is the restaurant's "biggest hit," said manager Dave Campion.
"We get people in here wanting to take pictures," Campion said. "People remember it, and It's getting a lot of attention."
Restaurant owner Jonathan Fine, who grew up attending UNLV's runs to the Final Four in 1987, 1990 and 1991, said he added Khem Kong in hopes of creating an atmosphere as close as possible to the Thomas & Mack Center itself.
"It's pretty unique, having those arms hanging over the TVs," Fine said. "We want visitors to feel like they're in the action, and it's just one more thing that brings that environment to the room."
Fine was quick to note that Khem Kong still belongs to The Rebellion, and said he'd be happy to give it back if they ever wanted it.
In the meantime, after nearly two years without a major 3D prop, Clauretie and Leavitt said early plans are in store for a "better than ever" design to release sometime early in the new year.
The two didn't share details on which current player the new design will model, its name or how big it will be. But they said the Rebellion's latest prop will release sometime in January.
"All I can say is something big is on the way," Leavitt said. "Khem Kong was good, but I think we'll be able to top it."
Contact Chris Kudialis at ckudialis@reviewjournal.com or 702-380-4593. Find him on Twitter: @kudialisrj