What the UNLV Rebels said after loss to TCU
November 26, 2016 - 10:17 am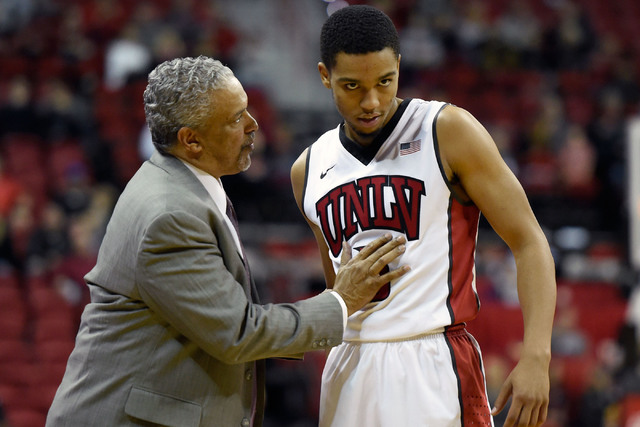 What the UNLV basketball team said following its 63-59 loss to Texas Christian on Friday at the Thomas & Mack Center:
Coach Marvin Menzies
"I think the frustration is the end of the game when I'll watch tape and I'll go, 'Well, if we had done this here, here and here, we wouldn't have been down two points' or whatever it was. But in winning time, that's where maturity is developed, and I thought we've had a couple of winning-time situations that we got through good. I thought we took a step back tonight in actual winning time. It's one thing to run a good play and miss a shot. It's another to turn it over. That's the disturbing thing. So that's a little frustrating. However, we've got to turn that into a positive."
"We've got to get guys healthy. We've got to get the bumps and bruises that are actually able to compete tended to. Nobody cares that Cheick (Cheickna Dembele) didn't play (foot). Nobody cares that Chris Jones (foot) didn't play. And I don't care they didn't play because the guys on the floor had a chance to win that game. We should've won the game. We're at home, and we had a chance to win. This is no knock on (TCU coach) Jamie (Dixon) and those guys, but I felt like we gave it away."
"You've got to drive for your teammates. There were a lot of times when guys drove, and they were just driving to score and then you drove into a 6-10 guy, and then you're surprised that you missed it. That's not why you drive. We talked about that, and that's another lesson."
Guard Jalen Poyser
"We don't point fingers (regarding missed offensive chances) at the end of the day. We get back on defense and try to get a stop. Basketball is a game of runs. You learn from mistakes, and we'll go back and watch film and see what we need to capitalize on."
Forward Dwayne Morgan
"It's a matter of us not executing down the stretch. That comes with experience. It's a long season. If we (keep) working, we'll get better."
Contact Mark Anderson at manderson@reviewjournal.com or 702-387-2914. Follow @markanderson65 on Twitter.