Willis expresses his points
January 14, 2010 - 10:00 pm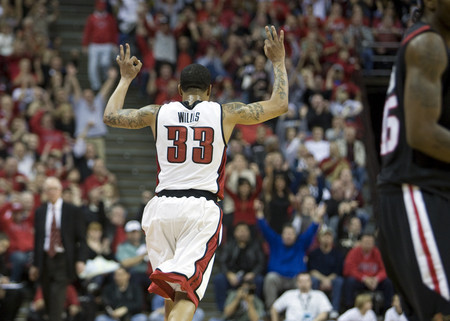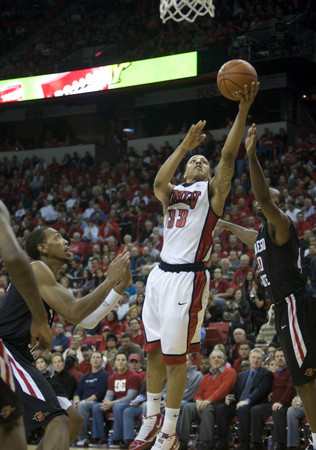 Disappointed with his play, UNLV junior Tre'Von Willis began talking to himself. Usually that's a bad sign for any player.
But a personal pep talk pointed Willis in the right direction, and he turned himself around and led the Rebels to a 76-66 comeback victory over San Diego State on Wednesday at the Thomas & Mack Center.
Willis scored 17 of his 23 points in the second half to push UNLV past its Mountain West Conference nemesis.
"I was struggling, missing some bunnies and some free throws. I thought I was hurting my team," Willis said. "It was frustrating for a little while.
"I told myself I had to bounce back and make some plays. I told myself I was still going to be aggressive, and I tried to provide some kind of spark."
Willis did not do it alone. Chace Stanback scored a career-high 18 points, and Oscar Bellfield added 12 points and six assists.
UNLV (14-3, 2-1 MWC) exorcised some of its demons after getting swept in three games against the Aztecs last year.
"We lost all three to them last year," said Willis, who shot 6-for-15 from the field and 10-for-13 on free throws. "We didn't speak about it a lot, but we wanted it bad."
The game was tied midway through the second half when Willis poured in nine consecutive points in 90 seconds.
His layup ignited the run, and he followed by drilling a 3-pointer with 9:25 remaining. Willis made two free throws on each of the Rebels' next two possessions to extend the lead to 59-50 and rile up the crowd of 14,530.
"Tre made a lot of good plays at critical times," UNLV coach Lon Kruger said. "It was a really tough game."
San Diego State (12-5, 1-2) was the tougher team while building a 39-33 halftime lead. The Aztecs attacked the basket and punished the Rebels in the paint.
Stanback got the comeback started by scoring six points during UNLV's 10-4 run to open the second half.
After Malcolm Thomas' layup drew San Diego State within 65-62 with about three minutes to go, Stanback provided the answer by sinking a baseline jumper with 2:48 remaining.
Thomas missed a free throw, and the Rebels capitalized. With the shot clock winding down and the game clock at 2:02, Bellfield pulled up and hit a tightly defended 17-footer to make the score 69-62.
Stanback shot 7-for-12 from the field and 4-for-4 at the line while contributing five rebounds and four steals.
"When Chace plays like that, we're a tough club to beat," Willis said.
A sophomore transfer from UCLA, Stanback said he's beginning find his rhythm after a year off. He was coming off a 14-point, nine-rebound effort in a victory at New Mexico on Saturday.
He was on the bench in street clothes when San Diego State swept last year's series, and his presence went a long way in preventing a flashback.
"It was tough for me to watch last year," Stanback said. "We definitely wanted this game.
"Hopefully, I keep knocking shots down. I'm more aggressive and more confident. My teammates are looking for me, and the coaches are demanding me to do it."
The Rebels rallied by tightening their defense — holding the Aztecs to 33 percent shooting, including 0-for-9 from 3-point range, after halftime — and getting more aggressive off the dribble on the offensive end.
Willis, Stanback and Bellfield combined for 35 points in the second half and outscored San Diego State by eight.
Freshman forward Kawhi Leonard totaled 13 points and 10 rebounds for the more physical Aztecs, who had a 44-35 edge in rebounds and dominated the Rebels with a 44-22 advantage in points in the paint.
There were flaws in UNLV's performance, and Willis overcame some of his own, but the result was hardly disappointing.
"We want teams to walk out of here saying, 'We don't want to play this team at the Thomas & Mack again,' " Willis said.
Contact reporter Matt Youmans at myoumans@reviewjournal.com or 702-387-2907.
UNLV-San Diego slide show
UNLV — 76
SAN DIEGO STATE — 66
• KEY: Tre'Von Willis scored 17 of his 23 points in the second half to lead the Rebels' comeback.
• NEXT: Utah at UNLV, 7 p.m. Saturday, CBSC (333), KWWN-AM (1100)