Willis, Jasper reminisce as UNLV careers dwindle
February 25, 2011 - 9:30 pm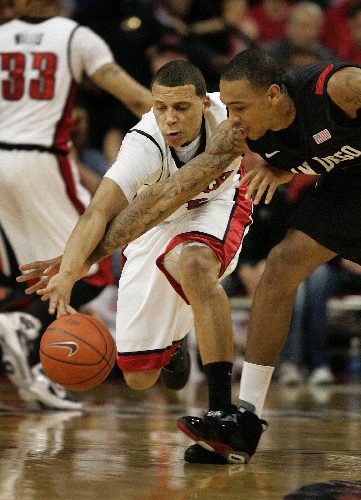 Tre'Von Willis and Derrick Jasper became friends during their early teenage years. They were "inseparable," Willis said, and made plans to play basketball together in college.
But not everything goes exactly as planned. Jasper signed with Kentucky and Willis went to Memphis.
"I guess it was just karma because we came back together," said Willis, who made the first move by transferring to UNLV in the summer of 2007.
"When I saw he transferred here," Jasper said, "I got in touch with him."
Willis recruited Jasper to join him a year later, and they have started together as Rebels for most of two seasons. Willis and Jasper will play their final regular-season home game when UNLV (21-7, 9-5 Mountain West Conference) faces Wyoming (10-17, 3-10) at 7 p.m. today at the Thomas & Mack Center.
The end of their college careers is near, but Willis said, "It's a great friendship, and it's going to continue forever."
The pregame Senior Night ceremony will also honor walk-ons Mychal Martinez, a graduate of The Meadows School, and Tyler Norman, a Faith Lutheran High product. UNLV is encouraging fans to participate in a "White Out" promotion, and the first 4,000 in attendance receive a white shirt.
Coach Lon Kruger credited all four seniors for "great contributions" to the program. Willis has been the leading contributor on the floor.
The 6-foot-4-inch guard from Fresno, Calif., has scored 1,245 points in three seasons to rank 20th in UNLV history.
"That's a great accomplishment, especially with all the great players that have played here and the great tradition," Willis said. "It's something I wanted to do."
While Willis emerged as one of the top players in the conference, Jasper, a 6-6 guard from Paso Robles, Calif., endured knee injuries that sidetracked his career.
In 2007, before his sophomore year at Kentucky, Jasper needed microfracture surgery on his left knee. He also missed the final two months of last season after going down with a sprained medial collateral ligament in the same knee.
"It's tough to deal with a situation like that," said Jasper, who has started 42 of 48 career games with the Rebels and is averaging 5.6 points this season. "But you can't get down on yourself. I'm just happy to go out there and put a jersey on and be able to run. I didn't think I'd be able to run anymore after microfracture surgery."
Willis has dealt with his own knee issues. He needed minor surgery in August and has been playing at less than full strength for months.
"I've never been 100 percent healthy since I've been here, whether it's a knee or a shoulder or an ankle sprain," Willis said. "(Jasper) has had a tough time, and so have I. We've been there for each other. Both of us have been down at times and we've picked each other up."
Because of a sore left knee, Willis was unsure if he'd be able to play Wednesday in UNLV's game at New Mexico. But he scored a season-high 25 points in a 77-74 overtime victory.
"The trials and tribulations, man. It's been a helluva year," Willis said.
It was a year that will be remembered for Willis' off-court problems. He was arrested June 29 for allegedly choking a female friend, and he pleaded no contest to misdemeanor battery charges Sept. 28. Kruger suspended Willis for four games, including two exhibitions.
"Obviously, that's not something I'm proud of," Willis said. "But I just want all the UNLV fans to remember me as a tough competitor. It's been tough at times, but I've also had some good moments here, and I just want everybody to remember the good moments."
Willis had a daughter, Tremiyah, who was born Sept. 22 to Erica Helms, a senior on the UNLV women's team.
He hopes another positive moment will bring a victory in the NCAA Tournament, something he has not experienced with the Rebels.
"It's been a very up-and-down season for me," he said. "But this is when special teams do special things, and we want to be one of those teams. Everybody is going to remember these last few games and the postseason."
He recalled when he was 15, and a quiet Jasper joined his summer basketball team in Fresno.
"He came in and didn't say anything for two months," Willis said. "Finally, I went over and said, 'What's up with you?' And he hasn't stopped talking to me since."
Contact reporter Matt Youmans at myoumans@reviewjournal.com or 702-387-2907.
WYOMING VS. UNLV
WHEN: 7 p.m. today
WHERE: Thomas & Mack Center
TV/RADIO: The Mtn. (334), KWWN (1100 AM, 98.9 FM)
LINE: UNLV -17; total 130