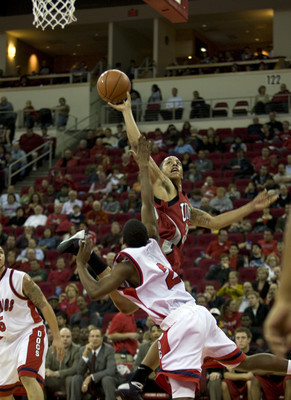 If the spotlight is turned on, UNLV sophomore Tre'Von Willis is not about to run from it. He wants to be in the middle of it.
And because of an injury to senior shooting guard Wink Adams, Willis might get his shot to shine in prime time.
Adams, recovering from a lower abdominal strain, is questionable to play Wednesday when the Rebels (11-2) visit No. 19 Louisville (8-2) in a game to be televised on ESPN2.
UNLV coach Lon Kruger said Adams' status could be a game-time decision. If Adams is ruled out, Willis will step into his shoes.
"I love the big stage," Willis said, "and this is a big-time game."
The Rebels are riding a six-game winning streak, but going on the road without their star scorer would be a tall hurdle to overcome.
Adams, the team's leading scorer at 14.1 points per game, has been a symbol of durability during his career. He has played in all 115 games and made 105 starts.
He hit seven consecutive 3-pointers and totaled a season-high 25 points in UNLV's 79-64 victory over Arizona on Dec. 20. But when he went down early in Tuesday's game against Southern Utah, it was feared he might be out for an extended period of time.
After the Rebels practiced Saturday at the Thomas & Mack Center, Adams went through light running and shooting drills and showed improved mobility.
An MRI examination Friday revealed nothing is torn in his lower abdomen, and Adams is receiving daily treatment from athletic trainer Dave Tomchek. Adams said he has about a "50 percent" chance to play.
Kruger is not about to count him out, but he said nothing will be determined until he sees if Adams can practice Monday or Tuesday.
"We really won't know until he gets out there and goes a little bit, and there's no need rushing that," Kruger said. "Of course, everyone wants Wink to be ready to play. But if he's not, you can't hang your head about that, either."
The 6-foot-4-inch Willis has started five games this season, all at point guard, but none since he scored 18 points in a victory at Fresno State on Dec. 3.
After Willis overslept and missed part of a practice, Kruger put freshman Oscar Bellfield back in as the starting point guard. Bellfield responded by hitting five 3-pointers and totaling 17 points in a victory at UNR on Dec. 6.
Bellfield and Willis will start together for the first time if Adams does not start against Louisville.
"They have been on the floor together a lot during the course of the year, and they seem comfortable," Kruger said. "Tre has stepped in and had some big moments."
In Adams' absence against Southern Utah, sophomore Kendall Wallace came off the bench to score a career-high 15 points.
"A lot of other guys are playing with confidence," Adams said. "I believe in these guys. Tre does the same things I do. He goes to the basket and he can score."
Willis is third on the team in scoring at 10.3 points per game. He supported Adams by scoring a career-high 19 points against Arizona, but replacing Adams in a big game could be his biggest challenge.
"We're not sure at this point, but right now we're preparing as if Wink's not going to be with us," Willis said. "We can't worry about that. We have to go out and compete.
"I just want to pick up the slack and be a playmaker."
Contact reporter Matt Youmans at myoumans@reviewjournal.com or 702-387-2907.