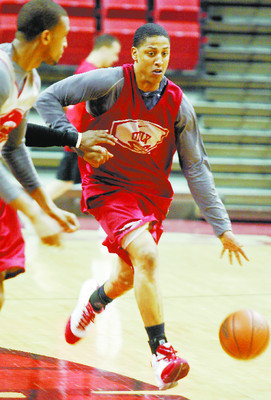 Every day brings more of the same for Tre'Von Willis. He is surrounded by silence as he launches countless jump shots in an empty gym, with nothing to look forward to but the next practice.
It could be much different. If he had stayed at Memphis, he could be playing meaningful minutes for a Tigers team that is 26-0 and ranked No. 1. He could be surrounded by madness, shooting jumpers in big games in March.
But last summer, after his freshman year at Memphis, he packed his bags and transferred to UNLV. And he would not change his mind if he had the chance to go back in time.
"To tell you the truth, I would rather be playing here," Willis said after Thursday's practice with the Rebels.
"I knew before I transferred what I was getting out of or getting into, however you want to put it, and I wouldn't trade my situation right now for anything."
What Willis can look forward to is next season, when he will be a sophomore and will have the chance to compete to be UNLV's starting point guard.
He left Memphis to be closer to his family in Fresno, Calif., and because he was tired of watching basketball games from the bench. He's still a spectator while sitting out as a redshirt, but he feels better about his future.
As a freshman, he played in only 17 of 37 games for the Tigers, averaging 6.1 minutes and 2.6 points. He told Memphis coach John Calipari he was leaving, and he put in a call to the Rebels' coaches who recruited him out of high school.
Willis scored 23.4 points per game as a senior at Washington Union High in Fresno, and his 2,842 career points were the fifth most in California prep history. He chose Memphis over UNLV.
Luckily for him, he said, Rebels coach Lon Kruger didn't hold a grudge.
"It feels like a second chance," Willis said. "I don't want to let Coach Kruger down for giving me the second chance to come back after I passed on it the first time.
"I think this is a great coaching staff, and I really can see myself playing here three more years. This is a great group of guys and a great group of coaches, so I see myself really fitting in good."
Kruger was eager to welcome a 6-foot-4-inch guard who has 3-point shooting range and an ability to run the offense.
With sophomore Marcus Lawrence dismissed from UNLV's team this week, Willis and freshman Kendall Wallace are the top candidates to replace senior Curtis Terry at point guard next season.
Willis' style of play is similar to junior Wink Adams', but Adams is more effective as a shooting guard.
"I've been playing the point all my life," Willis said. "I've just got to get back in the groove."
He's getting pointers from Rebels assistant coach Steve Henson, a former college and NBA point guard.
"Tre'Von is just so powerful," Henson said. "I can see him recognizing what he has going on a given night. If the 3-ball's not going, I see him driving it and getting to the rim and getting to the free-throw line. He's not great with the ball, but he's so strong that he just gets where he needs to go."
Willis said getting out of Memphis and getting to UNLV was the best move he has made.
"It's a great decision. I have no regrets," he said. "Basketball is what I love to do, but I have to wait until next season, and it really is tough.
"I'm just looking forward to it. I think we can be very good next season."
• NOTE — Terry sat out most of Thursday's practice with a groin injury. His status is questionable for Saturday, when UNLV (19-6, 8-3 Mountain West Conference) plays at Wyoming (10-15, 3-9).