Wins tough to come by in Wyoming
December 30, 2014 - 6:47 pm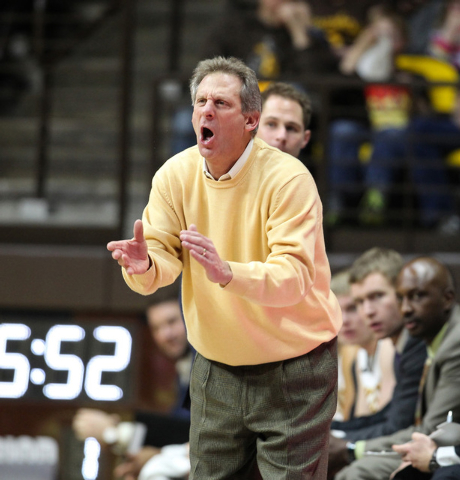 There aren't a whole lot of college students who would voluntarily choose to spend New Year's Eve in Laramie, Wyo.
That fate was assigned the members of the UNLV basketball program by the Mountain West conference's schedule makers.
The desolate, frigid locale might be the least of the Rebels' concerns as they prepare to close 2014 with the first game of league play against a Wyoming team that is incredibly difficult to beat at home.
The Cowboys are 11-2 overall and have mostly cruised to victories in all 10 games at Arena-Auditorium. While the winning streak hasn't exactly included many perennial powers in college basketball, it includes a 56-33 win over Colorado and victories over Denver and New Mexico State.
Wyoming is coming off a 61-51 win at Montana State, its only road win of the season. The game is notable not so much for the outcome as a breakout performance from star forward Larry Nance Jr.
The preseason conference player of the year scored 31 points, the second 30-point game of his career. Nance, a senior, appears to be rounding back into form after a knee injury ended his junior season early.
He is averaging 14.5 points and 6.2 rebounds per game while making 57 percent of his shots.
Nance is getting plenty of help in the front court from Derek Cooke, who is coming off his first double-double of the season with 13 points and 11 rebounds against Montana State. He is hitting a league-leading 78 percent of his shots, averaging 8.6 points and 4.7 rebounds per game.
UNLV forwards Goodluck Okonoboh and Chris Wood will have their hands full on the defensive end.
Wyoming's guards have given the Rebels fits the last few years, as well.
Junior Josh Adams and senior Riley Grabau can both shoot the ball and get to the rim. Adams, who scored 24 points in a 71-67 Mountain West tournament loss to UNLV in March, is averaging 9.9 points and 3.9 assists this season.
Grabau is at 7.5 points and 2.0 assists for the Cowboys, who have actually dropped six straight to UNLV.
The status of Wyoming's fifth starter, Charles Hankerson, is unclear. He missed the Montana State game with a foot injury, but was a game-time decision.
UNLV is 34-15 all-time against Wyoming, but are 9-12 in Laramie.
Sometimes the real win can be just getting out of there.
Contact reporter Adam Hill at ahill@reviewjournal.com or 702-224-5509. Follow him on Twitter: @adamhilllvrj.