With knee healthy, Jasper set to resume key role for UNLV
November 1, 2010 - 11:00 pm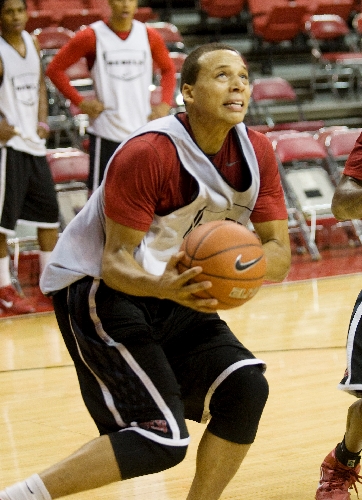 Rarely during his college career has Derrick Jasper been able to run on two good knees. The UNLV senior has one more opportunity to be fully healthy for a full season.
Jasper and the Rebels unofficially open the basketball season with an exhibition game against Grand Canyon, a Division II team from Phoenix, at 7 tonight at the Thomas & Mack Center.
The last time Jasper played a game on the same floor, he was carried off it.
The 6-foot-6-inch guard went down with a sprained medial collateral ligament in his left knee in UNLV's victory over Air Force on Jan. 26. He hoped to return in March, but the injury ended his season.
"It really does feel like forever since I played a game," he said. "It's finally time, and I'm real excited for it."
Jasper is likely to be in the Rebels' starting lineup with guards Oscar Bellfield and Anthony Marshall, forward Chace Stanback and center Brice Massamba.
But coach Lon Kruger said he's undecided on his starters, and 6-foot-8-inch forward Quintrell Thomas, a sophomore transfer from Kansas, could start or at least play a lot in the frontcourt with Massamba.
Exhibitions are a time to experiment with rotations and go deep in the roster.
"It will be a good opportunity to see a lot of different combinations," Kruger said. "We will play two bigs a lot, especially early."
Kruger pointed to Jasper, Marshall, Massamba and Stanback as "the most consistent" four players in practices.
As a junior, Jasper started the first 21 games and averaged 6.7 points and 4.9 rebounds. He scored 12 points in each of UNLV's key nonconference victories over Louisville and Arizona.
But the knee injury in January was a painful reminder of his past.
In the summer of 2007, before his sophomore year at Kentucky, Jasper needed microfracture surgery on his left knee. He said he returned too soon, so after transferring, he used his redshirt year to rehabilitate.
He spent this spring and summer in more rehab with Jason Kabo, the Rebels' assistant director of strength and conditioning, and athletic trainer Dave Tomchek.
"I feel a lot better than I did last year at this point," Jasper said. "I worked real hard over the summer to try to get the strength back in my knee. I'm exploding off it a lot better. My first step is probably a little better.
"It has been feeling pretty good, knock on wood, so I'm just ready to play."
Jasper said he's confident and believes he has cleared the mental hurdles associated with bouncing back from a knee injury.
"I haven't seen anything that would indicate a problem with that at this point in practice," Kruger said. "Derrick has attacked and he has been aggressive."
After Jasper was injured last season, the Rebels lost three of their next five games.
"When he went out, I thought he was getting more consistent production," Kruger said. "He's an experienced veteran, so anytime you lose a guy at that point in the season, you're going to miss him."
■ NOTES — Grand Canyon plays in the Pacific West Conference and is coached by Russ Pennell, a former Arizona interim coach. … The Antelopes lead UNLV 3-2 in the all-time series, but this is the first meeting since 1963. … All military personnel who show their UNLV basketball or football game ticket along with their military ID will receive a free round of golf at Bear's Best Las Vegas.
UNLV VS. GRAND CANYON
WHEN: 7 p.m. today
WHERE: Thomas & Mack Center
TV/RADIO: KWWN (1100 AM, 98.9 FM)
LINE: No line