Wood dominates in win over Fresno State
February 10, 2015 - 11:58 pm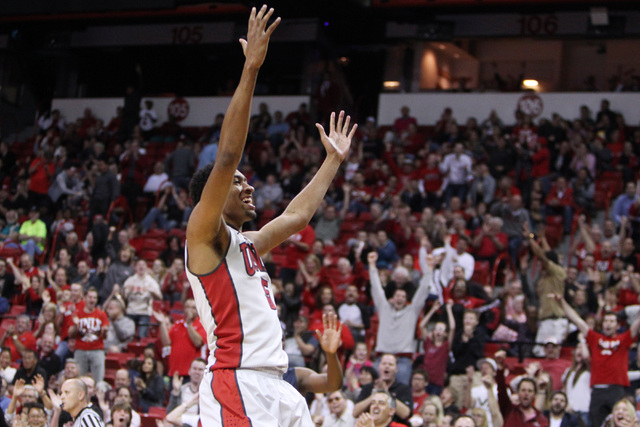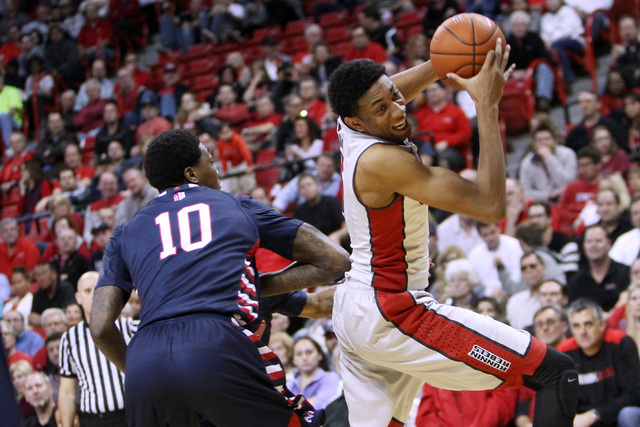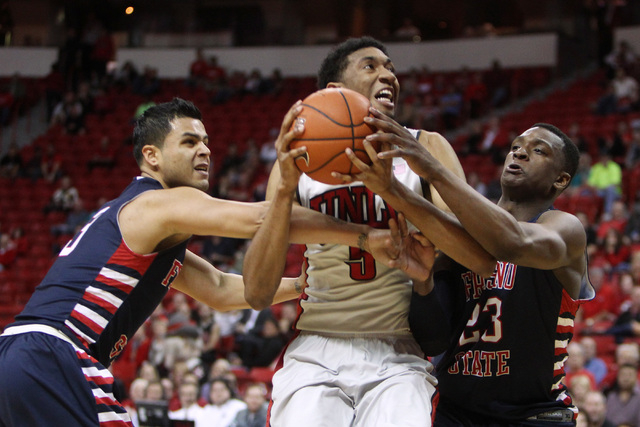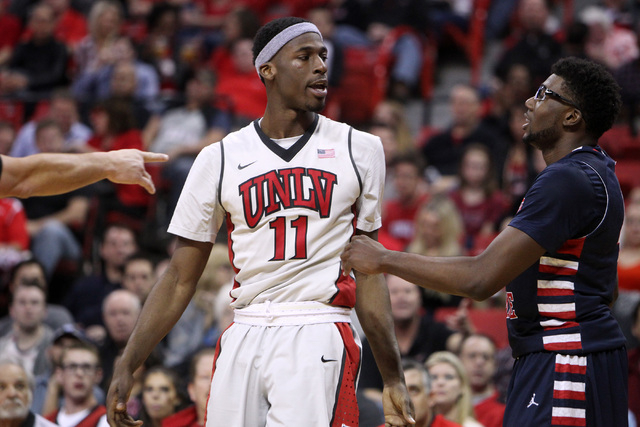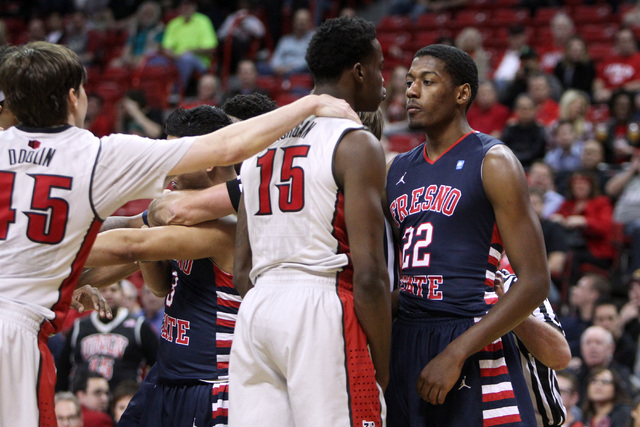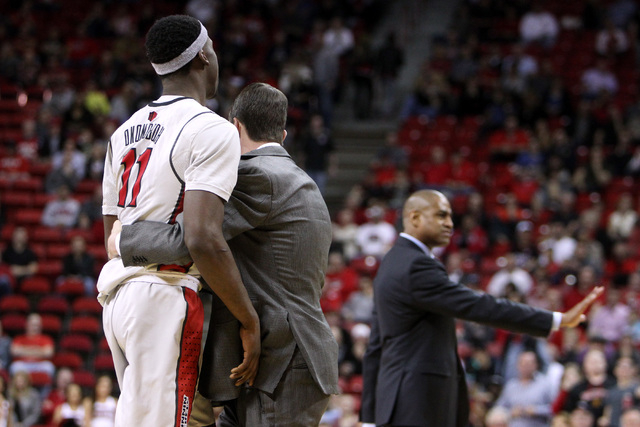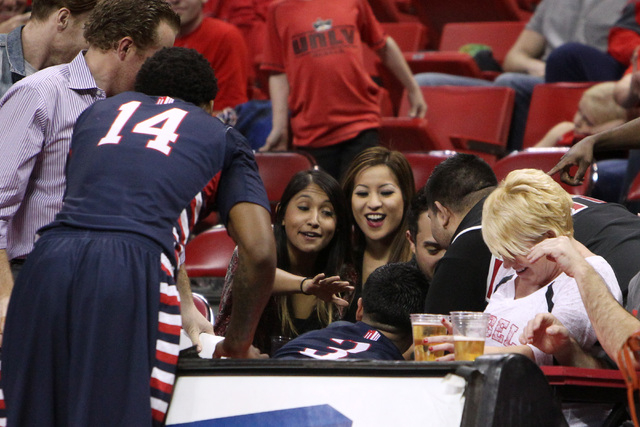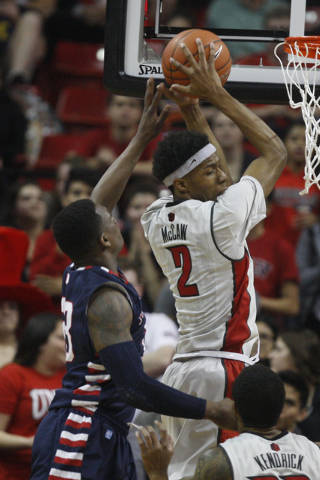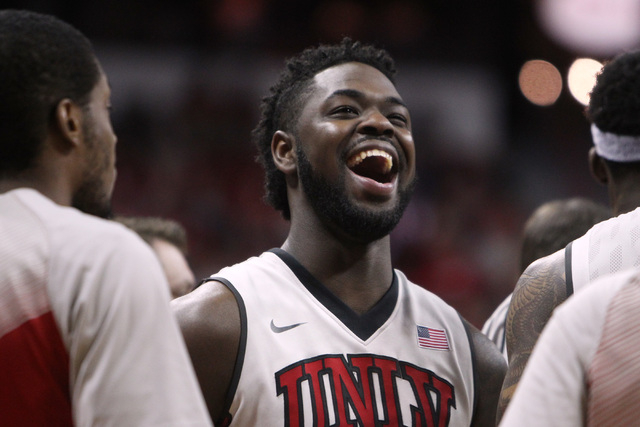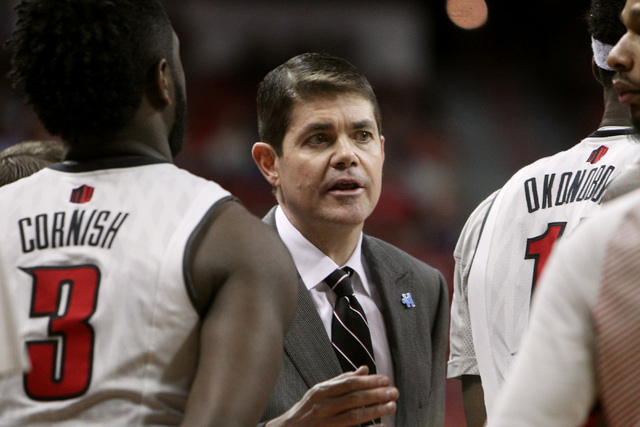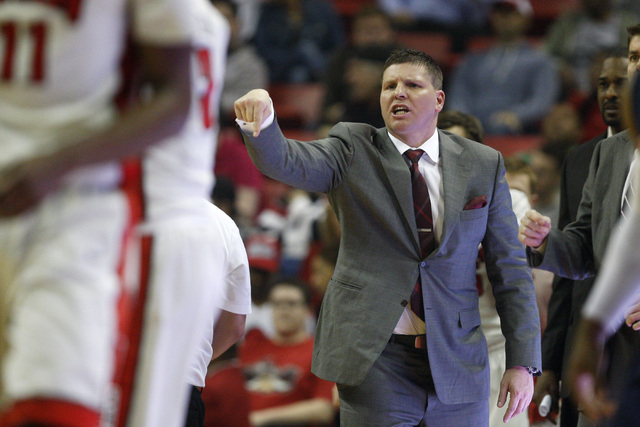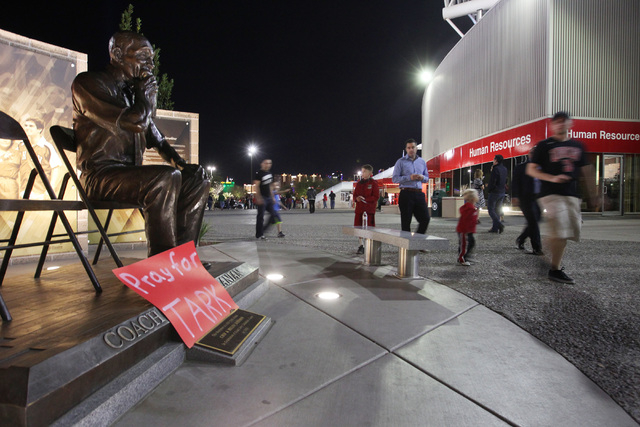 It was not a big surprise to UNLV sophomore Chris Wood that he was able to dominate the game. The 6-foot-11-inch forward figured his size advantage would matter.
Wood could see he had 4 inches on Fresno State's tallest starter, so the plan was for him to attack at close range and not spend his night floating around the perimeter launching long jumpers.
"I knew I was much taller than them, and I had to stay in the post. I tend to get outside a little bit, but I did a good job of staying inside," he said. "The past few weeks, I've been playing hard and doing little things to help the team."
Wood did almost everything Tuesday, totaling 27 points, 19 rebounds and seven blocks to lift the Rebels to a 73-61 victory over the Bulldogs at the Thomas & Mack Center.
"Chris was sensational. He was very tough to stop," UNLV coach Dave Rice said. "He was close to a triple-double, and that's hard to do."
In winning for the fourth time in five games, the Rebels (14-10, 5-6 Mountain West) got another strong effort by freshman guard Rashad Vaughn, who had 18 points and five rebounds.
"Rashad's just a reliable guy," Rice said. "He's a competitor."
Rice paused during his postgame news conference to mention former UNLV coach Jerry Tarkanian, who was in critical condition at Valley Hospital Medical Center. Tarkanian, who coached the Rebels from 1973 to 1992, retired in 2002 after seven years at Fresno State.
"It was a tough evening and tough day with everything Coach Tark is going through," Rice said.
UNLV established early control in the battle between two teams Tarkanian coached. Wood totaled five points, seven rebounds and five blocks to help the Rebels run out to a 35-25 halftime lead.
Vaughn's shooting was the biggest factor in the first half, when UNLV hit 7 of 11 3-pointers, with Vaughn making three and Jordan Cornish and Cody Doolin each making two.
Cornish's four-point play at the 7:51 mark topped the Rebels' offensive output for the first eight minutes. Cornish made a 3 from the corner, was fouled and hit the free throw to put UNLV up 19-14.
The Rebels had only three points on the board before Doolin's 3-pointer with 11:41 remaining, and he sank another 3 with 9:09 to go.
"I was concerned. We have to play harder on the offensive end to start the game," Rice said. "I thought the two 3s Cody hit were huge."
UNLV stretched its lead to 50-32 before the Bulldogs rallied to close the gap to 55-47 on Julien Lewis' steal and layup with 8:10 remaining.
But Wood, who had five dunks, was too strong down the stretch. He drove to the basket repeatedly to draw fouls and scored almost at will. Wood shot 8-for-18 from the field and 11-for-17 on free throws.
"One thing about Chris is you can't foul him because he's such a good free-throw shooter," Doolin said.
Entering the game, Wood had hit 74 of 100 free throws on the season. He attempted two 3-pointers Tuesday, and Rice praised his shot selection.
Lewis' 16 points led Fresno State (11-13, 6-5). Karachi Edo had 13 points and 10 rebounds, and Marvelle Harris added 12 points on 3-for-14 shooting.
There was little flow to the game because of a whistle-happy officiating crew that called 45 fouls, 26 on the Bulldogs.
Rice also complimented Wood for motivating the team during practice Monday, when most players were emotionally flat.
"I stepped up as a leader," Wood said.
In mid-December, when the Rebels upset then-No. 3 Arizona, Wood was similarly dominant. But his challenge has been sustaining it and handling defenses geared to stop him.
"Chris became a marked man, and teams were physical with him," Rice said. "It's a sign of maturity."
Contact reporter Matt Youmans at myoumans@reviewjournal.com or 702-387-2907. Follow him on Twitter: @mattyoumans247.