Wood shows progress in Rebels' scrimmage
November 1, 2014 - 8:54 pm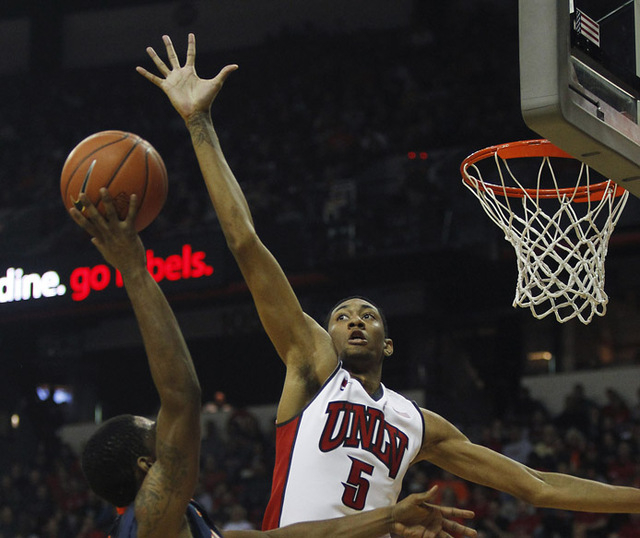 On a UNLV basketball team with five true freshmen, Chris Wood qualifies as a veteran. He is definitely playing the part of a more experienced leader on the floor, in contrast to last season.
The 6-foot-11-inch sophomore forward continued his impressive preseason Saturday, when the Rebels staged a public scrimmage at the Thomas &Mack Center. Wood shot 7-for-15 and totaled 19 points and 12 rebounds in about 25 minutes of action.
A season ago, he was a reserve who was running low on confidence. Wood played in 30 games, with two starts. He shot 41 percent from the field while averaging 4.5 points and 3.2 rebounds in limited playing time. All of those numbers seem certain to increase dramatically.
"I have a year under my belt, so that helps," Wood said. "This year, I notice a totally different feel. Every shot I'm taking, I have more confidence. I'm still young, and I've still got a lot to learn. I wouldn't say I'm a wise vet."
As a freshman, Wood drifted around the perimeter and often launched ill-advised shots. Of his 117 field-goal attempts, 50 were from 3-point range and he hit only 11. So far, he is exhibiting better shot selection and a willingness to play in the low post.
"The biggest thing for Chris is that he has accepted his role, and his role is to be a low-post, mid-post presence on both ends of the floor," coach Dave Rice said. "For us to be good, he's got to be good inside and in the mid-post area."
Along with Wood, redshirt freshman guard Dantley Walker (15 points, 5-for-8 3-pointers), freshman forward Dwayne Morgan (14 points, 13 rebounds) and junior forward Ben Carter (six points, 12 rebounds) were standouts. Carter, an Oregon transfer, is redshirting this season.
The scrimmage, attended by more than 1,000 fans, showed the Rebels are in good hands at point guard with senior Cody Doolin and sophomore Kendall Smith. Shooting guard is another position of strength with freshmen Rashad Vaughn and Jordan Cornish. Rice used the final segment of the scrimmage to work on a 1-2-2 zone defense.
"I think we've got enough facilitators on offense and enough shooters," Rice said. "No doubt, with a newer team a big thing is understanding individual and team defense. We're going to play zone this year. Man-to-man is always going to be our primary defense, but I think with our length and the youth of our group, we're going to have to mix in some possessions of zone."
■ NOTES — The Rebels host Florida National in an exhibition at 7 p.m. Wednesday before visiting UCLA for a closed scrimmage Saturday. … Jalen Poyser, a 6-4 combo guard and one of the top prospects in Canada, made an oral commitment to UNLV. Poyser, who left Findlay Prep, is the first member of the Rebels' 2015 recruiting class.