UNLV compliance head Eric Toliver resigns after harassment allegations
February 9, 2018 - 3:36 pm
Updated February 9, 2018 - 8:18 pm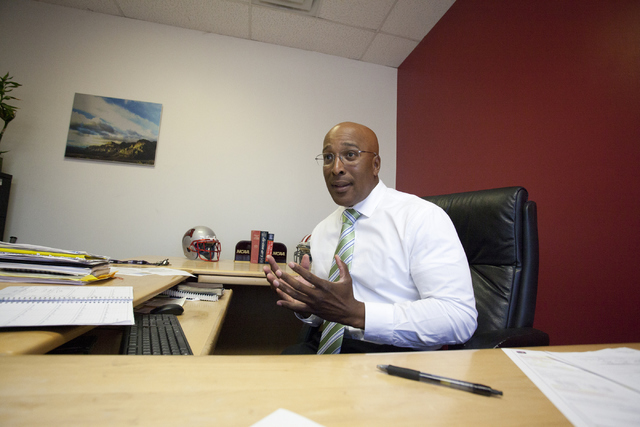 Eric Toliver, UNLV's head of NCAA compliance who was under internal investigation after allegations of harassment were leveled against him, resigned Friday.
The university issued a statement announcing the resignation but, citing a state regulation, declined to comment on the specifics. Toliver had been placed on administrative leave while the university investigated, sources said Thursday.
Toliver was in his 26th year at UNLV and 18th as executive associate athletic director of compliance.
Erica Piurkowski, the assistant AD of compliance, will be the interim head of the department.
Sources said Thursday that several former athletes and staff members made harassment claims that spanned years. Sources also said the investigation into Toliver's alleged actions began this week.
Toliver worked in athletics but reported to university president Len Jessup's office.
Along with his duties as the head of the compliance department, Toliver was responsible for facilitating complaints that involve UNLV athletes with the university's Title IX coordinator.
Title IX law prohibits discrimination on the basis of sex in education programs and athletics in schools that receive federal funding and also covers harassment and fairness.
Toliver also served as an athletic department liaison to many sports over the past several years, including softball and women's soccer. In addition, he oversaw all UNLV student-athlete conduct and discipline-related matters and supervised the Student-Athletic Advisory Committee.
Attempts to reach Toliver were unsuccessful.
Had Toliver not resigned, he would have gone through a formal process spelled out in the Nevada System of Higher Education Code under Title 2, Chapter 6, that the state's universities and colleges adhere to when complaints are made against faculty, professional staff or students.
Under the process, once an investigation is completed it is followed by a hearing to determine the merit of the allegations and punishment, if any is warranted.
UNLV now must find a replacement for Toliver, one of the more senior members in athletics and someone who wielded considerable influence.
Contact Mark Anderson at manderson@reviewjournal.com. Follow @markanderson65 on Twitter.