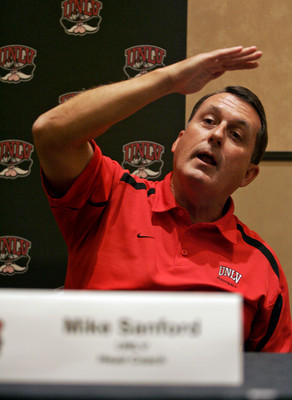 By coaching UNLV to its best record since 2003, Mike Sanford appears to have guaranteed his return for a fifth season.
But neither he nor athletic director Mike Hamrick will be satisfied with going 5-7 again, even if the Rebels' record this season marks a three-win improvement over each of the previous four seasons.
UNLV needs a breakthrough season next year if it is to become a viable football program anytime soon. The last-minute defeats must turn into victories, and the losses to bottom-rung teams must be eliminated.
The Rebels' season-ending 42-21 loss to lowly San Diego State on Saturday made it clear that Sanford must confront major issues if he is to turn things around.
The first step needs to be fixing a defense that ranked 103rd nationally in total yards, 99th in scoring and 111th against the run.
UNLV gave up more than 200 yards rushing seven times. The Rebels' pass rush — expected to be a strong suit — never materialized. The secondary was beaten deep time and again.
The coaches have moved quickly to address the secondary, receiving commitments from two junior college players and a high school defensive back.
That's a start.
But it's important, especially with eight starters returning, to look at the big picture.
UNLV was supposed to be aggressive under first-year defensive coordinator Dennis Therrell. It wasn't. The unit often reacted instead of acted.
And the Rebels seldom made the necessary adjustments.
They didn't force UNR quarterback Colin Kaepernick (240 yards rushing) inside on option runs, didn't take chances on Colorado State's 80-yard winning drive and didn't make San Diego State (316 yards passing) beat them on the ground.
But moving another assistant into the defensive coordinator's spot isn't the answer. Players would have to learn another new system. They would be better off with a second season in a familiar scheme.
Instead, to make meaningful change, UNLV needs to be bold. Sanford was aggressive two years ago in hiring former Miami quarterbacks coach Todd Berry as offensive coordinator.
It might be worth gauging Rocky Long's interest in overseeing the Rebels' defense. The defensive guru won at tradition-starved New Mexico before resigning as Lobos head coach last week. Long might come only if he thinks he eventually has a shot at becoming head coach, but no one knows for sure without calling him — even if it means Hamrick picking up the phone.
Sanford isn't tipping his hand, saying last week that he wouldn't make changes to assuage the public, that they must "be to improve the football program."
He's right, but the defense doesn't improve without significant changes.
Sanford's second major issue is who replaces senior tailback Frank Summers, who was under-used the second half of the season but still was a valuable part of the team's improvement.
The San Diego State game showed freshman C.J. Cox isn't ready to step in as the lead running back. The Rebels addressed the position by receiving a commitment Monday night from three-star prospect Bradley Randle.
Cox showed promise when teamed with Summers, so maybe a 1-2 combination of Cox and Randle will give UNLV a solid running game.
Without a difference maker at tailback, too much pressure will fall on quarterback Omar Clayton. Summers at least made defenses think about the run game, which helped Clayton establish himself as a impressive quarterback.
Sanford has major decisions to make over the next few months that will have a direct impact on next season and beyond.
His UNLV coaching career depends on it.
Contact reporter Mark Anderson at manderson@reviewjournal.com or 702-387-2914.
THREE-STAR RB PROSPECT RANDLE COMMITS
UNLV added to its strong early recruiting class with a commitment from three-star running back Bradley Randle on Monday night.
Randle is rated the nation's No. 49 running back by Scout.com and the No. 3 back in Southern California by the Los Angeles Times.
Randle (5 feet 10 inches, 190 pounds) also received scholarship offers from Boise State and New Mexico and was expecting one soon from Washington State. But he was convinced he should go to UNLV while attending the Rebels' 42-21 loss at San Diego State on Saturday.
"They've got a good quarterback and a good line," said Randle, who attends Vista Murrieta (Calif.) High School. "It's a young team, but they're definitely going to do things, and the coaches care for the players."
He said he looks forward to trying to replace senior tailback Frank Summers.
"Most likely, I'll see if I can start and turn things around soon in this program," Randle said.
Randle, whose father, Lenny, was a longtime major league baseball player, might play baseball, too. Randle's cousin is former UCLA point guard Tyus Edney.
Randle will be in familiar surroundings. His family owns six properties in the Las Vegas Valley, has relatives here and visits frequently.
The Rebels also picked up a commitment from offensive lineman Andrew Mack (6-2, 290) of Plano (Texas) West.
MARK ANDERSON/LAS VEGAS REVIEW-JOURNAL