3 takeaways from the UNLV-Air Force game
October 14, 2017 - 5:37 pm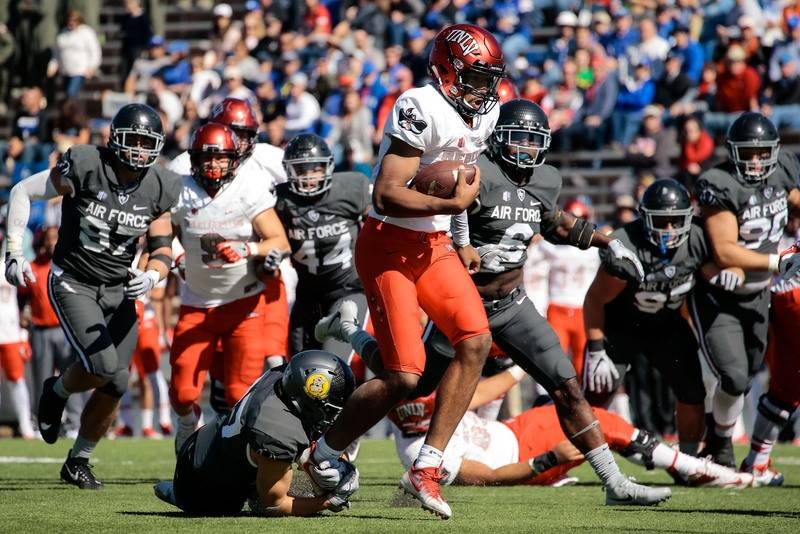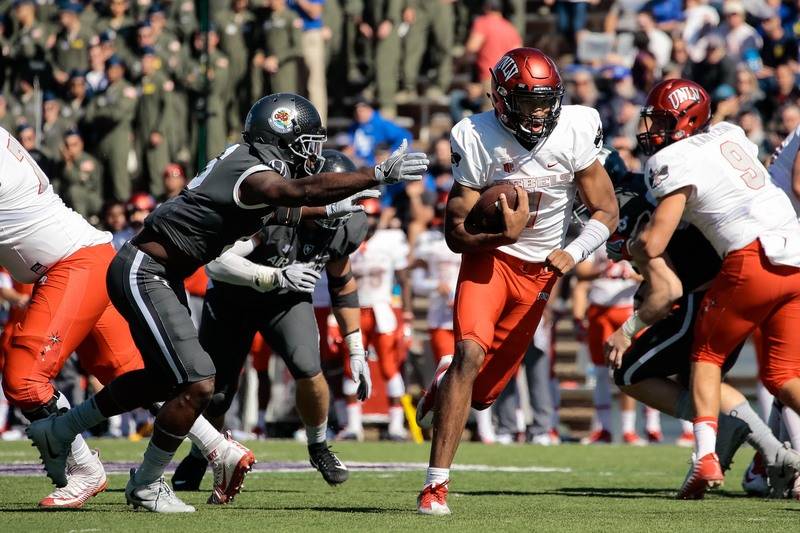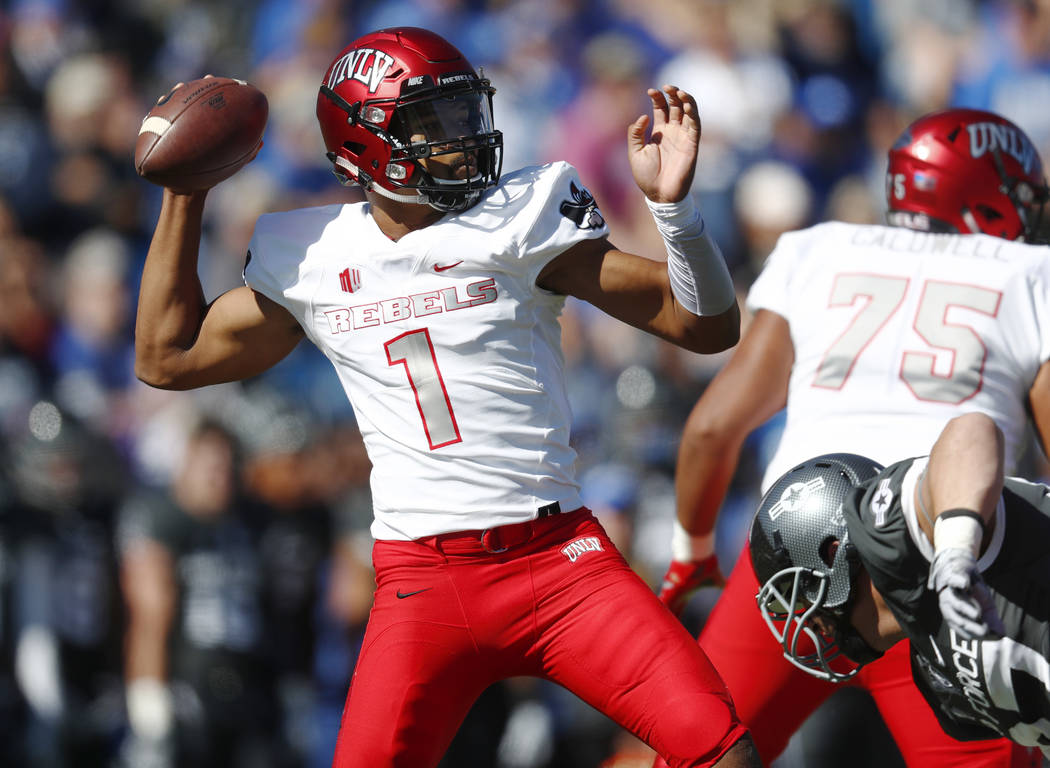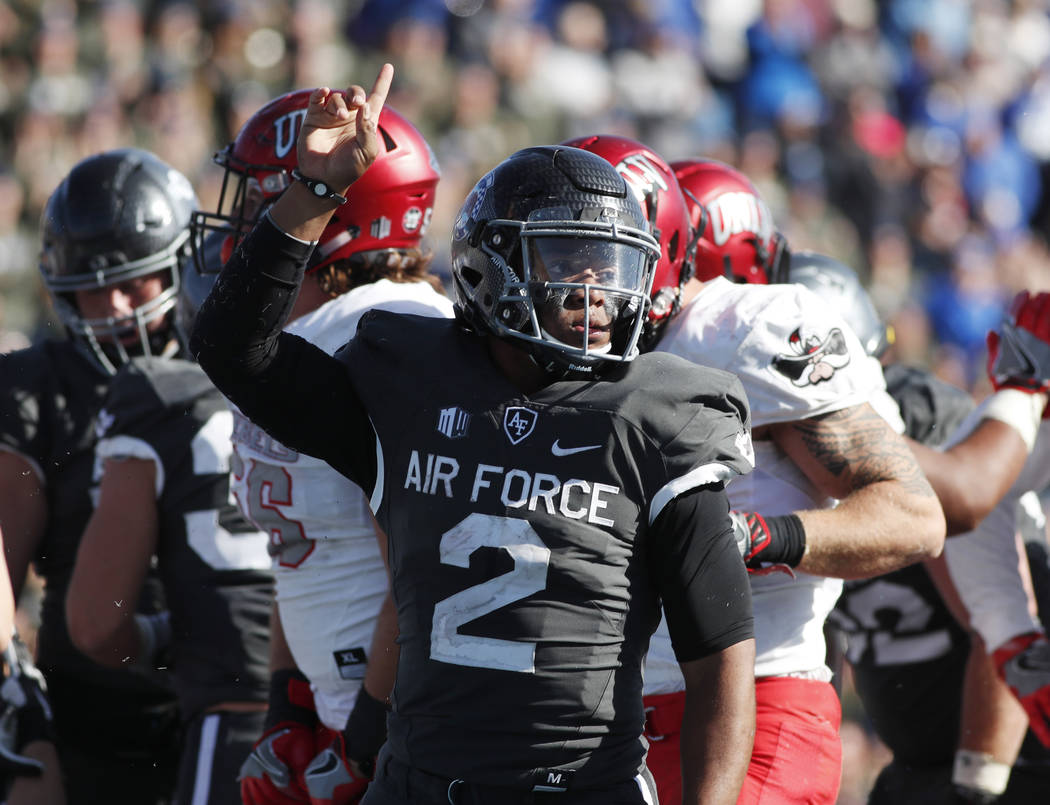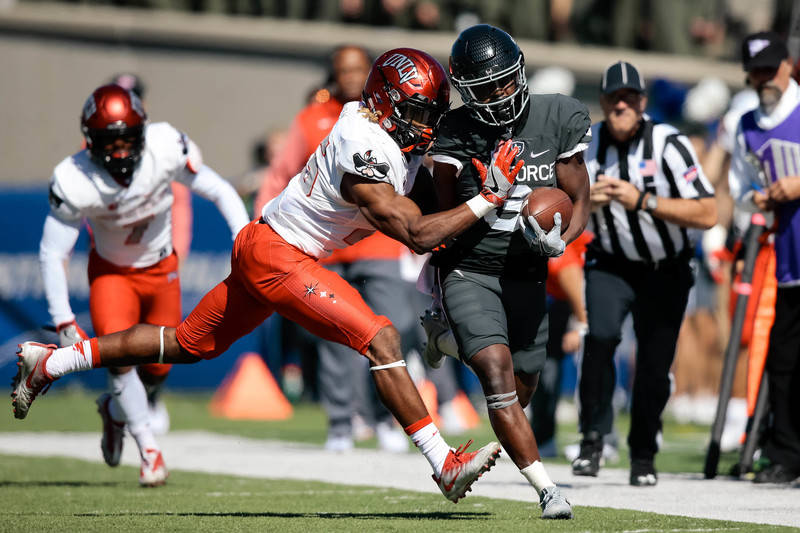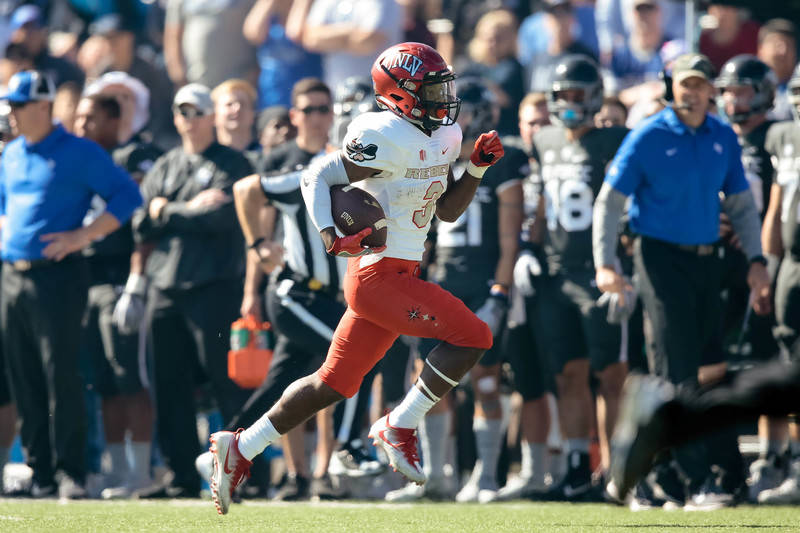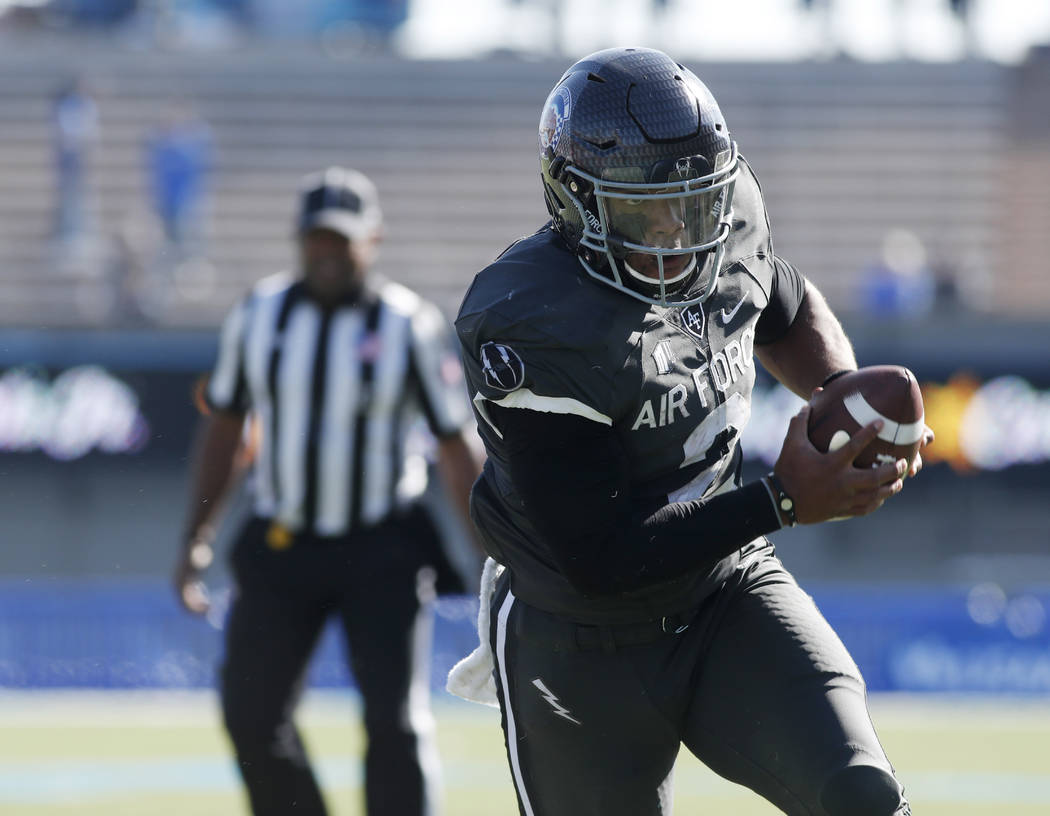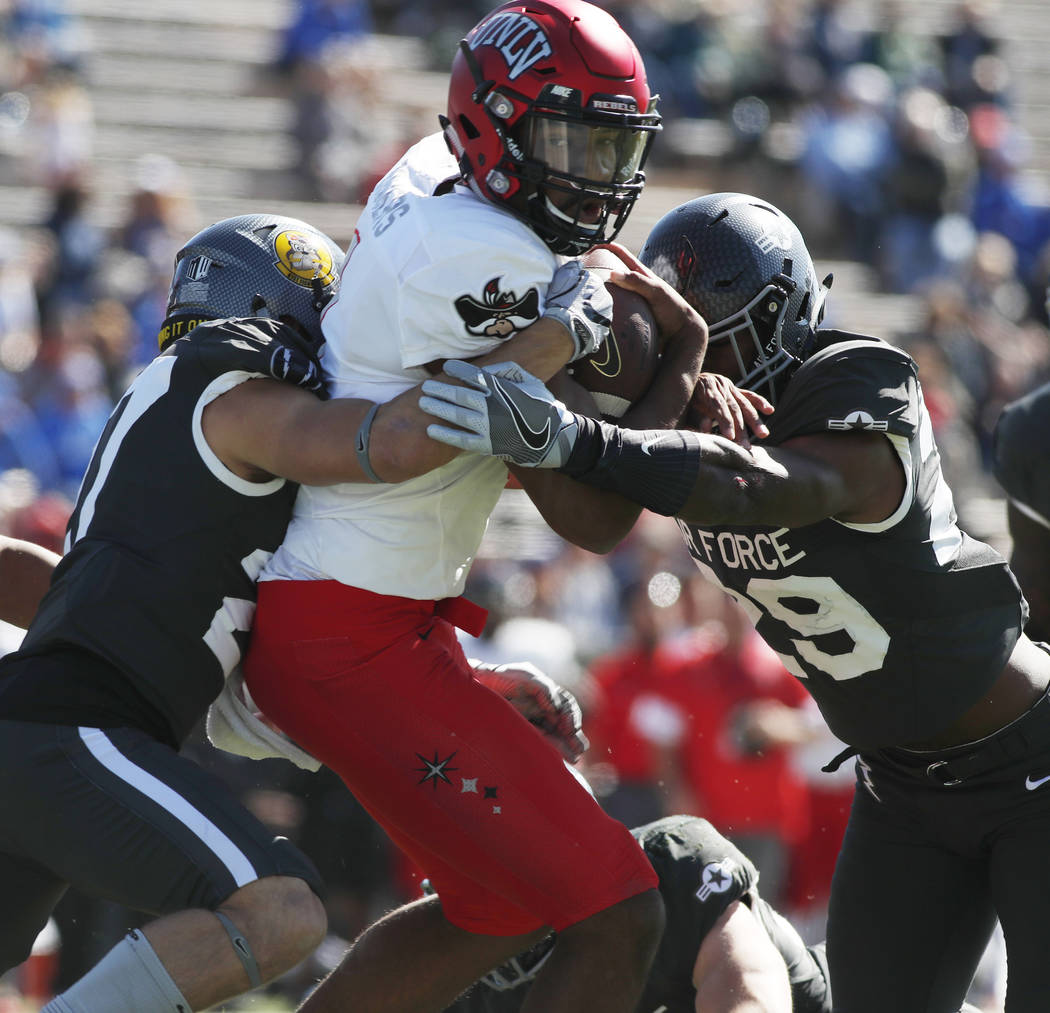 AIR FORCE ACADEMY, Colo. — Three takeaways from the UNLV football team's 34-30 loss to Air Force on Saturday at Falcon Stadium:
1. Everyone is to blame.
That's from the coaches to the players:
— At the end of the first half, the Rebels had time for two or three plays but didn't use their final timeout. Quarterback Armani Rogers then hit running back Lexington Thomas for a 47-yard completion to the Air Force 12-yard line. Had the timeout been used before the play, there would have been enough time to hustle downfield, spike the ball and kick a field goal.
— The Rebels had an opportunity to put away the game early in the second half when the Falcons fumbled on their first two offensive plays, but UNLV came away with only three total points.
— Early in the fourth quarter with UNLV's lead down to three points, the Rebels faced a third-and-7 at their 45. Rather than simply try to pick up the first down, three wide receivers were sent deep, and Rogers threw a low-percentage pass that was incomplete.
— The killer occurred a short time later when UNLV forced and recovered a fumble. Rogers found himself in open field for a big play deep in Air Force territory and the opportunity to finally turn the tide. He fumbled, and then wide receiver Kendal Keys couldn't secure the ball when he fell on it. Fellow wide receiver Darren Woods Jr. tried to scoop and score but pushed the ball into the end zone, where it was recovered by the Falcons.
Then there's the general play calling in the second half that went away from what got the Rebels their big lead. They rushed 26 times for 197 yards in the first half and 13 times for 69 in the second.
"We got away from it," UNLV coach Tony Sanchez said. "We need to go back and look. The frustrating thing about it is when you're throwing incompletes on first down, then all of the sudden on second down you run the ball and get three or four yards. Now you're in passing situations all the time on third, and that's not where we wanted to be. Early in the game, we did a good job of running the ball in early downs and giving ourselves second-and-4s and such."
2. Serious changes need to be considered.
The two worst losses in UNLV history have occurred this season — as a 45-point favorite to Howard and the 27-point blown lead at Air Force. The Rebels should have won both games and be 4-2 and looking at a bowl.
Now there are more questions than answers, and that means looking hard internally. Sanchez doesn't need to make staff changes now — they would be mere window dressing at this point — but it has to be in the back of his mind.
3. It's a hard lesson to learn.
Sanchez has always believed in playing hard no matter the score, and this game proved his point. So maybe the next time the Rebels jump on a team early, they won't give it a chance to respond.
"Nobody gave up," Rebels defensive tackle Mike Hughes Jr. said. "Nobody relaxed. But it's a different type of feeling when you come out (for the second half) and you know it's 0-0 … and you come out and you know it's 27-7."
More Rebels: Follow all of our UNLV coverage online at reviewjournal.com/Rebels and @RJRebels on Twitter.
Contact Mark Anderson at manderson@reviewjournal.com. Follow @markanderson65 on Twitter.