3 takeaways from UNLV's 46-17 win over Prairie View A&M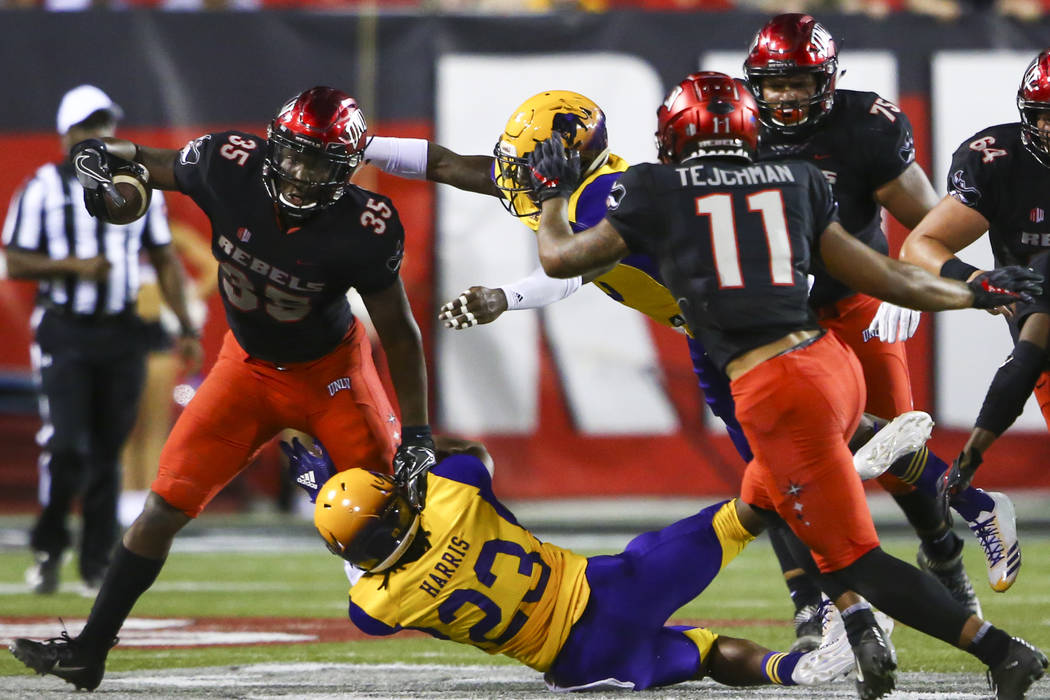 Three takeaways from UNLV's 46-17 victory over Prairie View A&M on Saturday at Sam Boyd Stadium:
1. Prairie View never had chance.
There was never a sense that UNLV was in any kind of trouble, with the Rebels taking control from the beginning and making a clear point that this would not be Howard repeat.
The Rebels lost 43-40 to Howard in last year's season opener, and now that game can be seen as a one-off. In UNLV coach Tony's Sanchez's four seasons, the Rebels have beaten Idaho State 80-8, Jackson State 63-13 and Texas-El Paso 52-24.
UNLV led 20-0 after the first quarter and 34-0 at halftime. It was similar to the week before, when the Rebels led UTEP 38-10 at intermission.
Prairie View was simply overwhelmed, twice butchering punt snaps, once losing a fumble deep in UNLV territory and another time failing to score after getting a fumble within breathing distance of the Rebels' end zone.
UNLV, though, needs to do a better job of keeping up the pressure. The Rebels appeared uninterested in the third quarter, allowing the Panthers score twice and trim their lead to 34-14.
2. Panthers' star back never factor.
Dawonya Tucker entered off back-to-back 200-yard rushing games, and he was averaging 10.2 yards per run for the Panthers.
It was as if Prairie View forgot he was on the roster.
Tucker carried three times in the first quarter, when the running game still could have been a factor, gaining 1 yard. He was limited to 9 yards on seven first-half carries, and by that time the drama had been taken out of the game.
He finished with 12 rushes for 61 yards. Give UNLV's defense credit for not allowing him to get untracked.
3. Now schedule gets serious.
UNLV did what it had to do in dispatching UTEP and Prairie View, and now the Rebels' schedule gets considerably harder.
They next travel to Arkansas State, which has at least shared five of the past seven Sun Belt Conference titles. In some ways, there is little pressure on the Rebels. Their bowl hopes remain very much intact with a loss, but should UNLV win, it would be a major step forward for the program and bring those postseason dreams that much closer to reality.
Then after a week off, the Rebels head into Mountain West play with an Oct. 6 home game against New Mexico.
More Rebels: Follow all of our UNLV coverage online at reviewjournal.com/Rebels and @RJ_Sports on Twitter.
Contact Mark Anderson at manderson@reviewjournal.com. Follow @markanderson65 on Twitter.