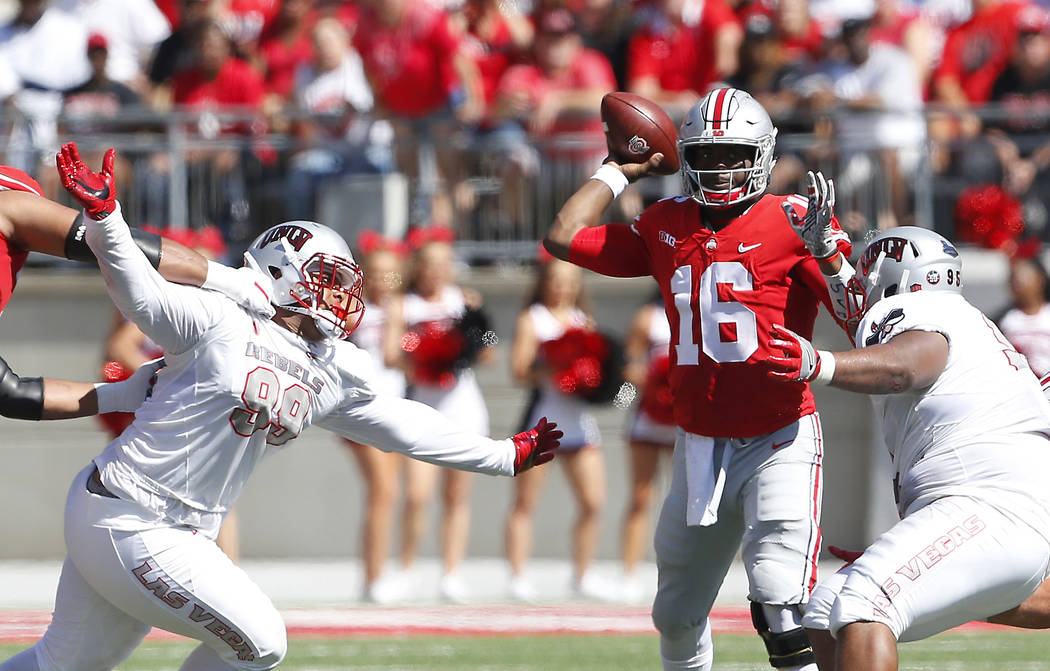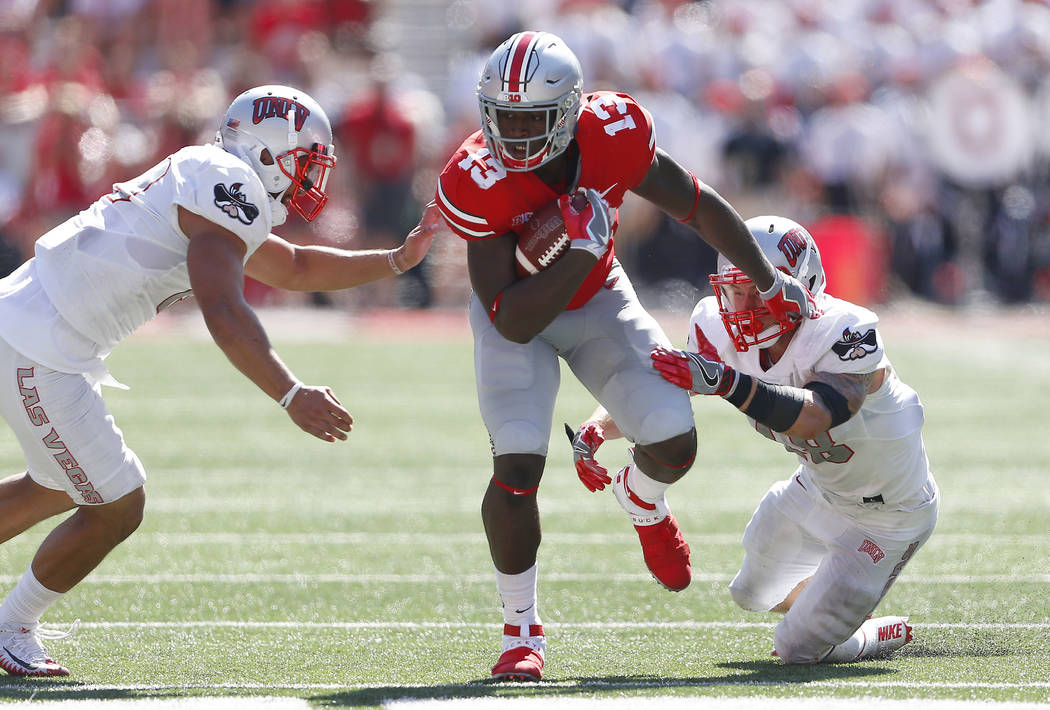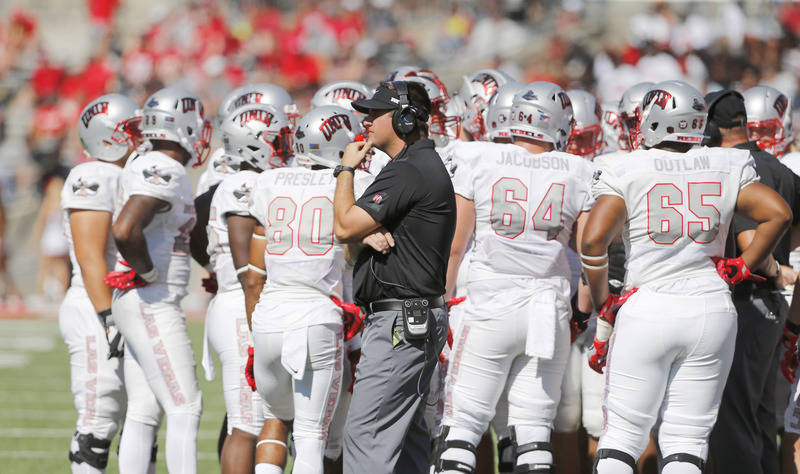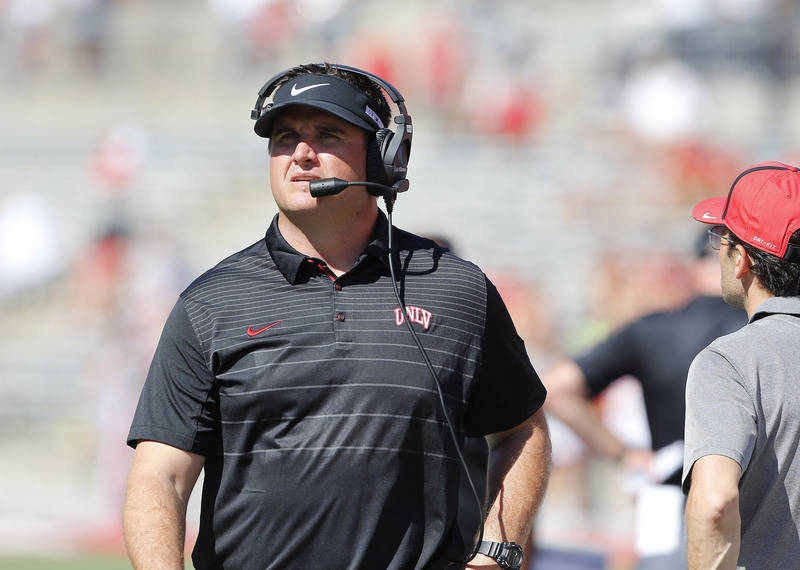 COLUMBUS, Ohio — Three takeaways from the UNLV football team's 54-21 loss to No. 10 Ohio State on Saturday at Ohio Stadium:
1. UNLV should never play these types of games.
Not that the Rebels shouldn't play power-conference schools and get a lottery-like paycheck, just not the Ohio States of the world. The $1.3 million guarantee will help balance the athletic department's budget, but the beatdown — the Buckeyes led 44-7 at halftime — will do little for UNLV's season.
"We won't play a faster team on the field, especially in all three phases," UNLV coach Tony Sanchez said.
The Rebels are saddled with another one of these games next year when they open the season at Southern California.
UNLV has scheduled a trip to Northwestern in 2019 that will pay $1.2 million, and that game should be more the norm. It's still a Power Five team, but one where the separation of talent isn't as enormous as it was with the Buckeyes, yet with a guarantee that makes crunching financial numbers a little easier for athletic director Desiree Reed-Francois.
2. Nowhere to run.
Sanchez made no secret during the week the Rebels would need to pass to give what has been an outstanding running game a chance because of Ohio State's granite-like defensive line.
Quarterback Armani Rogers passed 10 times in the first quarter, completing six for 41 yards. Running backs Lexington Thomas and Xzaviar Campbell combined to run just three times and lost three yards.
The Rebels rushed more often as the game went on, but by then, Ohio State had complete control.
Thomas finished with 84 yards and two touchdowns, averaging 7.0 yards per carry. But one of those runs was on a 55-yard touchdown, meaning he totaled 29 yards on 11 other attempts, or a 2.6 average.
"You saw how hard it was to create creases," Sanchez said. "They were a little more physical at the point of attack than we were, and we struggled with that. When you're sitting there at second-and-4 and you're forced to throw the ball because it's hard to pick that up in two plays, it just shows how much you need to continue to grow as a program and add some more depth and become more physical."
3. Now the real season begins.
This game was always going to be a loss unless Ohio State somehow failed to arrive at the stadium before kickoff, so now it's time for UNLV to move on.
And that means taking care of business in the Mountain West opener Saturday against San Jose State at Sam Boyd Stadium.
Yes, the season-opening 43-40 loss to Howard was bad, but the Rebels still have their postseason goals in front of them in a Mountain West that drops off considerably after San Diego State. It's not to say the Rebels will capitalize and start racking up victories, but the opportunity is there.
UNLV has to beat San Jose State to have any real chance to sniff a bowl. A victory will get the Rebels to 2-2. A loss? Basketball season isn't far off.
"The great thing is we don't play (Ohio State) next week," Sanchez said. "We go into conference. It's time to rally the troops. Everybody's 0-0. We've got to learn from this. There are a lot of things to take away that we've been talking about that we've got to get better at."
More Rebels: Follow all of our UNLV coverage online at reviewjournal.com/Rebels and @RJRebels on Twitter.
Contact Mark Anderson at manderson@reviewjournal.com. Follow @markanderson65 on Twitter.
Related
J.T. Barrett, Ohio State strike early in 54-21 win over UNLV
UNLV leaves Ohio State with a whipping and $1.3M