3 takeaways from UNLV's Spring Showcase football scrimmage
Updated April 2, 2017 - 12:46 am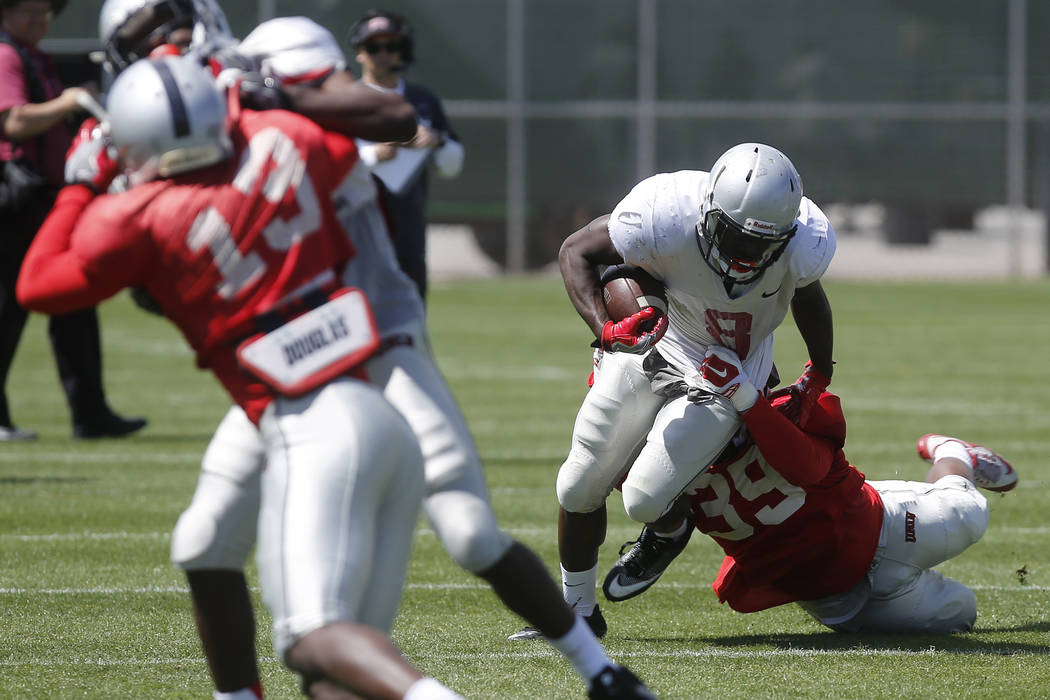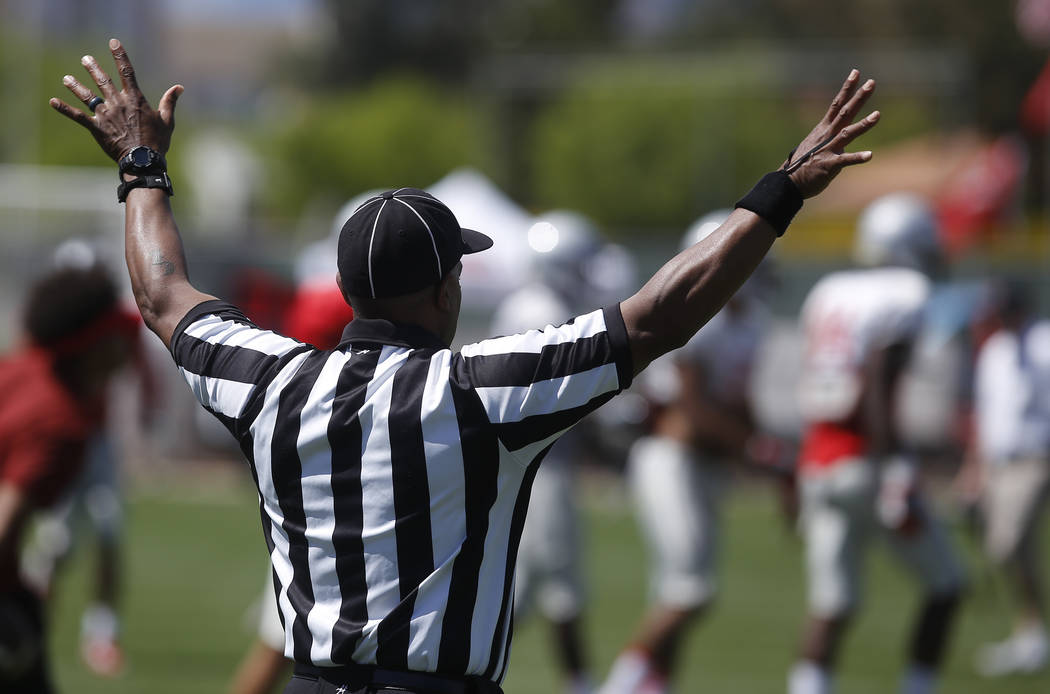 The running clock had two minutes left when the Rebels in the white uniforms began to get frustrated.
For nearly 23 minutes, the UNLV offense struggled to move the ball against its defensive teammates during Saturday's Spring Showcase at Peter Johann Memorial Field.
As the incompletions piled up, the groans kept getting louder on the sidelines. The Rebels were moving the chains on the ground, but the offense was stalling on passing plays, giving fans a familiar sight.
"We started very slow on offense, and that's not acceptable," UNLV left tackle Kyle Saxelid said. "We don't want to start bad like that for our fans. It's only a Spring Showcase, but we really care about this.
"In the second half, we got going, and that showed what we're capable of."
UNLV was on the verge of going scoreless in the first of two 25-minute scrimmages, but then quarterback Armani Rogers found wide receiver Brandon Presley for a deep pass to set up Charles Williams' 3-yard rushing touchdown during the finals seconds of the first half.
Suddenly, the tension on the sideline was gone, and the young quarterback delivered multiple big plays in the second half. The first-half woes were forgotten.
Here are three takeaways from UNLV's Spring Showcase:
Rogers' tale of two halves
It was a rough start for the redshirt freshman quarterback with high expectations.
Rogers, who took the first-team snaps, mixed up the plays and was forced to run often amid the confusion.
"I know a lot of people are really hopeful with (Rogers) being a great player for us, and he looked a little nervous," UNLV coach Tony Sanchez said. "He flipped some of the formations wrong in the first couple of series, called them wrong."
Sanchez said he got rid of the option plays and simplified the calls to get Rogers going.
Once Rogers connected with Presley, he never looked back. Rogers completed 8 of 14 passes for 174 yards and two touchdowns.
"(Saturday) started out a little shaky, but as the day went on, I had to keep competing, figure it out and just go out there and play football," Rogers said. "It was a big jump for me."
Rogers also displayed his quick feet with 22 rushing yards on nine carries. The 6-foot-5-inch Rebel wasn't afraid to go up the middle and collide with his defensive teammates.
"It's not easy," UNLV defensive tackle Mike Hughes Jr. said of defending Rogers. "He's good on his feet, he'll mess up your ankles and make it difficult sometimes."
Rogers is battling with Johnny Stanton and Kurt Palandech for the starting quarterback spot. Stanton struggled with only 29 yards passing. Palandech completed 3 of 4 passes for 45 yards and a touchdown.
Sanchez said he'll name a starting quarterback soon.
Young receivers step up
UNLV's star wide receivers weren't available for the scrimmage, giving the younger receivers an opportunity to earn more playing time.
Devonte Boyd, still not 100 percent from a broken arm, didn't suit up, and Kendal Keys, who missed last season with a knee injury, only played a few snaps.
Allan Cui and Elijah Trosclair stepped up to complement Presley, who lines up at slot receiver.
Cui, who joined the team last season as a walk-on, caught three passes for 54 yards, including a 33-yard touchdown from Rogers.
Trosclair recorded 37 receiving yards and connected with Palandech for a 31-yard touchdown.
"It was awesome because I was talking trash to Mike (Hughes) right when it happened," Boyd said of his fellow receivers' big plays. "I was excited. I'm happy for them."
Defense frustrates offense
The UNLV defense deserves plenty of credit for disrupting the offense in the first half.
The Rebels' front seven got past the offensive line on multiple occasions, and the secondary broke up many passes.
"We're just trying to prove ourselves," Hughes said. "A lot of people look at the defense and see we lost eight starters, so our job is to get out there and really show that we're still ready to fight and compete, and I feel we did that."
Contact Gilbert Manzano at gmanzano@reviewjournal.com or 702-383-0492. Follow @gmanzano24 on Twitter.
UNLV SPRING SHOWCASE
SCORING
First half — Charles Williams 3-yard run
Second half — Evan Owens 58-yard run
Second half — Kurt Palandech 31-yard pass to Elijah Trosclair
Second half — Armani Rogers 33-yard pass to Allan Cui
Second half — Armani Rogers 31-yard pass to Brandon Presley
PASSING
Armani Rogers 8-14-0 174; Johnny Stanton 6-10-0 29; Kurt Palandech 3-4-0 45.
RUSHING
Armani Rogers 9-22; Xzaviar Campbell 8-52; Charles Williams 6-52; Evan Owens 4-56; Lexington Thomas 4-33; Lantz Worthington 4-5; Kurt Palandech 2-9; Johnny Stanton 2-6; Mekhi Stevenson 1-11.
RECEIVING
Brandon Presley 3-95; Allan Cui 3-54; Tim Holt 3-24; Elijah Trosclair 2-37; Giovanni Fauolo 2-6; Donovan Kimball 1-9; Darren Palmer 1-7.